1. Introduction
Parliament of Mongolia had adopted the Law on the Legal Status of Foreign Nationals on 08 July 2010. According to this law, the government has enacted appendixes of Resolution No145 on the Procedure of Issuance of Mongolian visa and Resolution No146 on Residence and Registration of foreign nationals in Mongolia in 2018 for regulating visa and residence permit related relations. According to the statistic of expatriates1: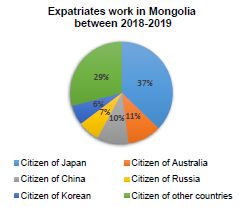 The number of foreign nationals residing in Mongolia for private purpose may not exceed 3 percent of total population of Mongolia and among them nationals of one country may be up to 1 percent. Private purpose applies to employment, investment and family member of expatriate who works or invests in Mongolia.
2. Visa
Mongolia has 11 types of visas. Out of 11, following three visas shall be obtained by an expatriate.
Type "T" visa shall apply to:
A foreign investor (T1) and a senior manager in a joint venture, branch, or representative office of a foreign corporation (T2).
Type "B" visa shall apply to:
A foreign citizen or stateless person visiting Mongolia with business purpose.
Type "HG" visa shall apply to:
Employment visas (HG visa) are issued to foreign citizens who work in Mongolia under employment contract. These visas are valid for up to 1 year, depending on Employer's request. Holders of those visas are requiring obtaining residence card from Immigration Agency and working permit from Labor and Welfare General Agency.
3. General required documents for obtaining a T, B and HG visa
3.1 Request by Inviting company;
3.2 A valid passport of the foreign citizen or documentation that substitutes a passport;
3.3 Permission by a relevant state administration authority for a foreign citizen for the purpose of employment or making an investment;
3.4 Organization's state registration certificate;
3.5 In the case that visitor is accompanied by the family members, copies of marriage and birth certificates along with the translation2.
4. Duration of visa
Mongolian visa is classified into four groups
4.1. A single and double entry visa shall be valid for 90 days;
4.2. A single and double entry – exit visa shall be valid for 180 days;
4.3. A single and double transit entry visa shall be valid for 90 days;
4.4. Multiple visa shall be valid for 183 and 365 days.
5. Duration of residence permission
Foreign national must apply for residence permission within 21 days after his/her entry into Mongolia.
Visa permission and residence permission shall be issued within 5 business days at normal service and 3 business days at express service after completing application.
In addition, when applying for visa and visa permission, the passport validity of foreign national should be longer than six months.
6. Residence in Mongolia for work and investment
The state administrative body in charge of foreign nationals shall issuance residence permission to foreign national up to 1 year and can be extended up to 1 year.
The investor of business entity with foreign investment shall issuance residence permission up to 1 year considering supplying of workplace to Mongolian citizen, tax payment, and stabilization of operation and shall extend up to 3 years. Therefore senior management staff of the representative office of foreign business entity is issuance residence permission up to 1 year and is extended by up to 1 year3.
7. Employment permission
Prior to arrival, the hiring Company shall obtain employment invitation for an expatriate employee. Based upon employment invitation, the hiring company shall obtain entry visa permission from Immigration authority.
After the arrival of a hired expatriate in Mongolia, the hired employee shall obtain employment permission in order to get HG or employment visa. When requesting permission to work in Mongolia, the workplace of 640,000MNT (app 240USD) shall be paid per expatriate by the Employee. This payment shall be paid prior to getting work permission for term of the employment agreement.
The Government approves its resolution each year on foreign employees' ratio. For 2019, the ratio of expatriate employees follows for the selected sectors in percentage:4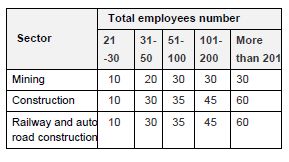 Footnotes
1 www.1212.mn - http://1212.mn/tables.aspx?tbl_id=DT_NSO_0400_39V1&13999001_select_all=0&13999001SingleSelect=_
T1&Countries_select_all=0&CountriesSingleSelect=_101_102_103_104_105_106_107_108_109_110_111_112_113_115_116&
YearQ_select_all=0&YearQSingleSelect=&YearY_select_all=0&YearYSingleSelect=_2018&viewtype=piechart
2 Appendix of Resolution No 145 on Procedure of Issuance of Mongolian visa by Government (2018)
3 Appendix of Resolution № 146 on Residence and Registration of foreign nationals in Mongolia (2018)
4 Appendix of Government Resolution No377 on Determining foreign employees ratio in 2019 dated 12 December 2018
The content of this article is intended to provide a general guide to the subject matter. Specialist advice should be sought about your specific circumstances.