The biotechnology market is headed toward a period of transformational growth as the landscape shifts from impending patent cliffs, increased M&A activity, and ongoing innovation. While these activities typically signal a time of progression and advancement, they also can point to potential conflict and prompt increased antitrust scrutiny in the biotech industry as regulators look to ramp up enforcement in the space.
For a look at where the biotech industry is headed for the remainder of this year and beyond, we tapped WIT biotech expert and accomplished former pharmaceutical executive Peter Lankau for some of his insights.
An Executive's Perspective
WIT: What innovations do you think will drive market competition over the next few years?
Lankau:"Biosimilars, specifically biologics, will take an increased share of the total market."
As innovations in the biosimilar market rapidly expand, the remainder of the year is projected to be metamorphic due to increasing demand, cost and time efficiency, biotech advancements, and a rising number of biologic pipelines. More than 70% of new products are filed as biologics, meaning that they will account for most medical treatments given today and beyond; this number will likely continue to grow as the biosimilars market is projected to rise in value from 9.5 billion in 2022 to 34.4 billion by 2032. With many major manufacturers approaching steep patent cliffs that will put some of their most profitable drugs at risk of competition, many biotech players are hard at work creating similar products to compete.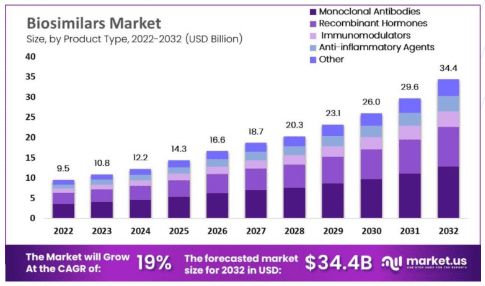 WIT: What are the top three biotech industry trends to keep an eye on heading into 2024?
Lankau:"Three major trends I think the industry should keep an eye on involve an increased focus on genetic targeting for personalized treatments, the use of AI in developing target-specific treatments, and the utilization of data mining for treatment identification.
First, most industries today have shifted to offer consumers a personalized approach to using specific platforms and services, and the biotechnology space is no exception. The past decade has proven to be extremely evolutionary when looking at the growth of personalized treatment capability. Now, many biotech companies have committed to ramping up R&D efforts concerning the cell and gene therapies that will allow for the creation of these individualized treatments.
Secondly, while artificial intelligence will undoubtedly assist in the development of the personalized treatment plans mentioned above, it will also shake up the industry when it comes to streamlining drug discovery & development, data analysis, and clinical monitoring, allowing medical professionals to choose proper precision treatments more accurately for patients. But as this technology continues to evolve, not all aspects of its implementation will be welcome; AI could eliminate some positions in the space, and prompt litigation over data privacy, inaccurate diagnosis, patentability, and more.
Lastly, to understand health trends and enable manufacturers to innovate biologics, data mining approaches are becoming essential in generating new, useful knowledge necessary for the creation of better products. While data does not equate to knowledge, being able to identify opportunities and challenges to be used in experimental design, data analysis, data interpretation, and hypothesis generation is invaluable when it comes to industry innovation.
WIT: What are the top three things you see spurring legal conflicts in the space as the industry continues to evolve?
Lankau:"The top three things I see spurring legal conflicts are impending government price control policies, mandates for generic substitution of off-patent biologics, and developmental partnerships for technologies deemed anticompetitive."
Since the introduction of the Inflation Reduction Act in 2022, those in the biotech industry have been looking for ways to maintain operations and sustain profits amid threats from the government about pharmaceutical price control. While this pricing provision will help consumers better afford and access innovative medical treatments, manufacturers in the space will experience potentially negative consequences. Revenue reductions on account of price regulations could have long-lasting effects on R&D in the industry, stifling innovation and drastically reducing revenues.
Now let's consider generic mandates. Following the Hatch-Waxman Act in 1984, generic drugs have dominated the pharmaceutical market. Nine out of 10 prescriptions in the US are for generic products, and today, 19 states mandate that pharmacists fill prescriptions with generics when they are available. Like the above, this greatly benefits many consumers while creating complications for manufacturers. Legal issues may arise if generic manufacturers attempt to gouge prices on their products—something that major players like Sandoz and Taro Pharma have already been prosecuted for.
Lastly, let's evaluate developmental partnerships. As in most industries, regulators have been coming down hard on major market players who are acting in ways they deem anticompetitive. In the biotech space, the creation of developmental partnerships could aid in R&D productivity, increase chances of program success, and more, while also setting the stage for a potential merger. However, creating partnerships in the space may not always prove to be lucrative; sometimes these partnerships are created to help quell anticompetitive practices but, conversely, the collaboration could create a market monopoly. Further, those engaged in the partnership could be faced with legal issues regarding IP rights, contract agreements, and joint risk management.
WIT: We have seen that M&As in the biotech industry are increasing, making this year the busiest in the space since 2019. What do you think this is being driven by?
Lankau:"An influx of M&A activity in the space is brought on by the consolidation of duplicative R&D expenditures to boost corporate earnings levels, commercialization synergies, and companies calling to reduce earnings losses due to the potential for further government pricing mandates."
Impending patent cliffswill largely drive biotech industry competition as major pharma players looking to maintain their revenue streams will be seeking ways to supplement their income and stay afloat following further government pricing mandates. In the wake of these cliffs and price changes, the evolving M&A landscape is being driven by the constant stream of technological innovation and scientific breakthroughs. Larger drugmakers will be looking to smaller biotech companies with promising assets to offset earnings losses, and conversely, many biotech firms are looking for funding to continue innovation and allow entry to specialized markets. Further, the demand for personalized medicine and changing market dynamics are pushing venture capital investors to assess the industry, recognize the potential for returns, and acquire companies that are shaping the future of healthcare.
WIT: Do you think that machine learning technology will create conflicts in the biotech industry with respect to the drug development space?
Lankau:"No, it will foster faster development processes to enable go-to-market advantages."
Currently, machine learning is in its infancy when it comes to biotech innovation. But over the next 20 years, this future-forward technology will accelerate biotech operations, allowing for improved automation, gene editing, and field experiments. The biggest barrier to full adoption today, though, surrounds data collection; without adopting modern data practices that will allow for machine learning integration, the industry will fall behind.
The Essential Role of Experts
The next five to ten years will see a host of legal issues in the biotechnology industry, and consulting with an experienced biotech testifying expert witness will help counsel prepare for complex disputes.
When it comes to intellectual property, Lankau reported that generic substitutions will spur a slew of biotechnology litigation as companies turn to burgeoning markets in biotech to fill revenue gaps. Further, establishing patents on biologics or microbes could ignite conflicts surrounding the patentability and uniqueness of each specific application. Experts in this space can provide assessments on biologic drugs, cellular architecture, and more.
Government price control policies will also be a point of contention for the industry as Medicare moves to negotiate the prices of the agency's most expensive medications. Under the Inflation Reduction Act, this industry-altering shift could threaten major pharma developers like Pfizer and Johnson & Johnson and will be similar to a patent cliff for many companies in the space. To prevent drops in revenue, many players will look towards strategic mergers and acquisitions. Experts in the field can assist in the evaluation of manufacturer's R&D budgets along with their portfolios to minimize the impact of pricing policies.
At WIT, we have built teams ofbiotechnology testifying expertswho are prepared to handle all aspects of biotech litigation regarding the ins and outs of complex and novel science and technology. Reach outto WIT for biotech testifying experts who are uniquely qualified to support your next case.
The content of this article is intended to provide a general guide to the subject matter. Specialist advice should be sought about your specific circumstances.