March restaurant survey data indicated a 1.2% increase in same-store sales (SSS), with an overall first quarter growth of 1.0%, negatively impacted by February's lagging results due to severe winter weather in the Northeast and Midwest. The 2018 annual growth of 0.7% represented the strongest sales growth rates for restaurants in the past three years, and the first quarter of 2019 was the fourth consecutive quarter in which SSS was positive, the first time this has occurred since 2015.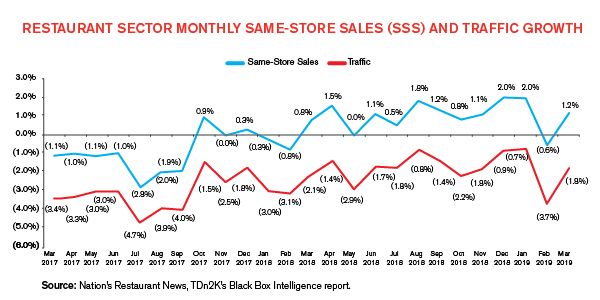 Restaurants experienced a 1.8% decline in same-store traffic in March, proving that February's drop of 3.7% was more of an anomaly than the start of a trend. Even inclusive of February's outlier results, the first quarter of 2019 experienced a 2.0% decline overall in guest traffic, a slight downturn from the fourth quarter's 1.6% decline and the third quarter's 1.3% decline, which had been the best quarterly result in the last three years.

The sector is likely going through its longest period of sales expansion for comparable stores since 2015. There may also be strong signs that point toward a longer-term recovery as well. March's strong sales growth did not come at the expense of a soft comparable month from 2018. Last year March sales grew only 0.6%. This means SSS grew by 1.8% when compared with March of 2017, and the industry is finally posting consistent positive growth on a two-year basis.

One element potentially influencing decreasing traffic numbers is the shift in focus toward more takeout and less dine-in business. Takeout orders are typically made for larger groups, thereby suppressing total traffic numbers and helping to explain the growth in delivery orders.

As the economy nears full employment, recruiting and retaining employees remains a major concern for operators. After years of continuous increases, turnover rates for both hourly employees and
restaurant managers have declined slightly in recent months. Sustaining the reduction of historically high turnover rates and weathering the ongoing staffing struggle will be crucial to restaurant operators' strategy discussions throughout the remainder of 2019.
The content of this article is intended to provide a general guide to the subject matter. Specialist advice should be sought about your specific circumstances.