Tesla's IPO in June 2010, focused primarily on the variety of visions offered by founder, current CEO, and largest shareholder, Elon Musk. However, over the previous few years Musk's vision has increasingly become overshadowed by the growing tensions regarding his comments on social media and mounting frustration among Tesla's investor base.
In August 2018 Mr. Musk proposed via Twitter to take the company private at a volatile stock price of USD 420 after growing frustration with his shareholders, primarily those engaged in short-selling Tesla stock. Following this tweet, the Securities and Exchange Commission (SEC) then accused Musk of misleading shareholders, an action that eventually cost Musk USD 20 million in fines, as well as his position as Chairman of the Board.
During the first quarter of 2019, the SEC claimed Musk violated the court settlement via his statements on Twitter, which required him to receive board approval before making any public statements that may potentially effect Tesla's stock price. This drama played out over March and into May 2019. However, a U.S. Federal judge recently held that Musk was not in contempt of court following the tweet, and approved a settlement between Musk and the SEC. The details of this settlement outline that Musk must now seek pre-approval from a securities lawyer for the content presented by Musk in social media, as well as his communications during investor calls.
Turnaround
Earlier in 2019, Musk informed reporters that he did not expect Tesla to post a profit in Q1 2019, even though the company has only experienced two profitable quarters since going public. In a potential reaction to this, Tesla has switched its market strategy and is repositioning itself to appeal to mass affordability, dropping prices on certain models to as low as USD 30,000. The company is also planning to raise funding through both debt and equity issuances, with plans to sell 3.1 million shares, with Musk himself buying 102,880 shares at a total of USD 25m.
In addition to the change in business strategy and fundraising efforts, Tesla recently announced a reduction in the size of its board from 11 members to seven. Consequently, Brad Buss, Antonio Gracias, Stephen Jurvetson, and Linda Johnson Rice will not seek re-election at the 2019 and 2020 AGMs. The reduction has been positioned as a measure to increase the board's agility and efficiency.
A re-orientation of the company's executive compensation practices also might have had an impact on the change in the company's business strategy. According to CGLytics corporate governance data, since going public in 2010, Musk only received stock-based awards, with the first such award taking place in 2012. In 2012 the Board of Directors okayed the "2012 CEO Grant" to Musk, approving the purchase of five percent of the outstanding common stock, or more than five million shares. These shares consisted of ten vesting periods, implemented in order to incentivize Mr. Musk's future performance. However, the performance criteria for this plan were limited to increases in market capitalisation and developmental milestones for the company's Model X and Model 3 production. Diving further into the company's 2017 financials shows Mr. Musk's approximately 6.7 million shares realised a value of USD 1.34 billion.
The most recent equity award to Mr. Musk, the "2018 CEO Performance Award", parallels the 2012 grant in many ways. The award is structured with a 10-year maximum term stock option to purchase 20,264,042 shares of common stock, divided equally among 12 separate tranches that are each equivalent to one percent of the issued and outstanding shares of Tesla's common stock at the time of grant. However, this grant has several new twists to greater align Musk's varieties of vision and investors' expectations of economic returns from Tesla. Performance criteria for the grant continue to require increases in the company's market capitalisation, but the company has also added concrete measures of increasing Revenue and Adjusted EBITDA for the awards to fully vest.
CGLytics' executive compensation data and relative pay for performance modeler (chart displayed below) shows that, following the redesign of the company's CEO performance-based awards in January 2018, growth in Tesla's EBITDA appears to be steeply on the rise compared to the change in the median EBITDA of S&P 500 companies.
Source: CGLytics Data and Analytics
Year

Total realised pay
[Tesla, Inc.] (USD)

Total realised pay
(median) [S&P 500] (USD)

2012

10.620.552

2013

33.280

10.385.744

2014

52.138

12.862.746

2015

37.584

11.746.158

2016

1.340.149.856

11.340.365

2017

49.920

13.658.883

2018

56.380

11.829.150
We also see an almost identical positioning of Tesla's growth in Revenue and EBITDA when compared to its sector peers with market caps between USD 25 and 100b.
Selected Comparator Peer Group for Tesla
Bayerische Motoren Werke Aktiengesellschaft (BMW)
Bridgestone Corporation
Continental Aktiengesellschaft
Daimler AG
DENSO Corporation
Ford Motor Company
General Motors Company
Honda Motor Co., Ltd.
Nissan Motor Co., Ltd.
Volkswagen Aktiengesellschaft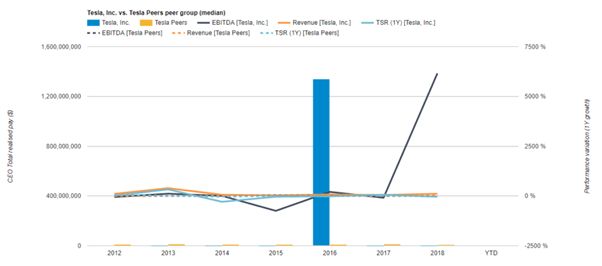 Source: CGLytics Data and Analytics
Year

Total realised pay
[Tesla, Inc.] (USD)

Total realised pay (median)
[Tesla Peers] (USD)

2012

0

11.079.766

2013

33.280

9.918.984

2014

52.138

8.927.229

2015

37.584

10.021.969

2016

1.340.149.856

12.071.052

2017

49.920

10.845.296

2018

56.380

7.062.198
Despite the recent turnaround instituted at Tesla, questions do remain regarding Musk's ability to mollify his investor base, remain in good standing with the SEC, give Tesla his full focus, and ultimately to meet the expectations of running a public corporation: economic and otherwise. Shareholders and board members alike have been on a wild ride with Tesla, and the future seems to appear just as wild, but with (hopefully) fewer bumps in the road.
Sources: CGLytics, CNBC THE WASHINGTON POST TESLA COMPANY WEBSITE FOX BUSINESS
Smart leaders gain the right information from the start. Make more effective decisions for your company or portfolio with CGLytics' pay for performance analysis and executive compensation intelligence. Click here to learn more.
The content of this article is intended to provide a general guide to the subject matter. Specialist advice should be sought about your specific circumstances.