Daha önce yayimladigimiz yazimizda Rekabet Kurulu ("Kurul") sorusturmalarinda delillerin nasil incelenmesi gerektigini incelemistik. Bugün ise delil degerlendirmesinin bir uzanimi olarak kararlarin gerekçelendirilmesi konusunu ele alacagiz. Idarenin yargisal denetimi ve yerindelik tespiti ile hukuk güvenceleri ve temel haklarin gözetilmesi çatisi altinda, Kurul incelemelerinden temyize uzanan her asamada usuli hakkaniyetin saglanabilmesi için Kurul kararlarinin yalnizca gerekçeli olmasi yeterli degildir. Ayrica bu gerekçenin maddi fiiller ile hükmün dayandigi deliller arasindaki iliskiyi göstermeye elverisli; lehe ve aleyhe tüm delilleri ortaya koyan bir nitelige sahip olmasi hukukun temel gereksindirmelerindendir. Bu atmosferde, sirasiyla rekabet hukuku ile ceza usulü arasindaki yakinsakligi inceledikten sonra Avrupa Insan Haklari Mahkemesi ("AIHM") kararlari isiginda bu yakinsakligi somutlastiracak, ardindan gerekçeli kararin Kurul karari öncesinde, karar asamasi ve temyiz süreçlerinde önemini parlattiktan sonra Yargitay'in bu konuda güncel bir kararina yer vererek yazimizi sonlandiracagiz.
Rekabet hukukunun temel süjesi olan tesebbüslere, idari yetkiye dayanan rekabet otoritelerinin karar ve islemleri karsisinda birtakim hukuki güvencelerin saglanmasi gerektiginden süphe duyulamaz. Kamu yararini gözeten ve bu sebeple de yasal düzenlemelerin yasakladigi davranislari isleyenler karsisinda özellikle yeni Kanun degisikligi ile daha da kuvvetli silahlarla donatilmis olan Kurul'un, gerek verebilecegi idari para cezalarin oldukça yüksek asgari sinirlari gerekse incelemeleri ve sorusturmalari kapsaminda donatildigi genis yetkiler, mukabilinde ayni agirlikta hukuki güvenceleri de beraberinde getirmelidir. Bu kapsamda, Rekabet Kurumunun ("Kurum") bagimsiz idari otorite niteliginden ileri gelen idari usul güvencelerine ek olarak hukukun genel ilkeleri ile ceza usul prensiplerinin de gündeme gelmesi kaçinilmazdir.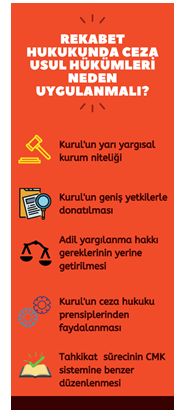 Bunun birazdan ileri sürecegimiz bariz sebeplerinden ilki Rekabet Kurumunun, tabiri caizse bir ceza mahkemesi gibi çalisan yari yargisal kurumlardan olmasidir. Bu baglamda Kurul, kabahati ögrenmesini (ihbar, sikâyet, Bakanlik basvurusu üzerine veya re'sen) takip eden sorusturma sürecini, benzetme mucibince adeta savci yerine geçen Sorusturma Heyeti'nin düzenledigi sorusturma raporunu da göz önüne alarak "aklama" ya da delillerle kanitlanmis bir hukuka aykiriligi cezalandirma ile sonuçlandirir. Bununla baglantili olarak ikinci bir sebep, az önce bahsi geçen ve Kurul'un sahip oldugu genis yetkilerdir. Kurul'un inceleme ve sorusturma süreçlerinde ceza hukukunun temel prensiplerinden olan özellikle delil serbestligi ve re'sen arastirma gibi ilkelerden yararlanmasi, söz konusu süreci ceza yargilamasina yaklastirmaktadir. Dahasi, tipki Ceza Muhakemesi Kanunu'nda tahkikatin bütünün, ceza davasinin hazirlanmasi asamasi (sorusturma) ile iddianamenin kabulünden ceza mahkemesi kararina kadar geçen süreç (kovusturma) olarak iki baslik altinda düzenlendigi gibi rekabet hukukunda da tahkikat süreci iki bölüm halinde düsünülmüstür. Bu kapsamda, kabahatin ögrenilmesinden sorusturma açilmasina veya açilmamasina kadar olan süreç "önarastirma" olarak; sorusturma açilmasindan nihai kararin verilmesine kadar olan süreç ise "sorusturma" olarak adlandirilmistir. Yalnizca bu yazimiz bakimindan son olarak ileri sürecegimiz bir diger sebep ise tipki mahkeme nezdinde yürütülen bir yargilama sürecine benzer bu süreçler neticesinde Kurul'un vermeye yetkili kilindigi para cezalarinin gerek yasal üst sinirlarinin gerekse ilgili tesebbüsün itibari açisindan meydana getirecegi etkinin ciddiyetidir.
Yalnizca burada yer verdigimiz sebepler bile Kurul karsisinda savunma koltuguna oturtulan tesebbüslerin hukukun ve ceza yargilamasinin temel prensiplerinden olan adil yargilanma, dosyaya erisim ve suçta ve cezada kanunilik gibi prensiplerden faydalanmalarini zorunlu kilmaktadir. Açtigimiz bu pencerede, Avrupa Insan Haklari Sözlesmesi'nin ("Sözlesme") 6. maddesinde güvence altina alinan adil yargilanma hakki ile bu dogrultudaki AIHM kararlarini ufuk çizgisine koymayi elzem sayiyoruz. AIHM'in yerlesmis içtihadi1, rekabet otoriteleri tarafindan uygulanan yaptirimlarin 6. maddeyi uygulanabilir kilan bir "suç isnadi"na isaret ettigini; dolayisiyla rekabet hukuku dosyalarinda Sözlesme'nin 6. maddesinin uygulanabilir oldugunu dogrulamistir. Üstelik Mahkeme, yaptirimlarin niteligi bakimindan Engel kriterlerini2 degerlendirdigi birçok kararinda ise yalnizca rekabet otoritelerinin degil benzer yetkiler ile donatilmis diger bagimsiz idari otoritelerin verdikleri para cezalarini da cezai olarak nitelendirmistir3. Bu noktada AIHM, her ne kadar iç hukukta idari olarak siniflandirilmis olsa da söz konusu para cezalarinin, niteligi bakimindan hukuka aykiriligi cezalandirma ve tekrarindan caydirma islevleri ile etkisi bakimindan finansal ve tesebbüs itibari üzerindeki sonuçlarinin cezai niteligi ortaya koydugunu tesis etmistir. Dolayisiyla Sözlesme ile beraber Anayasamizin 36. maddesinde de güvence altina alinmis olan adil yargilanma hakkinin izdüsümleri kapsaminda savunma hakkinin, gerekçeli karar elde etme hakkinin, silahlarin esitligi ilkesi gibi güvencelerin Kurul nezdindeki süreçlerde de gözetilmesi gerekmektedir.
Söz konusu yargilanma hakki, önarastirma ve sorusturma süreçlerinde hem iddia makaminin hem de savunma makaminin diger tarafin ileri sürdügü görüs ve delilleri ögrenme ve bunlara cevap vermesini kapsar. Bunun dogal bir sonucu olarak, savunma makaminin toplanmis olan lehine ve aleyhine tüm delillere erisebilmesi gerekir ki – dosyaya erisim hakkinin da gündeme geldigi bu noktada – karar merciinin dikkatini, iddia makaminin yeterince önem atfetmedigini düsündügü delillere çekebilsin. Bu bakimdan, delillerin hukuka aykiriliga mi yoksa tersi bir duruma mi isaret ettigine karar verecek olan Kurul'dur. Dolayisiyla delilleri serbestçe degerlendirme yetkisini haiz Kurul'un tesebbüsün lehine ve aleyhine olan tüm delillere erisebilmesi Kurul kararinin maddi fiillere uygun sekilde gerekçelendirilmesi bakimindan elzemdir. Takip eden adimda ise bu delillerin Kurul kararinda açikça ortaya konmasi, hükmün dayandirildigi ve dayandirilmadigi delillerin sebepleri ile beraber açiklanmasi gerekmektedir. Bu bakimdan Kurul'un gerekçeli kararinda maddi fiilin, ortaya konan tüm delillerin degerlendirilmesi suretiyle islemin hukuksal nedenine baglanmasi gerekir.
Böylelikle, Kurul kararindan etkilenenler bakimindan maddi fiil ile hüküm arasindaki iliskinin ortaya konmasi, gerekçenin dogrulugunun denetimi ve dolayisiyla da hukuka uygunluk ve adalet hislerinin tatmin edilmesi mümkün olur. Bunu takip eden süreçte ise Kurul kararinin temyiz edilmesi asamasinda, gerek Idare Mahkemelerinin gerekse Istinaf ve Danistay'in yapacagi incelemelerde hâkimlerin verecegi kararlarin istikrar ve isabetine hizmet eder. Kurul kararinin hangi gerekçelerle, hangi tür delillere ve vakialara dayandiginin açikça ortaya konmasi mahkemeler nezdinde yürütülen süreçlerde de hem etkili bir yerindelik denetiminin hem de hakkaniyete ulasmanin geçis kapisidir. Bahsettigimiz çerçevede gerekçelendirilen bir Kurul karari, hukuka uygun olmamasi halinde iptal edilebilmesi; isabetli olmasi halinde de davanin reddedebilmesi bakimindan hâkimlere inceleme ve dayanak malzemesi saglar. Bu itibarla temyiz merciine, verilen hükmün ortaya konan delillere uygun olup olmadigini degerlendirme imkâni verilerek Kurul kararina dayanak olmayan lehe delillerin temyize dayanak olmasinin önü açilmis olur.
Söylediklerimiz isiginda, tesebbüsler karsisinda Kurul'un konumlandirilis seklinden bahsi geçen süreçlerin isleyisine kadar birçok açidan ceza yargilamasina yaklasan bu atmosferde, terazinin diger kefesini ceza usul prensipleri ile desteklemek gerektigi açiktir. Bunlari belirttikten sonra, Yargitay Ceza Dairesinin 9 Haziran 2020 tarihli güncel bir kararinda gayet isabetli sekilde bozmaya dayanak gösterilen su ifadelere yer vermekte fayda görüyoruz:
"Anayasa'nin 141. maddesinin 3. fikrasi ile 5271 sayili CMK'nin 34/1 ve 230. maddeleri geregince hükmün gerekçe bölümünde, sanigin lehindeki ve aleyhindeki delillerin belirtilmesi, tüm delillerin ayri ayri tartisilarak degerlendirilmesi, hükme esas alinan ve reddedilenlerin belirlenmesi, hangi delile hangi nedenlerle üstünlük tanindiginin belirtilmesi, delillerle ulasilan kaniya göre sanigin sabit kabul edilen fiilleri açiklanarak bunun nitelendirilmesi, sonucuna göre sanigin hukuki durumunun saptanmasi gerektigi gözetilmeden, yetersiz gerekçe ile hüküm kurulmasi."4
4054 sayili Rekabetin Korunmasi Hakkinda Kanun'un 52. maddesinin birinci fikrasinin (h) bendinde de isik tutulan 'gerekçe ve kararin hukuki dayanagi'ni içerme mecburiyetinin esasen, ceza usul prensiplerinden Anayasa'ya, Avrupa Insan Haklari Sözlesmesi'nden hukukun genel ilkelerine kadar iç içe geçmis bu parçalarin meydana getirdigi terazinin hassas dengesi oldugunu söylemek abartili olmayacaktir saniyoruz. Dolayisiyla rekabet hukuku baglaminda, hem taraflarin hem de karar mercilerinin adalet duygusunu tatmin etmek hem de önarastirmadan temyize uzanan bütün basamaklarin hukuka uygun ve hakkaniyetli biçimde adimlandigindan emin olmak adina Rekabet Kurulu kararlarinin bahsi geçen Yargitay kararina uygun sekilde gerekçelendirilmesi sarttir.
Footnotes
1. Lilly France v. Fransa, no. 53892/00, 29 Mayis 2001; Dubus S.A. v. Fransa, no. 5242/04, 11 Haziran 2009; ve Menarini Diagnostics S.r.l. v. Italya, no. 43509/08, 27 Eylül 2011.
2. Engel and Others v. Netherlands, nos. 100/71; 5101/71; 5102/71; 5354/72; 5370/72, 8 Haziran 1976.
3. Produkcija Plus storitveno podjetje d.o.o. v. Slovenya, no. 47072/15, 23 Ocak 2019, para. 39-47. Ayrica bkz. Grande Stevens v. Italya, no. 18640/10, 07 Temmuz 2014, para. 94-101; Menarini Diagnostics S.r.l. v. Italya.
4. 2019/6508 esas ve 2020/2642 karar numarali Yargitay 20. Ceza Dairesi Karari.
The content of this article is intended to provide a general guide to the subject matter. Specialist advice should be sought about your specific circumstances.