Dans le contexte de l'épidémie de COVID-19, et plus particulièrement de la stratégie dite de « déconfinement », le gouvernement français a décidé de mettre en ouvre une application, dénommée « StopCovid », disponible sur smartphones dont l'objectif est d'informer les personnes utilisatrices qu'elles ont été à proximité de personnes diagnostiquées positives à la COVID-19 et disposant de la même application, cette proximité induisant un risque de transmission du virus SARS-CoV-2.
Il s'agit de l'un des dispositifs numériques prévus par le gouvernement dans le cadre de cette stratégie globale de déconfinement progressif.
Deux fichiers « Contact Covid » et « SI-DEP » ont déjà été autorisés par la loi de prorogation de l'état d'urgence sanitaire et un décret en date du 12 mai 20201. Ces fichiers visent à assurer le dépistage, la conduite des enquêtes sanitaires et la prise en charge sanitaire des personnes atteintes du virus ou susceptibles de l'être.
En complément, le Gouvernement a souhaité mettre à disposition de la population une application mobile pour informer les utilisateurs d'un risque de contamination lorsqu'ils ont été à proximité d'un autre utilisateur ayant été diagnostiqué positif au COVID-19. Il s'agit d'un dispositif de « suivi de contacts » (contact tracing), qui repose sur le volontariat des personnes et se fonde sur la technologie Bluetooth.
Elle sera téléchargeable sur IOS et Android à partir de 2 juin 2020.
Concrètement, cette application permet à deux smartphones à proximité, sur lesquels elle est installée, d'échanger des données anonymes en Bluetooth. Si l'un des deux utilisateurs se déclare comme étant atteint du COVID-19, toutes les personnes utilisant StopCovid qu'il a croisées seront notifiées et devront se considérer comme d'éventuels cas contacts.
Précisons que pour que l'échange de données (ou crypto-identifiants) fonctionne, il faut qu'au moins deux smartphones - sur lesquels l'application StopCovid est installée et ouverte - se situent à moins d'un mètre de distance environ pendant au moins 15 minutes.
De même, pour être considéré comme "cas contact" d'une personne que l'on a ainsi croisée et qui s'avère être malade par la suite, il faut que cette dernière le signale dans les deux semaines qui suivent la rencontre initiale.
Voici les premières captures d'écran :
Et un aperçu des notifications que recevront tous les utilisateurs dans le cas donc où une personne croisée pendant au moins 15 minutes à moins d'un mètre de distance et ce dans les 15 jours précédant le diagnostic, tombe malade :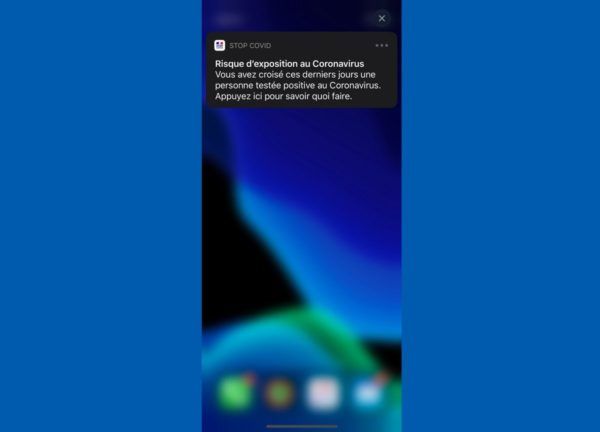 Pour rappel, le lancement de l'application clôt une succession de prises de position différentes :
Position du Parlement
Les députés et sénateurs ont examiné le 27 mai le projet de décret encadrant le déploiement de l'application. Les débats ont été animés tant cet outil numérique divise.
C'est à l'issue de plus de 4 heures de débat2 que les députés ont approuvé la déclaration du gouvernement relative aux innovations numériques dans la lutte contre l'épidémie de coronavirus et la création de l'application StopCovid. Sur les 574 votants, 338 députés ont été pour, 215 contre.
Le Sénat s'est ensuite prononcé, avec 186 sénateurs pour, 127 contre et 29 qui se sont abstenus.
Position de la CNIL
Après son avis du 24 avril 2020 sur le principe de l'utilisation d'une telle application3, la Commission nationale de l'informatique et des libertés a examiné les conditions concrètes de sa mise en ouvre dans son avis du 25 mai 20204.
L'application utilisera des données pseudonymisées, sans recours à la géolocalisation, et ne conduira pas à créer un fichier des personnes contaminées. Selon la CNIL, ce dispositif temporaire, basé sur le volontariat, peut légalement être mis en ouvre.
Si la CNIL a estimé que l'application pouvait être légalement déployée dès lors qu'elle apparaissait être un instrument complémentaire du dispositif d'enquêtes sanitaires manuelles et qu'elle permettait des alertes plus rapides en cas de contact avec une personne contaminée, y compris pour des contacts inconnus, elle a également averti que l'utilité réelle du dispositif devra être plus précisément étudiée après son lancement et que la durée de mise en ouvre du dispositif devra être conditionnée aux résultats de cette évaluation régulière.
Position de la CNCDH
La Commission nationale consultative des droits de l'homme a elle renouvelé ses inquiétudes sur l'application de suivi des personnes et des contacts StopCovid5. Considérant que la conformité à la réglementation sur la protection des données personnelles (RGPD) ne suffit pas à garantir le respect de l'ensemble des droits et libertés fondamentaux, la CNCDH a estimé que l'application StopCovid, d'efficacité incertaine, portait, dans ses modalités d'accès et d'utilisation, une atteinte manifestement disproportionnée aux droits et libertés de l'ensemble des citoyens.
Position du CNNUM
Également interrogé, le Conseil national du numérique a rendu un avis favorable sur l'application Stopcovid tout en émettant une quinzaine de recommandations6.
Position du barreau de Paris
Le Conseil de l'Ordre du barreau de Paris a alerté sur les risques d'atteinte aux droits et libertés fondamentaux pour tout utilisateur de l'application « StopCovid »7.
Concrètement, il a invité les confrères à ne pas installer cette application et à limiter l'usage de la fonction Bluetooth aux seules applications professionnelles présentant des niveaux de sécurité satisfaisante, tout en les appelant à la plus grande vigilance sur l'utilisation de cette application sur leurs smartphones personnels.
1. Cf. notre article intitulé Coronavirus-Covid-19 and contact tracing publié sur notre Blog le 12 mai 2020
2. http://videos.assemblee-nationale.fr/video.9101331_5ece6243ab068
3. https://www.cnil.fr/fr/publication-de-lavis-de-la-cnil-sur-le-projet-dapplication-mobile-stopcovid
4. https://www.cnil.fr/sites/default/files/atoms/files/deliberation-2020-056-25-mai-2020-avis-projet-decret-application-stopcovid.pdf
5. https://www.cncdh.fr/fr/publications/la-cncdh-souligne-les-dangers-de-lapplication-stopcovid
6. https://cnnumerique.fr/files/uploads/2020/2020.04.23_COVID19_CNNUM.pdf
7. http://dl.avocatparis.org/com/mailing2020/18_conseil_27052020.html
Pour lire en Anglais, veuillez cliquer ici.
Originally published 1 Juin 2020
The content of this article is intended to provide a general guide to the subject matter. Specialist advice should be sought about your specific circumstances.