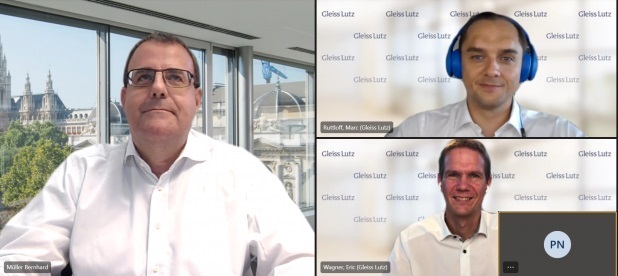 Um die Einhaltung der Menschenrechte und Umweltstandards auch in fernen Ländern zu gewährleisten, wurde das deutsche Lieferkettensorgfaltspflichtengesetz beschlossen. Mit diesem werden sich auch österreichische Marktteilnehmer künftig intensiv beschäftigen müssen.
Zu diesem Anlass luden die Experten, Bernhard Müller, Partner bei DORDA gemeinsam mit den deutschen Experten, Marc Ruttloff und Eric Wagner, beide Partner bei Gleiss Lutz Partner, zum Webinar am letzten Donnerstag, den 14. Oktober 2021.
Während Österreich noch auf eine europäische Lösung wartet, hat Deutschland bereits im Juni 2021 ein Lieferkettensorgfaltspflichtengesetz beschlossen, dessen Auswirkungen auch hierzulande spürbar sein werden.
Marc Ruttloff und Eric Wagner stellten die Situation ab 2023 dar, ab dem Zeitpunkt das Lieferkettensorgfaltspflichtengesetz deutsche Unternehmen mit mehr als 3.000 Mitarbeitern (1.000 ab 2024) verpflichtet, menschenrechtliche und umweltbezogene Risiken im eigenen Geschäftsbereich sowie bei direkten Zulieferern zu ermitteln.
Was bedeutet das nun? Deutsche Unternehmen haben sich gegenüber ihren deutschen Abnehmern vertraglich zu verpflichten, diese Erwartungen einzuhalten und entlang ihrer eigenen Lieferkette zu adressieren. Im Zuge dessen sind auch adäquate Kontrollmechanismen und Kontrollmaßnahmen zu vereinbaren. Den unmittelbaren Zulieferern wird somit letztlich auferlegt, wiederum entlang ihrer Wertschöpfungskette die gleichen Maßnahmen zu setzen.
Ob dies nun auch für österreichische Unternehmen gilt, die in die Lieferkette eines großen deutschen Unternehmens unmittelbar oder mittelbar eingebunden sind, brachte Bernhard Müller sehr plakativ anhand viele Beispiele auf den Punkt.
Müller dazu: "Die Umsetzung selbst folgt entsprechend einem risikobasierten Compliance-Ansatzes. Darüber hinaus müssen österreichische Unternehmen damit rechnen, dass Verträge mit ihren deutschen Abnehmern um einschlägige Klauseln ergänzt werden, die bei den Verhandlungen vielleicht nicht zentral sind, jedoch große Auswirkungen auf eine reibungslose Geschäftsbeziehung haben können."
Ein Gesetz, das nicht nur in Deutschland den Mittelstand "das Fürchten lehrt" und polarisiert, sondern auch aufgrund seiner Zeichenanzahl - 36 Zeichen – ein wahrer Zungenbrecher ist. 
The content of this article is intended to provide a general guide to the subject matter. Specialist advice should be sought about your specific circumstances.