As more difficult conditions for business take their toll.
Insolvency appointments ended FY2023 as a story with two distinct beats. Corporate insolvency appointment volumes have returned to "normal" levels, while personal insolvency appointments have been stuck at ultra-low volumes, as if the pandemic never ended.
Corporate Insolvency
Corporate insolvencies ended the financial year with 10,366 total appointments, which is just slightly below the long-term average on 10,744 per year.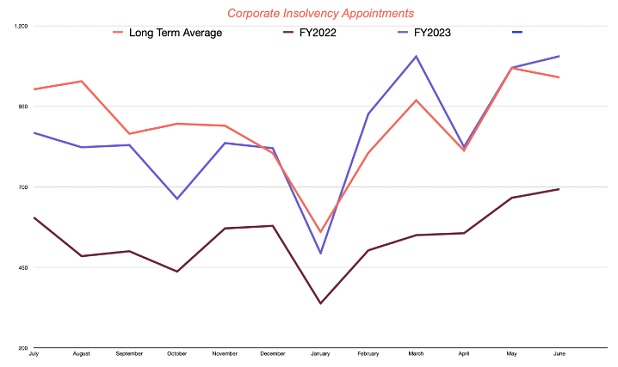 These were made up by:
5,288 creditors' voluntary liquidations
1,364 voluntary administrations of which 514 proceeded to a Deed of Company Arrangement (DOCA)
1,275 court liquidations
1,145 controller appointments
448 Small business restructuring appointments of which 333 proceeded to a restructuring plan
10 provisional liquidations
It's clear to me that corporate insolvencies will continue to rise in FY2024, likely ending the year well above the long-term average. Several factors will contribute to elevated corporate insolvency appointments through FY2024. These include:
The Australian Taxation Office (ATO) is becoming much more active in pursing debts, however, its actions to date haven't been enough. Budget estimates for FY2024, have the ATO's debt book continuing to grow to a staggering $50 billion1. It's clear that the ATO will have to move to an even more aggressive footing to bring that debt down.
Trading conditions and especially retail spending saw a huge boost coming out of the post-pandemic lockdowns, jumping to record levels. That spending boom is now slowly coming to an end, meaning businesses that were kept afloat by buoyant demand will now face more difficult trading conditions.
Following the ATO's lead, other active creditors are returning to normal levels of insolvency activity. While the pandemic period saw major creditors and landlords act admirably to assist struggling businesses, the further removed we get from the pandemic, the less accommodations are being made.
Personal Insolvency
Personal insolvencies ended the financial year with only 9,923 appointments, less than half the long-term average.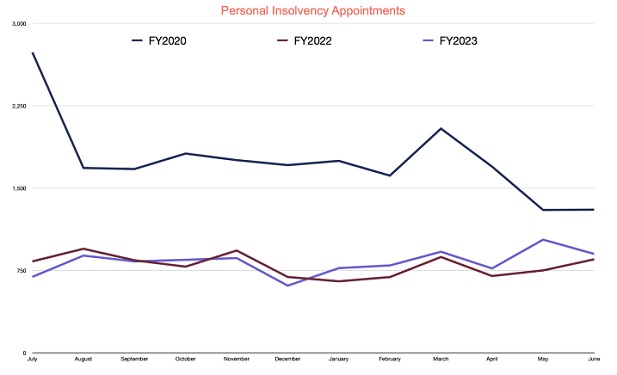 These were made up by:
5,844 bankruptcies
3,942 debt agreements
121 personal insolvency agreements
23 insolvent deceased estates
Again, it's clear that at some point, personal insolvencies will increase, but I don't expect to see a noticeable trend upwards until late in FY2024.
Three factors have worked together to help keep personal insolvency appointments at a relatively low level since the pandemic, and they will all be slow to ease. They are:
Unemployment has sunk to record lows and stubbornly stayed there. With low levels of unemployment, household incomes have, for the most part, kept pace with rising cost of living.
There has been an increased willingness from creditors to allow individuals to enter into low-value payment plans rather than aggressively pursuing debts, leading to bankruptcies. This, combined with low unemployment, means more individuals are able to keep treading water and avoid bankruptcy.
Australians built up a huge pool of excess savings through the pandemic period that they only started to tap into in June 2023.
I don't expect to see any significant increase in personal insolvency appointment volumes until unemployment starts its march back towards more normal levels in 2024.
The bigger picture
It's important to keep in mind that rising insolvency numbers in the current economic climate are not a cause for concern. As the economy slows, which it is doing now, we expect to see an increase in insolvencies as more 'marginal businesses' run into difficulty.
This coupled with the large number of insolvencies that didn't happen over the pandemic period due to government intervention (my estimate is 16,000), means we are primed for a few years of higher-than-average insolvency appointments, particularly in the corporate space. Think of this as catch up for the last few years, not some emerging crisis that warrants panic.
However, the ATO and other creditors continue to respond favourably to companies and individuals that take proactive steps to deal with their financial issues early. Talk to your local Worrells principal as soon as possible-the sooner you seek help, the more options you'll have.
Footnote
>1https://www.afr.com/companies/professional-services/unpaid-gst-has-helped-blow-a-50b-hole-in-revenue-20230816-p5dx33
ASIC Insolvency Statistics (Current) - Series 2 -https://asic.gov.au/regulatory-resources/find-a-document/statistics/insolvency-statistics/insolvency-statistics-current/
AFSA Quarterly Personal Insolvency Statistics -https://www.afsa.gov.au/about-us/statistics/quarterly-personal-insolvency-statistics
The content of this article is intended to provide a general guide to the subject matter. Specialist advice should be sought about your specific circumstances.