Detailed reporting rules now adopted, non-EU companies required to provide extensive disclosure
The EU's Corporate Sustainability Reporting Directive ("CSRD") requires the most detailed and onerous ESG reporting and disclosures anywhere in the world. All told, it is estimated that more than 50,000 companies, including at least 10,000 non-EU headquartered companies of which more than 3,000 are U.S. companies, will be required to provide granular disclosures across a broad set of ESG topics.
This White Paper discusses when, and to which companies, the requirements will apply; analyzes hot-button issues around the required disclosure topics; highlights key areas of concern for issuers of EU-listed securities; and gives six key takeaways for companies seeking to understand and, ultimately, comply with the CSRD.
INTRODUCTION
The European Commission (the "EC") recently adopted detailed reporting standards applicable to the first groups of companies required to report under the CSRD.1 These companies will need to begin reporting on information for the period beginning on January 1, 2024. Going forward, EU Member States must pass legislation implementing the CSRD into domestic law by July 6, 2024, at the latest, potentially impacting the scope, form, and sanctions for noncompliance. Guidance is also expected from the EC. This will require companies to nimbly and quickly put in place the necessary procedures for compliance.
The EC adopted the first set of European Sustainability Reporting Standards ("ESRS") on July 31, 2023, containing nearly 300 pages of detailed reporting requirements under the CSRD that apply to all reporting companies (i.e., are "sector agnostic").
The new reporting requirements are more detailed than nearly all companies' current ESG reporting requirements. As a result, companies should identify the gaps in their current reporting, establish their data collection and reporting strategies, and understand how the new EU rules apply to their EU group companies and, potentially, their worldwide group.
The reporting requirements will be phased in (see CSRD Phase-in Timeline below) with the first group of covered companies having to report in 2025 for the year beginning January 1, 2024.
Covered companies will need to: (i) reexamine their current ESG reporting strategies, including risk analysis and management and (ii) develop and deploy processes for obtaining information from throughout the value chain that will be required to be reported in their sustainability reports. Issuers of securities listed on a regulated market in the EU, including non-EU companies, are subject to a relatively short period for coming into compliance. If they fail to comply, or are unable to do so, they will need to consider other measures, such as delisting.
WHEN WILL THE CSRD (AND ESRS) APPLY, AND TO WHOM?
The CSRD requires companies, including U.S. and other nonEU companies with substantial activity in the EU or EU-listed securities, to provide far-ranging ESG disclosures. The disclosures are keyed off of detailed reporting standards adopted by the EC.
At a high level, companies will need to understand the application of the CSRD as follows:
Who (i.e., which entity) triggers the reporting requirement and must be covered by the CSRD report—including nonEU groups;
What information must be reported (i.e., sustainability information for the relevant financial year); and
When the sustainability report must be published.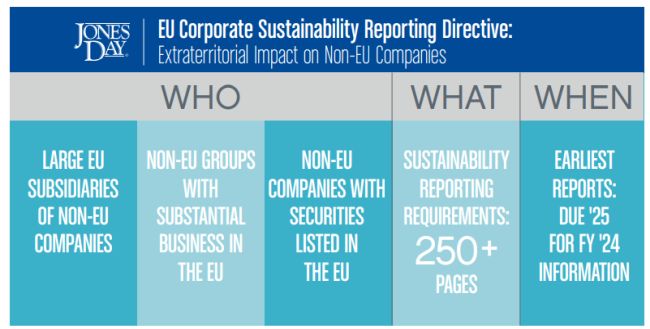 Applicability and Timeline Depends on Type of Company
Depending on the entity and group corporate structure, some companies will need to comply for reporting periods starting in 2024:2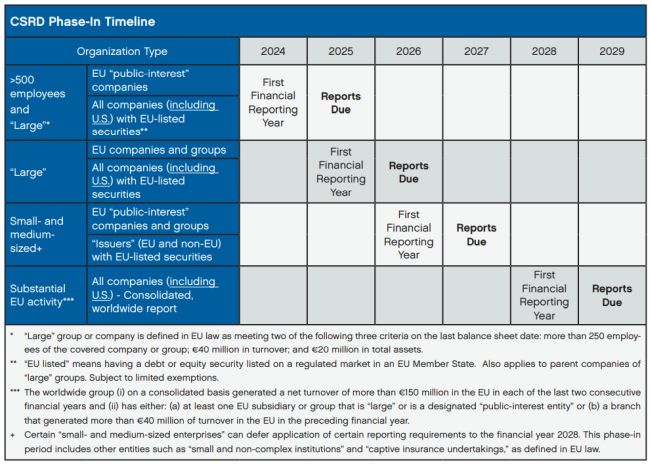 Portions of the ESRS contain a separate phase-in schedule. For example, covered companies with less than 750 employees on average during the financial year may omit disclosure of scope 3 emissions and "own workforce" information in their first year of CSRD reporting (see Table 2 – Social- and Governance-Related Disclosure Topics below).
To view the full article click here
Footnotes
1. Now that the EC has adopted the Delegated Act containing the first set of ESRS, the European Parliament and the Council of the European Union will examine the draft (deadline this fall before expected entering into force).
2. All dates assume a December 31 financial year-end.
The content of this article is intended to provide a general guide to the subject matter. Specialist advice should be sought about your specific circumstances.