Although summer is nearly over, there is still plenty of time to take a holiday, and so we've put together our top inventions for your getaway this year...
If like myself, you find swimming aids and recreational type float devices "relatively flimsy and generally inefficient in operation", you may wish to consider reaching for the "Body Sail" (US 3,771,181) this summer. This invention features a head float, along with a body float and foot float both comprising a sail and mast as a "propelling means". Just steer by the "proper manipulation of the arms", and away you go!
The white sandy beaches of the Caribbean, or the mudflats of Weston-super-Mare? Now your friends will never know, thanks to the "Portable Personal Palm Tree" (US 7,226,645). This invention aims to produce decorative palm trees that can be variously assembled to produce different characteristics, lending "decoration and/or atmosphere to an environment". And if this ability to assemble a specific species of palm wasn't enough, this invention may also be provided with coconut shaped drink receptacles, which can be attached to the assembled tree by hooks.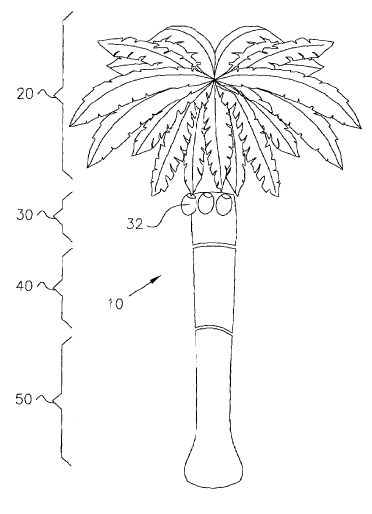 If you too are frustrated that the ice that you have delicately balanced on your head in the summer heatwave won't stop melting into your eyes, look no further than the "Improvement in Sun-Stroke Protectors for Head-Coverings" (US 115,894). This ice filled hat aims to "cool the heads of men and animals during the hot weather" while also "keeping the moisture of the cooling substance away from the skin". This is achieved by providing sawdust beneath the ice in a water-tight receptacle in the hat, where the moisture from the melting ice is then absorbed by the sawdust.
The above patent describes embodiments for both humans and horses, and is arguably an improvement over the "Shield for Horses" patent (US 92,142) granted two years previously.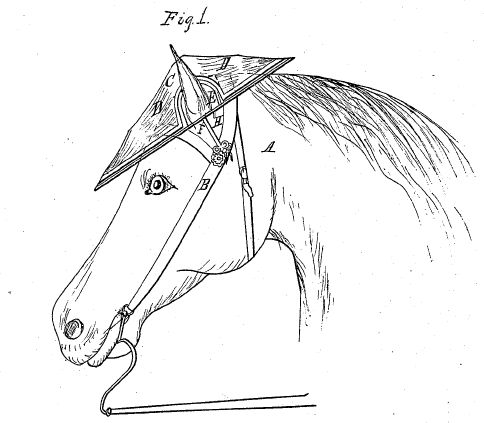 Concerned about leaving your picnic basket unattended this summer? You no longer have to worry thanks to the "Anti-Theft Picnic Device" (US 4,436,214). Not only does this picnic chest have a lockable lid, it also features an anchoring device that can be "actuated by means of a member within the chest", allowing the chest to be anchored in both sand and soil. Although this may prevent others making off with your lunch, it doesn't appear to help with keeping sand out of your food on your visit to the beach.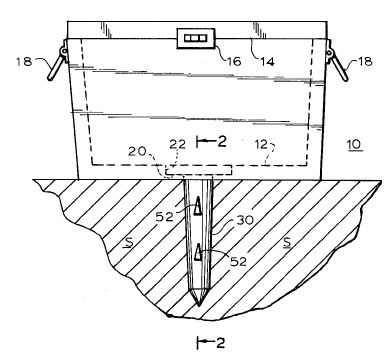 When planning your outfits for festival season in the UK, consideration for the rain and the mud is vital. Luckily, you no longer have to compromise on style while also protecting yourself from the inevitable downpours with the "Foul Weather Apparel" (US 5,101,513). This invention offers protection from rain, sleet, snow, wind or cold, without inhibiting a person's body movements, with its tubular enclosure. Coming soon to a social media influencer's page near you.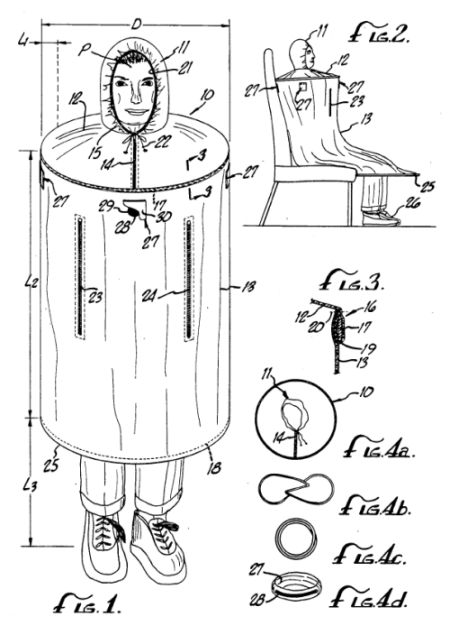 The content of this article is intended to provide a general guide to the subject matter. Specialist advice should be sought about your specific circumstances.