The Banking Regulation and Supervision Agency of Turkey ("BRSA") has recently announced a broad restructuring program in relation to the debts of companies owed to the Turkish financial creditors. BRSA's recent Regulation on the Restructuring of Debts Owed to the Financial Sector ("Regulation") aims to pave the way for companies to initiate a general restructuring of their financial debts and ensure coordination of the Turkish financial institutions in the restructuring of these debts.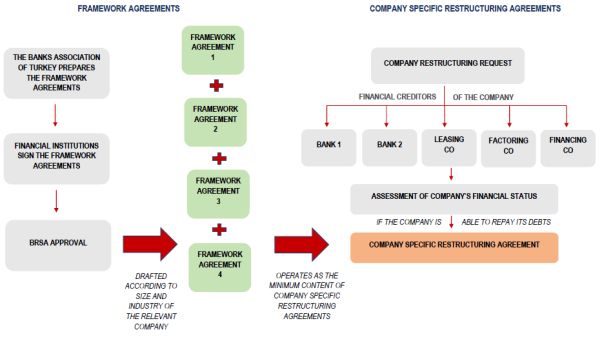 FRAMEWORK AGREEMENTS
The framework agreements are prepared by the Banks Association of Turkey.
Turkish financial institutions (banks, leasing companies, factoring companies, financing companies etc.) are parties to these framework agreements.
The framework agreements become valid and applicable with the BRSA approval.
Customized framework agreements may be drafted according to the size (SME etc.) and industry (energy, retails etc.) of the companies.
COMPANY SPECIFIC RESTRUCTURING AGREEMENTS
The company specific restructuring agreements must be signed within two years as of the BRSA approval of the relevant framework agreement. The BRSA is authorized to extend this term.
The restructuring is subject to the ability of the company to repay its debts following restructuring. If the financial status of the company does not meet this condition, the financial debts of that company cannot be restructured.



The criteria for the repayment ability will be determined in the relevant framework agreement.

If the two-thirds of the financial creditors in terms of debt-size (although not clearly expressed in the Regulation) approve the restructuring, the Regulation requires the rest of the financial creditors to participate in the restructuring.
The content of this article is intended to provide a general guide to the subject matter. Specialist advice should be sought about your specific circumstances.