South Africa has long been the leader in chemical production for the continent. The chemical industry accounts for about 25 percent of the nation's manufacturing sales, with synthetic coal and natural gas-based liquid fuels and petrochemicals dominating the sector.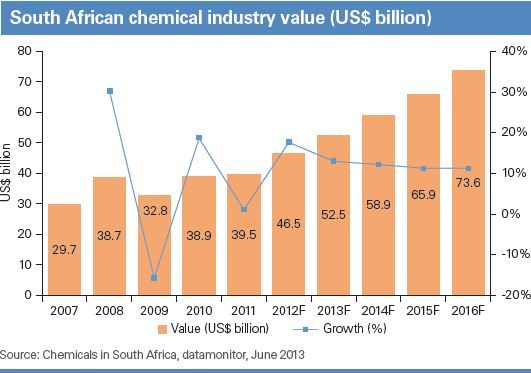 South African chemical producers are currently facing poor domestic demand and a volatile exchange rate that hampers exports. The country's plastic and basic chemicals output declined throughout 2013. In the first 10 months of 2013, plastic output fell 19 percent year over year (y-o-y) and basic chemicals declined 9 percent y-o-y.8 On the upside, synthetic rubber production increased 9 percent while rubber production grew 9 percent.
Chronic problems include ongoing uncertainty about the outcome of wage negotiations, potential electricity supply shortages and slower growth in consumer spending that is undermining confidence within the petrochemicals sector. Nevertheless, domestic producers have benefitted from both a weak rand, which has sustained competitiveness, and relatively cheaper costs when factoring in transportation of imports, which has helped maintain current production levels.
The content of this article is intended to provide a general guide to the subject matter. Specialist advice should be sought about your specific circumstances.