Following the approval of the 2021 - 2023 Medium-Term Expenditure Framework and Fiscal Strategy Paper, President Buhari has presented the 2021 Budget (Appropriation Bill) to the joint session of the National Assembly.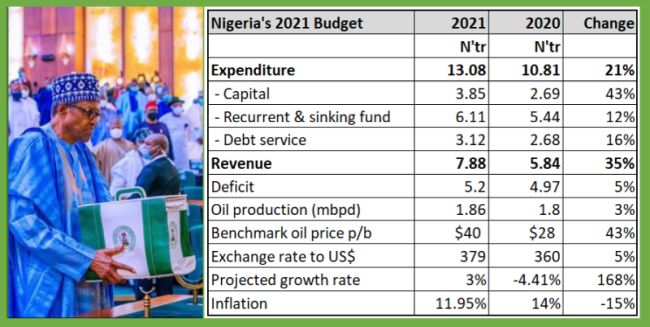 Below are the other highlights:
The 2021 Finance Bill will be forwarded to NASS for consideration
Tax expenditure statement for 2019 to be provided
Inclusion of the revenue and expenditure of 60 State Owned Enterprises 
Provision for the payment of allowances to 5,000 teachers under the Federal Teachers Scheme
Rural Electrification Projects in the 36 States and Abuja
Provisions for legacy debts owed to local contractors 
Earmarked funds for projects such as the Lagos-Ibadan-Kano Line, Abuja-Kaduna Line, Port-Harcourt-Maiduguri Line and Itakpe-Ajaokuta-Warri Line.
Revenue generation remains government's main challenge. In this regard key revenue management measures introduced include deregulation of the price of petroleum products; ongoing verification exercise with IPPIS; and implementation of service-based electricity tariffs.
Quick passage of the Petroleum Industry Bill into law expected to boost confidence and attract further investments into the oil and gas sector and increase revenues
Government is committed to implementing programmes to lift 100 million Nigerians out of poverty over the next 10 years. Social safety nets will be implemented to cushion the effect of the most vulnerable of our citizens as well as business owners.
The 2021 Appropriation Bill has been designed to further deliver on the goals of government's Economic Sustainability Plan. The Honourable Minister of Finance, Budget and National Planning will, later, provide the full details of these proposals.
It is expected that the Budget will be passed into law in time for implementation to commence by 1 January 2021.
Copy of the Budget Speech here Download 2021 Budget Presentation Speech_8Oct2020
The content of this article is intended to provide a general guide to the subject matter. Specialist advice should be sought about your specific circumstances.