With innovation leading to the increasing integration of drugs and devices, traditional boundaries between medicines and medical devices are often blurred. As a result, determining the correct regulatory pathway for drug-device combination products (DDCs) can prove challenging.
The development of these products involves interaction between EU and national regulations, one of which, the Medical Devices Regulation (MDR), is set to become fully applicable on 26 May 2021.
In this briefing we examine the key changes to the regulatory pathway for DDCs.
Click here or on the image below to download this briefing, or click the following links to view the rest of our series: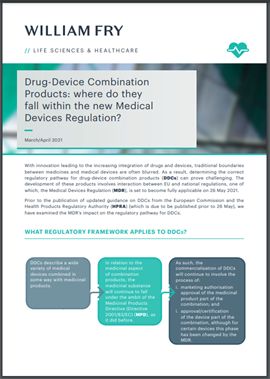 The content of this article is intended to provide a general guide to the subject matter. Specialist advice should be sought about your specific circumstances.