The most popular video-sharing app TikTok, is presently trending in India for an altogether different reason. For those who dont know, TikTok is a Social Media Platform, owned by Byte-dance Company, the same company which also owned similar app named Musical.ly. TikTok grabbed a lot of eyeballs last week, due to the Ban imposed on it by the Hon'ble Madras High Court on April 03, 2019.
TikTok has over 5.4 Crore users in India and globally, it has been used by more than 800 Million users presently. According to Google Play Store download stats, TikTok was downloaded 9 million times over October 2018. TikTok brought in $3.5 million in revenue over 2017, 42% of which came from the US, 39% from China (excluding Chinese Android users).1 Also, it has been ranked third in the World as of 2019 and the fourth most downloaded app in the world.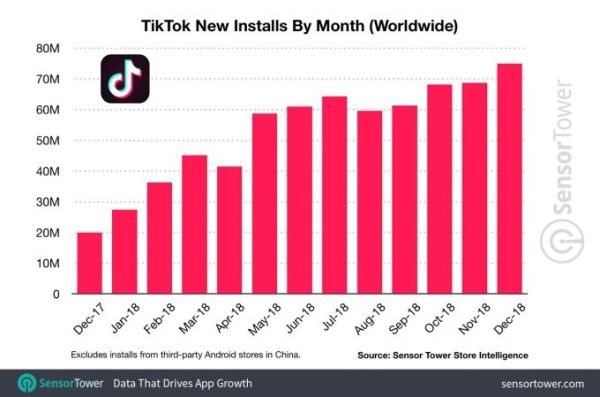 What is TikTok?
TikTok is a video-sharing app that allows users to create and share 15-second videos, on any topic. TikTok users use the app largely to create, share, and view content based around lip syncing, dancing, comedy skits, and other physical activities. Clearly, this is something that appeals to young people (and quite a few older ones) around the world.
Partnerships by Celebrities, making the app popular:
This App is liked and also used by numerous celebrities, such as Jimmy Fallon, Cardi B, Nick Jonas, Aashika Bhatia, Jannat Zubair, etc. The App also offers paid partnership to celebrities, to encourage or boost the App to the local audiences.
In November 2018, Celebrity Jimmy Fallon started a Challenges section following his paid partnership with TikTok. He started the Tumbleweed Challenge on TikTok, in which a person has to roll like tumbleweed. The challenge went viral within a week and it grabbed 10.4 million engagements.
The Celebrity Partnership has been a key strategy to expand the business around the world. It uses celebrities to promote the app as well as the content of TikTok. These celebs not only post the content on this app, but also stimulate the app on other social media platforms such as Facebook, Instagram, etc.
Reasons on Imposing the Ban:
In the past few days, TikTok has been on fire due to some gross incidents that took place around the world. First in this list is the case of Mohammad Salman, a 19- year- old boy from Delhi, who was shot by his friend Suhail Malik, while making a video for TikTok. Another incident which is reported and also increased the anger for the video sharing application is, in the Month of February three students of Tamil Nadu while riding a scooter met with an accident and rammed into a bus. It eventually turned out that the accident occurred, while the making of video for TikTok.
Furthermore, in Punjab, a man who was trying to make a video on the platform during which he attempted to get on a moving tractor. But as fate would have it, his foot slipped and he ended up under the tire of the tractor and then eventually lost his life after getting stuck in the cultivator machine stuck to the tractor. Another incident happened in Chennai, where a man was trying to act of (slitting of throat) on camera and accidentally he ended up actually slitting his throat in real. That man also tried to stop the bleeding, but eventually lost his life.
Another major reason to ban this app was, it encouraged the inappropriate or sexually explicit content. It is a known fact that TikTok is very famous amongst youngsters and it will and it is harming the mental status of children.
Due to these reasons, Google and Apple stores also pulled out the TikTok App from their respective app stores.
What made the Hon'ble Madras Court lift up the Ban?
After the decision of putting the ban on TikTok, the owner of this app Byte-Dance Company filed an appeal to reverse this decision. TikTok owner stated that, after the ban, the company suffered the losses of $500,000 in a day and putting more than 250 jobs at risk.2 He also stated that, there was a titchy portion of inappropriate content on the app.
On behalf of the company, a spokesperson stated that, there are certain steps which they will take to revamp the app in an appropriate manner and in accordance with the law. Three very important steps adopted by the company are Filter Comments, Anti-Bullying Guidelines, and Vigil App integration.
The filter comments part deals with a proprietary filter for every user, who could choose up to 30 customized words to ban such terms from being used by other users, as comments on their content. The anti-bullying guidelines, meanwhile, fall under the purview of general user guidelines and easy to access helplines that TikTok extended to its users, after questions about its impact on mental health came to the fore. Alongside offering general user guidance for conduct on the platform, TikTok also introduced an easier way for users to report content, and claimed that it increased the level of vigilance in terms of quality control on its platform.
The third step is linked to the ongoing Lok Sabha elections in India, where politically inclined hate speech, propaganda and other messages could be reported and taken down on the platform. This, too, was put in place to help users and authorities report on political content, as the platform looked to increase its credibility.
Eventually, The Madras High Court bench on Wednesday lifted its ban on Chinese social media app TikTok with the condition that the platform should not be used to host obscene videos.
Conclusion:
In a nutshell, with the ban now lifted, this video sharing Application will now be available on platforms like Google and IOS. This app was always available from the third party websites, even during the ban; people were able to download and share the content on the app. Apps like Viva video, Dubsmash, Snapchat, Vigo video, TikTok, video streaming platforms like Dailymotion, and games like PUBG and GTA are very famous amongst the Youngsters. These apps are two faced, on one side they provide unlimited entertainment and craziness and on the other they are actually encouraging the inappropriate content, violence, abuse, harassment and also political propagandas, by making it accessible it on the app. This type of contents are eventually harming the mental health of the youngsters and even expands the possibility of all sorts of crimes. While Games like PUBG and GTA have all sort of violence which are ideally not fit for children below a certain age (not capable of understanding the difference between real life and Games), unaware of the consequences that they could suffer if they do in real life what they do in Games. On same page video apps like TikTok, Vigo Video are encouraging nudity , sexually explicit content as content which should ideally be treated as ( Adult) is shared freely across the world, seen by everyone without any age filter. There are also instances of under age children sharing their obscene content on these platforms. This is a issue much more important than what it is actually considered. Such apps could be used to spread all kinds of nuisance for eg. Blasphemous content, seditious content, content spreading religious violence and also political propaganda. From our viewpoint, it has been suggested that it is high time that these Apps realize the consequences of thir actions and instead of finding cheap ways to gain popularity, should adopt self regulation process such as Auto-Filter, Report as Abuse, and Report as inappropriate content, so that such content video, image etc can be eliminated from the list.
Footnotes
1. Mansoor Iqbal, TikTok and its Usage Statistics 2019 (April 29, 2019 and 09:54 P.M), https://www.businessofapps.com
2. Prabhjote Gill, TikTok Ban lifted in India (April 29, 2019 and 3:01 P.M), https://wwwbusinessinsider.com
The content of this article is intended to provide a general guide to the subject matter. Specialist advice should be sought about your specific circumstances.