Introduction
Intangible assets such as intellectual property and goodwill are important sources of competitive advantage and economic value for any business. However, companies may face challenges in the valuation and reporting of intangible assets, particularly in this digital economy. This is exacerbated by a lack of standardised reporting principles.
To address this issue, the Accounting and Corporate Regulatory Authority ("ACRA") and the Intellectual Property Office of Singapore ("IPOS") jointly issued a public consultation paper on 14 December 2022 proposing an Intangibles Disclosure Framework ("Framework") to help businesses disclose and communicate their intangibles.
The Framework is an initiative under the Singapore IP Strategy 2030 ("SIPS 2030"), a 10-year blueprint to strengthen Singapore's position as a global intangible assets and intellectual property hub. One long-term goal of SIPS 2030 is to build a credible and trusted intangible asset valuation and reporting ecosystem to support enterprises in managing and commercialising their intangible assets. In this regard, through the development of the Framework, SIPS 2030 seeks to establish Singapore's position as a frontrunner in the global community, as no jurisdiction has developed an intangible-specific disclosure or valuation framework.
The Framework outlines the key principles that an enterprise should follow when disclosing their intangibles in a report. It sets out the four pillars for disclosure, describes what each of the pillars entails, and provides guidance for enterprises on how they should disclose their intangibles under these principles.
The Framework will help businesses communicate the value of their intangibles and maximise their economic potential, which will also serve to enhance information transparency and facilitate the commercialisation of intangibles. Enterprises with intangible assets should thus be aware of the principles set out in the proposed Framework and submit any feedback they may have to ACRA or IPOS by 28 February 2023, the closing date of the consultation.
This Update provides a summary of the key features of the Framework.
Key Features of the Framework
The Framework seeks to provide stakeholders with standardised information about an enterprise's intangibles, allowing them to make more informed assessments of its business and financial prospects. An intangible, as defined in the Framework, is "a non-monetary resource that manifests itself by its economic properties; it does not have physical substance but grants rights and/or economic benefits to its owner".
The key principles in the Framework are built on four pillars: Strategy, Identification, Measurement, and Management. The table below summarises what each pillar entails and the recommended disclosures pursuant to each pillar.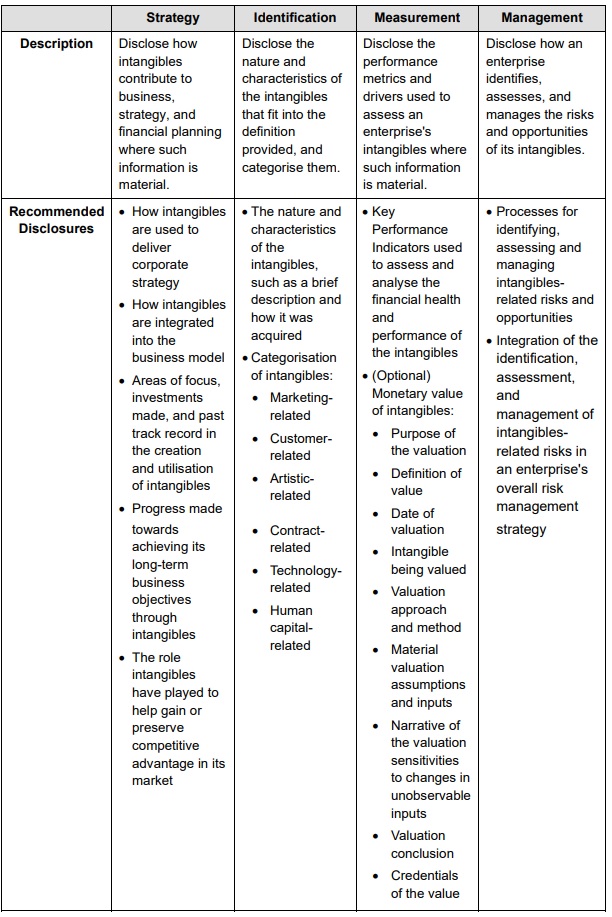 Concluding Words
The valuation and reporting of intangible assets is a key issue for businesses seeking to capitalise on the value of such assets. The Framework seeks to enable businesses to identify and disclose their intangibles, and to improve market transparency by providing stakeholders with standardised information about a company's intangibles. This will in turn facilitate the commercialisation of intangibles, increasing access to financing as businesses, investors and financial institutions are able to obtain clearer insights on a company's intangibles.
The content of this article is intended to provide a general guide to the subject matter. Specialist advice should be sought about your specific circumstances.