Earlier in the year ASIC released an interactive Regulatory Developments Timetable (Timetable) outlining the proposed timeframes of its regulatory work. The Timetable can be filtered by both time period and sector so Australian Financial Services and Australian Credit Licence holders (Licensees) can identify regulatory amendments that may impact their business.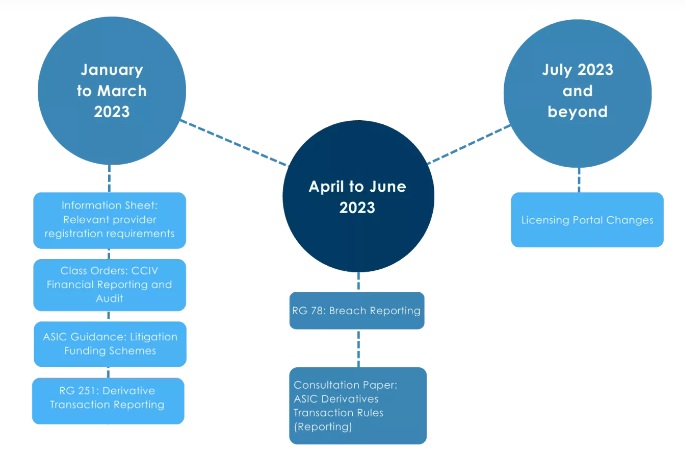 Sophie Grace has summarised some key expected regulatory changes:
Sector

Time Period

Regulatory Change

General

April to June 2023

Update to RG 78: Breach reporting by AFS licensees and credit licensees

The changes will include updates to provide additional guidance and improve clarity around breach reporting requirements.

July 2023 and beyond

New licensing portal for Licensees (including revised guidance).

Financial Advisers

January to March 2023

Information Sheet to be published relating to the registration requirement of relevant providers with ASIC by 1 July 2023.

Financial Reporting and Audit

January to March 2023

Update to the financial reporting and audit class order for Corporate Collective Investment Vehicles (CCIVs).

Investment Managers

January to March 2023

Update to ASIC guidance and website to complete the implementation of the regulation of Litigation Funding Schemes

Market Infrastructure and Intermediaries

January to March 2023

Update to RG 251: Derivative transaction reporting following the December 2022 updates to the ASIC Derivatives Transaction Rules (Reporting) to harmonise Australian Trade Reporting rules to align the OTC Derivatives trade reporting requirements in Australia with international approaches.

April to June 2023

Consultation paper to be published regarding the outstanding matters relating to ASIC Derivatives Transaction Rules (Reporting) not updated in December 2022. The outstanding matters subject to consultation include:

· Alternative reporting

· Excluding exchange-traded derivatives; and

· Reporting by foreign entities trading with Australian wholesale clients.
It is important for Licensees to understand that the Timetable is a point in time document and is not updated once it is published by ASIC. The Timetable is updated on a six-monthly basis. The Timetable sits alongside ASIC's Regulatory Tracker. The Regulatory Tracker is updated on a weekly basis and publishes regulatory updates.