Overview
The ASX 200 AREIT Accumulation Index returned 12.70% over the six months ending 31 December 2014.
S&P ASX 200 Property Accumulation

Outlook
The outlook for key property sectors is as follows: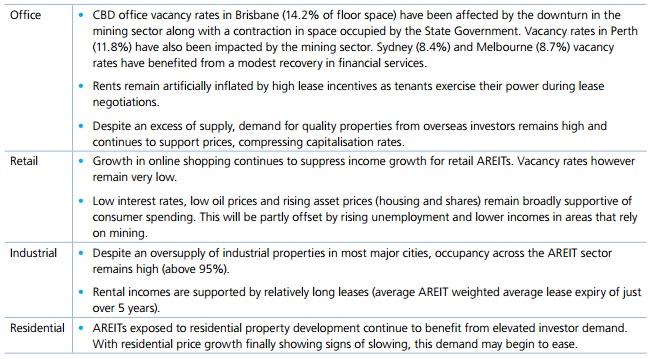 Conclusion
Many AREITs are now trading above their net asset values. Valuations are relatively unattractive and operating income growth prospects are low. Nevertheless potential merger and acquisition activity and investor demand for yield may continue to provide some support for the sector. On balance we recommend investors retain a modest underweight exposure.
This publication is issued by Moore Stephens Australia Pty Limited ACN 062 181 846 (Moore Stephens Australia) exclusively for the general information of clients and staff of Moore Stephens Australia and the clients and staff of all affiliated independent accounting firms (and their related service entities) licensed to operate under the name Moore Stephens within Australia (Australian Member). The material contained in this publication is in the nature of general comment and information only and is not advice. The material should not be relied upon. Moore Stephens Australia, any Australian Member, any related entity of those persons, or any of their officers employees or representatives, will not be liable for any loss or damage arising out of or in connection with the material contained in this publication. Copyright © 2014 Moore Stephens Australia Pty Limited. All rights reserved.