Overview
In 2012 Mario Draghi, the European Central Bank (ECB) President, announced that the ECB would do "whatever it takes" to save the Eurozone. The injection of massive central bank liquidity since then has driven down borrowing costs across the Eurozone (EZ) and the periphery, substantially easing the risk of sovereign failure and the collapse of the EZ. Yet despite these efforts, unemployment remains stubbornly high, credit growth continues to contract, reforms have been slow and government debt continues to grow. In short, economic fundamentals have barely improved and growth remains weak and uneven.
To make matters worse, China, the juggernaut of global growth over the last decade, is undeniably slowing and potentially on the cusp of a hard landing. A fall in demand for steel from China's residential construction sector has led to sharp falls in global commodity prices (exacerbated by the large increase in global supply). Rampant over-investment means that the fall-out may have only just begun. The risk of a significant increase in bad debts as property developers, construction companies, contractors and investors fail over coming months is now high. As these bad debts cascade through China's banking sector, China's economy will inevitably slow further. Whether Authorities can avoid a hard landing by absorbing the bad debts remains to be seen.
Fortunately, growth in the United States has accelerated in recent months. We believe domestic demand in the United States is sufficiently strong to withstand weakness in China and Europe. As a result, we expect modest global growth in 2015.
United States
Eurozone
China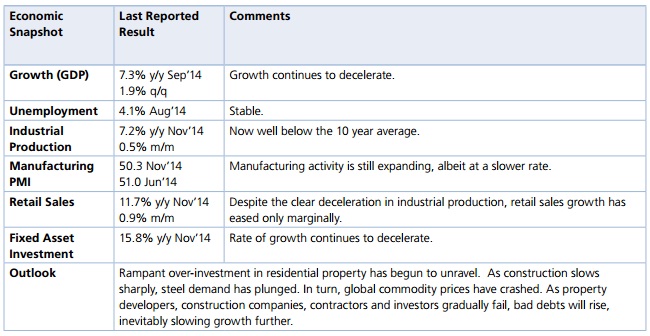 This publication is issued by Moore Stephens Australia Pty Limited ACN 062 181 846 (Moore Stephens Australia) exclusively for the general information of clients and staff of Moore Stephens Australia and the clients and staff of all affiliated independent accounting firms (and their related service entities) licensed to operate under the name Moore Stephens within Australia (Australian Member). The material contained in this publication is in the nature of general comment and information only and is not advice. The material should not be relied upon. Moore Stephens Australia, any Australian Member, any related entity of those persons, or any of their officers employees or representatives, will not be liable for any loss or damage arising out of or in connection with the material contained in this publication. Copyright © 2014 Moore Stephens Australia Pty Limited. All rights reserved.