Smith Gambrell & Russell LLP
Since 1893, Smith, Gambrell & Russell has pursued a vision of building one of the country's premier full-service business firms. Today we serve corporate counsel and corporations across the globe. Our attorneys are focused in primary disciplines featuring more than 45 specialized practice areas.
ARTICLES
AUTHORS
PRESS RELEASES
PRESS RELEASES
Generating prs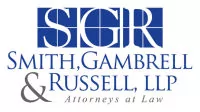 Contact Details
Atlanta
Promenade, Suite 3100
1230 Peachtree Street N.E.
Atlanta
United States