Regulatory Framework
Sweepstakes and contests are governed by a variety of state and federal laws, such as lottery, prize notification and registration laws, as well as laws regulating how sweepstakes and contests are advertised.
The Basics: Sweepstakes vs. Contests
A sweepstakes is a game where the outcome is determined by chance and the participants cannot be required to expend money or provide any other consideration.
A contest is a game where the outcome is determined by skill and the most skilled participant will be the winner. Definition varies by state.
Why does it matter?
Need to avoid creating a lottery: prize, consideration and chance
Only the state can run a lottery
Sweepstakes omit element of consideration or provide AMOE
Contests omit element of chance
Sweepstakes – Eliminating Consideration
Consideration can be purchase or payment; substantial effort; or something of value
What is not consideration (typically): mailing in an entry form; completing a simple survey; referring a limited number of friends
What is or could be: text messaging charges; providing extensive personal information; providing extensive UGC
Contests – Eliminating Chance
Skill must determine the winner
Tie-breaker should not be determined by chance
Must establish criteria for determining the winner
Judges must be qualified
Sweepstakes and ContestsUsing Social Media
Sweeps: Do Social Media Entry Requirements = Consideration?
Must have an account on Twitter/Facebook
Follow the sponsor on Twitter/"Like" sponsor on Facebook
Re-tweet to enter
Subscribe to a sponsor's blog
Blog about the sweepstakes or contest
Post the sweepstakes or contest to your own blog
Join sponsor's community
Answer/comment on an issue in sponsor's community
Write a product review
Forward to a friend on Facebook
A cautionary note on reviews…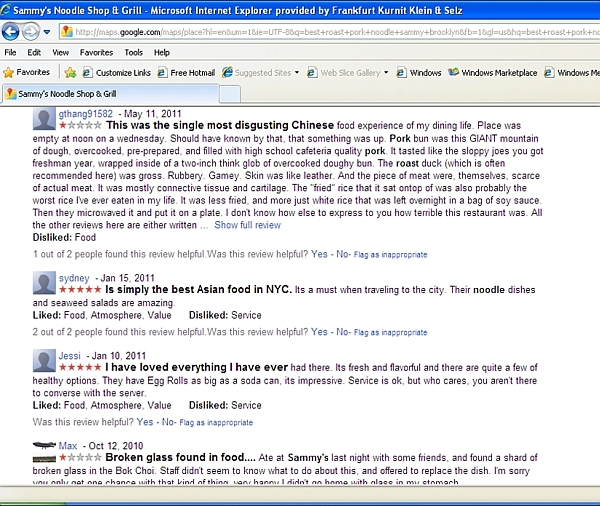 Contests: Public Voting
Does public voting introduce an element of chance in a contest?
Concerns with public voting:

Absence of clearly defined judging criteria
If you have criteria, will public follow them?
Are the public qualified to judge?
Is the process fair?
Ways to Mitigate Risk When Using Public Voting
Post clear voting terms.
Limit voting to one vote per person to avoid the contest becoming a popularity contest.
Only implement public voting in cases where the public can legitimately judge entries (e.g., cutest pet, best photo). Maybe combine with judging.
Have a mechanism in place on the backend to screen for individuals using bots or other automated means to vote.
Other Challenges for Social Media Platforms
You must comply with a social media platform's own guidelines
Limited character count/space to comply with disclosure requirements
Difficult to ensure that the promotion reaches its intended audience since it is instantly accessible by the world
UGC Risks
Facebook Guidelines: Entry on Facebook
Must be administered within Apps on Facebook.com, either on a Canvas Page or an app on a Page Tab. (i.e., cannot require a user update her status or post on your wall to be entered)
You can require entrants to Like your page to enter, but you can't enter people automatically by Liking your page
You can't notify winners through Facebook
Facebook must be released in the rules
Must include a clear disclosure stating that:

the promotion is no way sponsored, endorsed or administered by Facebook.
any information provided by entrant is being provided to Sponsor and not to Facebook and if entrant has any questions she should contact Sponsor and not Facebook
YouTube Contest PlatformTerms and Conditions
Cannot require a purchase to enter
Must be only open to 18+
Ownership of videos must be retained by the entrants
Must include a privacy notice in the rules
Must post a notice stating that YouTube is not a sponsor of the Contest and has no responsibility or liability regarding the conduct or administration of the Contest
Disclosure Requirements in Social Media
Most critical disclosures:

No purchase necessary
Age of Eligibility (e.g., 18 or older)
Link to the rules

A user should not be required to click on a link to see the disclosures
Facebook: The disclosures do not necessarily need to appear in the top line of status update, but can be included in the body copy of the status.
Twitter:

NoPurNec 18+ Rules@[tinyURL]
If entry deadline is not in body of Tweet, you should add it
Disclosures can appear in a Tweet immediately following the call-to-action Tweet (i.e., 1 of 2, 2 of 2)
Contests & User-Generated Content (UGC)
Copyright Infringement
Right of Publicity / Privacy
Defamation
False Advertising / Unfair competition

Trademark Infringement
Other Tort Liability
Idea Misappropriation
SAG / AFTRA issues
Are you responsible when Contest entrants infringe upon rights?
Some Tips
Be smart about the subject matter of submissions you invite

BAD IDEA: "Create a five minute video in which you recreate a scene from your favorite Hollywood movie and upload it on our website."

Implement screening
Have strong rules and follow them!