Affleck Greene McMurtry joined former partner, Harry McMurtry, as he completed the final leg of his 500 Miles for Parkinson's walk from New York City to Toronto. Joining Harry on his remarkable journey were Sue Thomson of Toronto and Dr. Ross Sugar of Baltimore, all of whom are living with Parkinson's.
"Harry's achievement walking that distance is truly remarkable," says Peter Greene, Senior Partner at Affleck Greene McMurtry LLP. "Hopefully Harry's efforts will raise awareness about such a terrible disease while at the same time raise funds for research to defeat this disease. We wish our former Partner all the best in the future."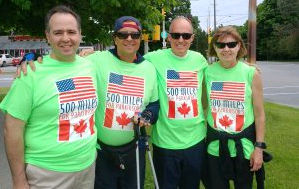 Michael Binetti, Harry McMurtry, Michael Osborne, Sue Thomson
"Harry remains our friend and a part of the Affleck Greene McMurtry family. We are proud to partner with Harry and 500 Miles for Parkinson's." says Michael Osborne, Partner at AGM. "We were honoured to have been able to walk a few miles with Harry, Sue and Ross on this journey of hope. Welcome home Harry."
To find out more about Harry's journey, please visit 500 Miles For Parkinson's.
100% of all donations will be distributed to three charities, to make a direct donation to any of the three charities, please visit Donate.
Please click here to view more photos from the 500 Miles for Parkinson's walk
The content of this article is intended to provide a general guide to the subject matter. Specialist advice should be sought about your specific circumstances.