Overview
The ASX 200 AREIT Accumulation index rose by 1.06% over the quarter ending 30 September 2014.
ASX200 AREIT Accumulation Index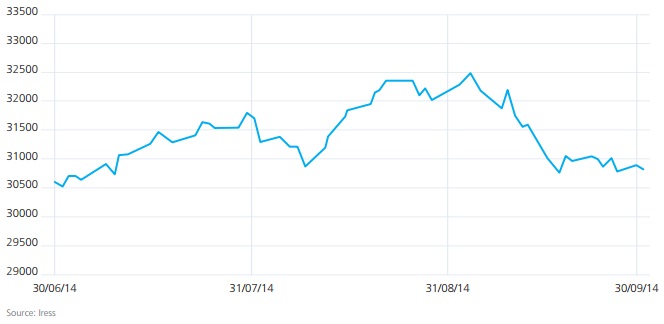 Outlook
Overall, the sector recorded earnings per share growth of 5.8% over FY14. Debt to total assets for the sector increased from 29% to 32%, mainly due to the restructure of Westfield Retail Trust (22% gearing) into Scentre Group (37% gearing). Net tangible assets for the sector grew by 3.3%.
The outlook for key property sectors is as follows:
Office
The Office sector experienced net operating income growth of 0.1% for FY14.
Data compiled in July 2014 confirm CBD office vacancy rate increases in Brisbane (14.2% of floor space) and Perth (11.8%). Sydney (8.4%) and Melbourne recorded a modest improvement (8.7%).
The downturn in the resources sector is impacting office demand in Perth and Brisbane.
New supply becoming available in Sydney and Melbourne will continue to put downward pressure on rents. Nevertheless, demand for yield and from overseas investors has driven office property prices up.
Some of the excess supply will be absorbed by the developing trend of converting non-performing office space to residential (especially in Sydney and Melbourne).
Retail
The Retail sector experienced net operating income growth of 2.0% for FY14.
Occupancy rates across the retail AREIT's remain very high at 99.3%.
Low interest rates, surging house prices and moderately strong credit growth remains supportive of the retail sector.
Industrial
The Industrial sector experienced net operating income growth of 1.8% for FY14.
Occupancy across the AREIT sector remained above 96%.
In NSW industrial property supply has outweighed demand since 2010. Recent completion of new developments has lifted available space to a 15 month high.
Available space in Melbourne is at a 5 year high.
Extremely low vacancy rates in the Brisbane market in 2012 prompted a strong supply response over the last 2 years. Available space is now at a record high and will take some time to be absorbed.
Residential
AREITs exposed to residential property and construction have benefited from the low interest rate environment, which has supported demand.
Developers such as Mirvac and Stockland have reported strong growth from their residential divisions.
Conclusion
The outlook for the sector is mixed. AREITs exposed to residential property and an improving retail environment should continue to perform reasonably well, at least in the short run. A supply imbalance means that AREIT's exposed to the office and industrial sectors will find conditions more subdued. Notwithstanding, those AREITs that have reasonably long weighted average lease expiries will continue to deliver sound income returns for investors. On balance we recommend investors retain a modest underweight exposure.
This publication is issued by Moore Stephens Australia Pty Limited ACN 062 181 846 (Moore Stephens Australia) exclusively for the general information of clients and staff of Moore Stephens Australia and the clients and staff of all affiliated independent accounting firms (and their related service entities) licensed to operate under the name Moore Stephens within Australia (Australian Member). The material contained in this publication is in the nature of general comment and information only and is not advice. The material should not be relied upon. Moore Stephens Australia, any Australian Member, any related entity of those persons, or any of their officers employees or representatives, will not be liable for any loss or damage arising out of or in connection with the material contained in this publication. Copyright © 2014 Moore Stephens Australia Pty Limited. All rights reserved.