Colombia

: Memorando General De Obligaciones Jurídicas Tomo I: Tributario Año 2017

REYES ABOGADOS ASOCIADOS S.A., se complace en presentar a sus clientes y amigos, a título de guía básica y sin referencia a ningún caso específico, el Tomo I del Memorando General de Obligaciones para el año 20171, correspondiente al capítulo de Derecho Tributario2.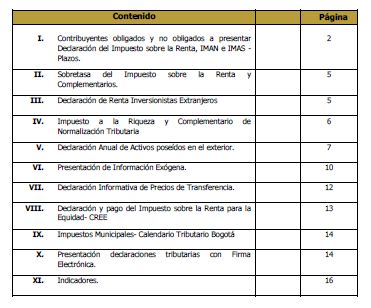 I. Contribuyentes obligados y no obligados a presentar Declaración del Impuesto sobre la Renta.
NO están obligadas a declarar las personas naturales y sucesiones ilíquidas no responsables de IVA, y los empleados y trabajadores por cuenta propia cuyos ingresos provengan en una proporción igual o superior al 80% de pagos originados en una relación laboral o contractual, siempre y cuando cumplan los siguientes requisitos:

*Para establecer la cuantía de los ingr
Register for Access and our Free Biweekly Alert for
This service is completely free. Access 250,000 archived articles from 100+ countries and get a personalised email twice a week covering developments (and yes, our lawyers like to think you've read our Disclaimer).
Some comments from our readers…
"The articles are extremely timely and highly applicable"
"I often find critical information not available elsewhere"
"As in-house counsel, Mondaq's service is of great value"
Mondaq Advice Centre (MACs)
Up-coming Events Search
Tools