The Venezuelan Government announced the increase of the Tax Unit in 69,5%, effective on March 1st., 2017.
The new Tax Unit increases as well the Official Fees for Intellectual Property Rights for foreign owners in the same percentage, as follows: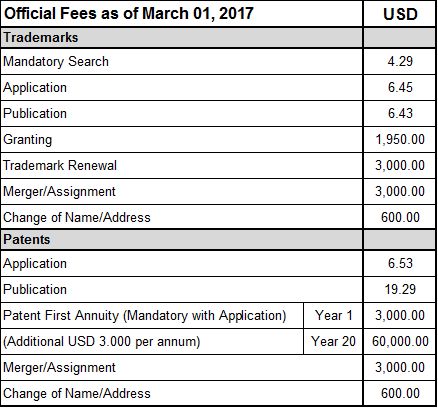 Official Fees to be paid in US Dollars to the Venezuelan PTO are based on an official exchange rate of 1,00 USD / 10,00 VEB.
Important Note: a possible devaluation of the Venezuelan currency could reduce proportionally the Official Fees.
---
Clarke, Modet & Co - VENEZUELA
Caracas
Avenida Francisco de Miranda
Torre Provincial B, Piso 13, Chacao 1060
Tel:+58 212 266 6462
Email: info@clarkemodet.com.ve
---
The content of this article is intended to provide a general guide to the subject matter. Specialist advice should be sought about your specific circumstances.