Bolivia

: Managing Corporate Taxation in Latin American Countries - Bolivia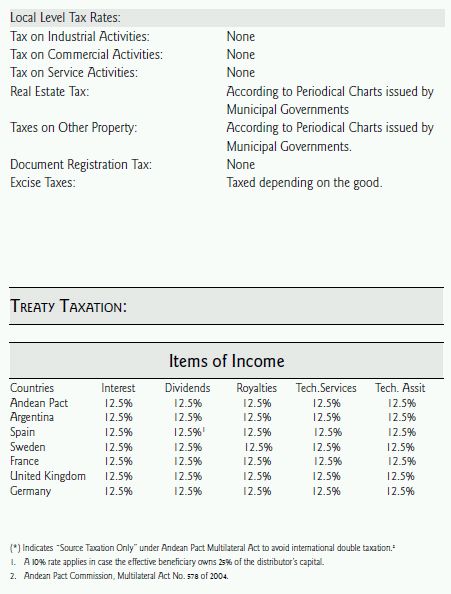 1. Income Tax
1.1. General Aspects
1.1.1. Income Tax Rate
The general statutory corporate income tax rate for Bolivian entities including Bolivian branches of foreign companies is 25%.
1.1.2. Taxable Base
All revenues are subject to income tax unless otherwise excluded by law from the taxable base. Excluded Items of Income are subtracted from Gross Income, i.e., the sum of All Items of Income realized by the taxpayer. The result is the Gross Taxable Income from which Costs and Expenses are deducted. The after- deductions result is the Net Taxable Income to which a 25% tax rate is the Resulting Income Tax from which applicable Tax Credits are subtracted to find the Income Tax Liability.
1.1.3. Minimum Taxable Income
Register for Access and our Free Biweekly Alert for
This service is completely free. Access 250,000 archived articles from 100+ countries and get a personalised email twice a week covering developments (and yes, our lawyers like to think you've read our Disclaimer).
Some comments from our readers…
"The articles are extremely timely and highly applicable"
"I often find critical information not available elsewhere"
"As in-house counsel, Mondaq's service is of great value"
Mondaq Advice Centre (MACs)
Up-coming Events Search
Tools