On July 6, 2015, a Ninth Circuit panel majority revived the ailing theory of "initial interest confusion" in reversing a lower court's finding of non-infringement relative to search results on Amazon.com for trademarked goods. Plaintiff Multi Time Machine, Inc. ("MTM") makes Special Ops watches—a high-end, military style watch not sold on Amazon.  When a consumer enters "MTM Special Ops" as a search request on Amazon's website, the results page shows the phrase "MTM Special Ops" three times: (1) in the search field; (2) in quotation marks directly below the search field; and (3) immediately below that in the phrase "Related Searches: mtm special ops watch."  The results page then states that it is "[s]howing 10 Results."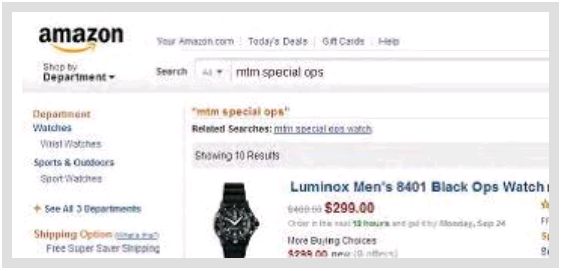 (Source of graphic: Court Opinion)
In the search results, the site displays similar-looking, multi-function watches made by MTM's competitors, listed by name.
(Source of graphic: Court Opinion)
Unlike the websites of Amazon's competitors, Buy.com and Overstock.com, Amazon search results do not inform consumers that no search results match their query before displaying competitor products.
The panel noted that under Ninth Circuit precedent, clear labeling can eliminate the likelihood of confusion in the context of Internet commerce.  MTM had submitted an expert report that showed customers could be confused about why they receive certain search results.  Disagreeing with the district court's opinion that the expert's analysis did not show that Amazon users were likely to be confused as to the source of the competing goods, the Ninth Circuit panel held that "a jury could infer that users who are confused by the search results will wonder whether a competitor has acquired MTM or is otherwise affiliated with or approved by MTM" under an initial interest confusion theory.  According to the panel, this was especially possible in an industry where luxury brands manufacture lower-priced models under different brands (e.g., Timex manufactures luxury watches for Versace).  Though the panel concluded that whether Amazon's search results page was clearly labeled was a fact question better left to the jury, it noted that whether MTM will ultimately be able to prove its initial interest confusion theory is "by no means certain."
Judge Silverman dissented from the reversal contending that for purposes of the reasonably prudent consumer, Amazon's search results page was clearly labeled.  He pointed to the fact MTM's competitors' products are displayed with the product's name, model number, and manufacturer in large, bright, bold letters, and are accompanied by a photograph of the item.  Further, none of the listed products are labeled with the word "MTM" or the phrase "Special Ops," let alone the phrase "MTM Special Ops," and some of the search results are not even watches.  According to Judge Silverman, "[i]t is possible that some dolt somewhere might be confused by the search results page.  But, 'unreasonable, imprudent and inexperienced web-shoppers are not relevant.'"
The content of this article is intended to provide a general guide to the subject matter. Specialist advice should be sought about your specific circumstances.