Deloitte provides dynamic and cost effective solutions to retailers who seek to drive revenue, reduce costs and provide a seamless customer experience across multiple channels.
What is Multi-Channel retailing?
The ultimate goal of Multi-Channel retailing is to provide a flexible and seamless shopping experience, regardless of whether the customer walks into a store, visits the website or orders over the phone and mobile. This is becoming increasingly important as market pressures continue to mount and retailers turn to the high growth rates of online and direct channels to maintain and improve market share. Customer expectations are rising fast and retailers are investing heavily in becoming Multi- Channel. Given the current economic environment and cash strapped times, retailers need to focus their investments on immediate priorities and ensure an acceptable return, whilst also preparing for the future by building long term capabilities.
The starting point varies, but essentially retailers fall into two categories:
1) a retailer who only has a single channel (typically stores) and is looking to extend into new channels; or
2) a retailer who has already extended into new channels but needs to optimise.
Either way, to offer a seamless experience, retailers need flexibility at each stage of the purchase process, whilst providing a consistent service across all channels.
A high level purchase process is described in Figure 1 below.

However, many retailers are struggling with the cost and complexity that Multi-Channel brings. For example, a retailer with 3 channels faces over 700 possible permutations of customer interactions, with customers expecting a seamless experience at each touch point. See Figure 2.
Growth is driving the need to become Multi-Channel
Online retail continues its upward movement unabated. The UK online market increased to £17.5 billion in 2008 compared to just £3.9 billion in the year 2002. Online retail is now growing at a rate eight times that of the overall retail market. Although still a small part of the overall retail market in £ terms, making up 5.1% of all retail sales, the influence of online is much more far reaching. Customers have become far more price sensitive and are more likely to carry out online research before committing to a purchase, regardless of channel.
Factors affecting future growth
In the coming years, the online retail sector will continue to grow significantly and will be affected by a variety of developments in the technology sector:
In 2008, the number of UK households with internet continues to increase and currently stands at nearly 15 million or 61% of all households (Office of National Statistics). Of this number, 84% had a broadband connection (51% of all UK households) and advances in broadband technology together with falling prices and bundled packages have all played an important role in encouraging uptake. Internet penetration was historically biased towards ABC1 categories. However, price and availability is driving a substantial increase in the number of C2DEs.
Web 2.0 refers to emerging web technologies and the next phase of the evolution of the internet such as price comparison sites and other user generated content such as discussion boards and forums. In the longer term, this will have a significant impact on retailers. However, developing these services for retailers will be expensive when only a minor part of the customer base will be utilising the new tools.
With faster broadband speeds in the coming years, retailers will be able to display and demonstrate merchandise and content online much more effectively and the ability to use high quality video will increase and drive marketing and advertising online.
Increasing proliferation of Wi-Fi wireless services is playing an increasingly significant role. As well as simplifying the prospect of multiple access in a home, the facility is progressively being rolled out in public areas such as pubs, cafes, hotels and trains, either for free or a nominal charge.
Based on available research, a clear majority of internet shoppers use the internet as a research tool before buying in-store. They have become very price savvy and have far superior product knowledge than before. However, convenience continues to be the most important factor in online shopping and this is set to continue.
Novice online shoppers are getting more comfortable with making purchases online and providing personal information such as credit card details due to improved security features. Retailers are now providing more secure methods of payment, advertising which credit verification engine's are being used, information on protecting personal information, streamlined checkout procedures etc. which boost consumer confidence.
We are increasingly seeing the roll out and uptake of mobile technology for the purpose of purchasing products and services. This is coupled with companies delivering marketing messages through mobile devices to further push their products and increase market share.

Various mobile payments are being used such as premium SMS (Short Message Service) based transactional payments, direct mobile billing, mobile web payments (WAP) and contactless NFC (near field communications) to purchase a wide range of products and services such as music, ring tones, transportation fares (bus/train), parking meters, books, tickets etc. Mobile technology is quickly becoming the next wave for ordering products and services and making payments.
The evolution of Multi-Channel retailing
The Deloitte Multi-Channel Maturity Model depicts where a typical retailer may be positioned based on the number of channels a customer can shop through, the breadth of offer and level of service available through those channels. The ultimate destination for many of the UK's major retailers is to reach the top right quadrant and become a 'truly Multi-Channel retailer'.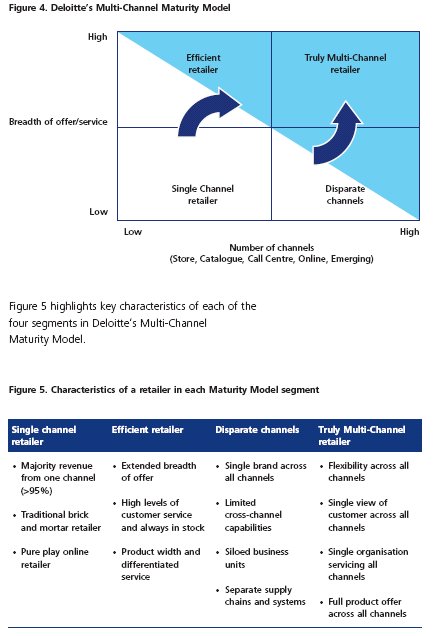 In terms of Multi-Channel evolution, the UK is approximately one to two years behind the US for online transactions and behind Japan for mobile retailing. Key insights from the US market show that the significance of cross-channel shopping will continue to accelerate, pushing further the need to become truly Multi-Channel. In 2007, cross-channel shopping accounted for $510B or 20% of total US retail sales. By 2012, this is set to almost double to 38%, corresponding to $1,122B. Combined cross-channel and online retail is set to become almost 50% of all total retail sales. Therefore, UK retailers need to act now in order to succeed in what will become an increasingly competitive market.
Becoming truly Multi-Channel
There are four key requirements to becoming truly Multi-Channel. Firstly, the online channel needs to be developed to offer a full and compelling proposition in terms of product range, price, promotion, availability, service and delivery proposition. Secondly, the online channel needs to be closely integrated with stores in terms of click and collect, order management, stock visibility and returns. Thirdly, the business infrastructure needs to be improved to deliver all capabilities in a repeatable and cost effective way. Finally the first three need to integrate with mobile technology developments and usage. However, this evolution is posing significant challenges to retailers. These vary depending on the maturity of the business and the specific strategy being adopted. Key barriers are emerging that retailers need to overcome, and they essentially break down into six areas:
Inflexible organisation structures and processes that are based on channel and not brand.
Lack of a single view of the customer across all channels due to disparate customer databases. "
Inconsistent and/or limited product offer across channels in terms of range, price, promotion and availability.
Lack of end-to-end systems support and poor functionality for master data, inventory and order management.
Supply chain complexity and variable availability across channels, with increasing cost to serve.
Implementing the required cultural shift and changes to measures and incentives in the 'traditional' channels.
In summary, the goal is to provide visibility and consistency across all channels. To achieve this, retailers are investing in a number of responses that have implications for almost every function and internal capability. However, they can often be discrete activities targeted at fixing a specific problem or operational gap and not aligned to deliver the overall goal.
The Deloitte point of view
Deloitte offers clients a broad range of fully integrated services in areas that include Consulting, Tax, Corporate Finance and Audit (and Enterprise Risk Services).
Our global, integrated approach combines insight and innovation from multiple disciplines with business and industry knowledge to help our clients excel anywhere in the world. Each of our services gives you the depth, dimension and experience you need to create and innovate.
Becoming Multi-Channel Becoming truly Multi-Channel requires an overall strategy that describes what a retailer wants to be famous for, and an operating model that describes the capabilities required to deliver the strategy. In addition, it also needs to be supported by a robust commercial case that describes what needs to be done, when, and what it will be worth. The required programme of work needs to be integrated across all business functions and structured in such a way that targets the highest value areas quickly (especially important in today's environment), whilst building the underlying capabilities and infrastructure to ensure longer term objectives can be delivered.
Deloitte has the capabilities, experience, and tools to help our clients develop their Multi-Channel Retailing Strategy and Operating Model, and skills required to ensure it is implemented successfully. We use our tried and tested Multi-Channel Retail Framework to ensure we have a clear articulation of the strategy. Based on this strategy, we can use our capability map to define the operating model and ensure alignment across people, process and technology.
Tax efficient Multi-Channel
Effectively managing the impact of tax throughout the supply chain from the acquisition of the product to the customer interaction at the till is a key element of becoming an effective Multi-Channel retailer. Failure to do this can result in increased costs and reduced operational revenue. Our team is well placed to provide the expertise to help you manage business and indirect taxes in your UK, cross-boarder and overseas operations.
Accelerating Multi-Channel
It is often possible to accelerate the transformation to genuine Multi-Channel retailing by way of carefully targeted acquisition. Deloitte is able to provide a multi-disciplinary team to identify and appraise suitable targets and then successfully conclude a transaction. Our corporate finance team has extensive experience in this field and as such is ideally placed to advise you on your M&A strategy in these circumstances.
Risk, Regulation and Compliance
Some of the key enterprise and audit risks have been categorised into data, security and controls.
Data
The management and governance of data between each of the channels is a key driver in the success of a Multi-Channel project. Multiple applications between channels, disparate data sources, inadequate validation and poor change and data management processes can cause significant problems in the management and governance of data between channels. Deloitte has extensive experience in evaluating the quality, reliability and integrity of data which too often can be impaired by these issues.
Security
Maintaining appropriate security over the storage, sharing and management of confidential information is an essential component in developing a Multi-Channel operating model. The complexity of data security multiplies with the number of channels, but Deloitte have a wealth of knowledge and experience of performing customer information flow analysis and controls reviews.
Our experience covers the breadth of issues faced by organisations including understanding where their customer information is, performing detailed security assessments, reviewing third-party controls, understanding the regulatory environment and getting to the bottom of cultural issues that could impact business processes.
Controls
In working towards being truly Multi-Channel, companies must ensure that the interaction between each of the channels is well controlled. In order to achieve maximum efficiencies, we recognise that the controls in each channel must be risk-aligned, sustainable and effective. Deloitte can work with each of the channels to understand how the processes, applications, infrastructure and culture can interact to deliver an efficient and effective cross-channel control environment.
In addition, Deloitte can provide more targeted advice in many of the areas impacted by Multi-Channel operations such as:

Why Deloitte?
Deloitte brings a deep understanding of Multi-Channel retailing resulting from significant experience with many large retailers. We focus on creating a scalable Multi-Channel business and transforming the retailer to compete in today's competitive, fast-moving retail environment.
The content of this article is intended to provide a general guide to the subject matter. Specialist advice should be sought about your specific circumstances.