It's that time of year again – school's out, the sun is high in the sky, and Beyoncé is perfecting yet another headlining performance. Yes, you guessed it, it's summer festival season and so we're taking a look at some inventions that will see you through the sunburn, the muddy fields and the all-nighters until autumn. From Bestival to Coachella, Lattitude to Lovebox, we've got you covered.
US2677132
When heading to an outdoor music festival, you need to be prepared for all weather conditions. We're sure that's why Numis Cunha Marks developed a combination parasol, fan and rain hat, granted US patent number US2677132 in 1954. The hat, when worn, features radially arranged ribs supporting fabric to form a parasol around the wearer's head. When made of waterproof material, the hat also functions as a nifty rain hat. But that's not all, if folded correctly, the hat can function as a hand-held fan. Marks' hat can also be folded into a compact package perfect for carrying on the arm or in a bag. A looped cord makes carrying the hat even easier, or it can be used to secure the hat onto a wearer's head. Fetching!
US2015237952
Regulars at British music festivals will be all too familiar with one recurrent problem – mud! It only takes a light summer shower and a few thousand festival-goers to turn the hardiest of fields into a quagmire. The usual solution is to put on a trusty pair of Wellington boots. However, rubber footwear can be a bit too much for the summer temperatures, even in the UK. Indeed, as the author of US patent application number US2015237952 wrote, overheating in rubber boots can lead to dehydration, heat exhaustion, hyperthermia and other acute heat-related conditions. Debra Garriga's solution was a boot constructed from the usual durable and water-impervious rubber, extending up to the mid or upper calf, but provided with a series of ventilation holes punctured in the upper half, thus permitting the wearer's lower legs and feet to vent heat while keeping the toes nicely mud-free.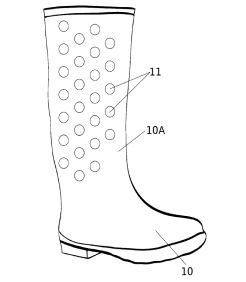 US6068118
Another perennial gripe of festival attendees are the queues for the restricted number of portable toilets. Even worse, when you finally make it to the head of the queue, there's no chance there will be any toilet paper left. Never mind – Ruby Jewell Calloway has the answer. Her US patent number US6068118, granted in 2000, discloses a portable toilet paper caddy for storing, transporting and dispensing toilet paper wherever you need it. As Ruby says, toilet paper is one of life's greatest necessities, but it is often neglected or forgotten when engaging in activities such as hiking or camping (or attending Glastonbury...). Ruby's caddy also incorporates a detachable flashlight, a radio and a clock, just in case.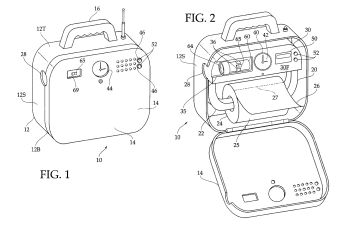 The content of this article is intended to provide a general guide to the subject matter. Specialist advice should be sought about your specific circumstances.