ÖZET
Şirketlerin gelirlerinin %5'inin erimesine neden olan suistimalin neden ve kimler tarafından gerçekleştirildiği konusunda inceleme uzmanlarına en çok yardımcı olan kavramlardan biri "Suistimal Üçgeni"dir.
Bu üçgenin köşelerini oluşturan unsurları bilmek, şirketlerin suistimali önlemesinde ve mevcut suistimaleri ortaya çıkarmasında kolaylaştırıcı işlev görür.
Son yıllarda bu üçgene, bir de dördüncü bir kenar olarak kapasite eklenmiştir
Anahtar Kelimeler: Suistimal Üçgeni, Motivasyon, Fırsat, Meşrulaştırma, Önleme
GİRİŞ
Bundan tam olarak altmış dört yıl önce, Amerikalı suç bilimci Dr. Donald Cressey1, hepimizin ofisinde yan masada oturan, ekibimizde çalışan ya da bizi yöneten ve iş hakkında bildiğimiz her şeyi öğreten çalışma arkadaşlarımızın, yöneticilerimizin, nasıl olup da birlikte maaş aldığımız şirketi dolandıran bir suçluya dönüştüğü hakkında yaptığı araştırmayı yayınladı. Bu araştırma sırasında, suistimal suçu işlemiş ve yakalanmış suçlularla uzun görüşmeler yaptı ve suistimalleri önlemek ve gerçekleşen suistimalleri inceleyip ortaya çıkarmakla görevli profesyonellerin, incelemelerinde temel aldıkları, "Suistimal Üçgeni" kavramını ortaya çıkardı.
Artık bu konudan sıkça bahsedildiği için, çoğu profesyonel ve şirket yöneticisi tarafından bilindiği üzere, suistimal, şirketlerin gelirlerinin %5'ini eritme riskini taşımasından dolayı, artık %5 kâr etmenin bile zorlaştığı durgunlaşmış ekonomik şartlarda kurumun "tamam" ya da "devam" demesini belirleyebilecek kadar hassas bir öneme sahiptir. İşte suistimal üçgeni, suistimallerin nedenlerini, kimlerin suistimal gerçekleştirebileceğini, hangi yollarla gerçekleştirebileceğini anlayabilmek için bu konuda çalışan profesyonellere önemli bir araç sunmaktadır.
Adından da anlaşılacağı gibi bu kavram, suistimalin bir üçgen gibi, üç köşenin birleşmesinden oluştuğunu; eğer bu köşelerden biri bile olmasa, üçgenin oluşmayacağını söyler bize.
I. SUİSTİMAL ÜÇGENİ
Bu bilgi şu açıdan önemlidir: Şirketler çalışan olarak robotları değil insanları tercih ettiği müddetçe, suistimal riskini "sıfır"a indirmek mümkün olmayacaktır. Ancak eğer suistimal üçgeni kavramını hep aklımızda tutarsak, bu üçgenin kırabileceğimiz köşeleri de olduğunu görmek mümkün olabilecektir. O zaman öncelikle, bu köşeleri inceleyelim:

Şekil 1- Suistimal Üçgeni
1) Motivasyon / neden / baskı
Suistimal suçunu işleyen kişilerin bu suçu işlemeleri için bir nedene ihtiyaçları vardır. Bu neden de çoğunlukla yasal yollarla elde ettiği mevcut geliriyle karşılayamayacağı finansal ihtiyaçlardır. Sanıldığının aksine, bu finansal ihtiyaç her zaman çocuğunun ya da eşinin hastalığı ya da benzeri bir acil ihtiyaç olmaz. Bunun yerine uygunsuz bir ilişkinin, kumar ya da uyuşturucu gibi kötü bir alışkanlığın finansmanı, ödenemeyen birikmiş borçlar, ailevi baskılar ya da çok daha iyi, çok daha lüks yaşama isteği de bir baskı sebebi olabilir.
Bunlar gibi finansal nedenlerin yanında, şirketten intikam almak, kontrolleri aşabilecek kadar akıllı ve yetenekli olduğunu ispat etmek de daha az karşılaşılan diğer motivasyonlar olarak göze çarpar. Elbette daha uç örneklere de rastlanır. Avrupa'da yaşanan bir örnekte, suistimalci şirketinin hesaplarından zimmetine geçirdiği paranın tamamını, yoksullara dağıtmış ve kendisi için hiç pay almamıştı.
2) Fırsat
Bir insanın motivasyonu ne olursa olsun, suistimal gerçekleştirebilmesi için, şirket içinde bunu yapacak fırsata sahip olması gerekir. Bu fırsatların başında, çalışanın ya da yöneticinin, bir işlemi başından sonuna yapma yetkisine sahip olması, yani işlemi yapanın, kaydedenin, kontrolünü yapanın kendisinin olması gelir. Örneğin, tedarikçileri muhasebe ve satın alma sistemine kaydeden (tedarikçi carisini açan), faturaları sisteme giren, ödemelerini yapan ve mutabakatları gerçekleştiren aynı çalışansa, gerçekte var olmayan (hayalet) bir tedarikçi oluşturup, o tedarikçinin cari hesabına gerçekte olmayan bir alım karşılığı faturalar girip, o faturaları ödemesinin karşısında teknik bir engel bulunmadığında, önemli bir fırsata sahip demektir. Bu nedenle yetkilerin ayrılığı prensibinin uygulanabilmesi, şirketlerin suistimalden korunması konusunda önemli bir avantaj sağlar.
Bunun dışında, çalışanın iç kontrol zaaflarını bilmesi, şirketin kullandığı programlardaki teknik ya da yetkisel zaaflara hâkim olması, yalnızca güvene dayalı ilişkilerle iş yerinde oluşan sorunları çözebiliyor olması, şirketin muhasebe işlemlerinin takip edilemeyecek kadar karmaşık olması, bazı alanlarda bilgiye kendi başına sahip olan çalışanlar bulunması, suistimale neden olan başka fırsat örnekleri olarak sayılabilir.
3) Rasyonalizasyon (meşrulaştırma)
Tüm suçlular gibi, suistimalcilerin de gerçekleştirdikleri suçla vicdanlarında hesaplaşmaları gerekir. Bunun da en kolay yollarından biri, kendisini yaptığının bir suç olmadığına ya da bu suçu işlemek için geçerli nedenleri olduğuna ikna etmektir.
Suistimalciler, şirketleri canlı organizmalar olarak görmedikleri için, zarar göreni de bu canlı olmayan organizma olarak düşündükleri için, suistimal gerçekleştirdiklerinde zaman zaman "iyi ama kimse zarar görmedi ki" savunmasının arkasına saklanabilirler. Elbette bu sağlıksız değerlendirmeyi yaparken, şirketin ortaklarını, o şirketin satış yaptığı müşterileri, satın alma yaptığı tedarikçileri, vergi verdiği devlet kurumlarını, o vergiden yararlanan kamuoyunu, o şirketten maaş alan çalışanları, bu değerlendirmenin içine katmazlar.
Bunun dışında, en sık karşılaşılan rasyonalizasyon örneği, çalışanın "çaldığı" miktarı çoktan hak etmiş olduğuna, ancak şirketin bu hakkı kendisine teslim etmediğine karar vermesidir. "En az beş yıl önce terfi etmiş olmalıydım." "Üç yıldır doğru dürüst zam almıyorum." "Bu sene prim de vermediler." gibi. Aynı çalışan aynı zamanda, kendisinin aldığı miktarı şirketin cirosuyla ya da kârıyla kıyaslayıp, kimsenin canını yakmayacak küçük bir meblağ aldığını da düşünebilir. Ama nihayetinde hepsinin altında yatan temel amaç, işlediği suçu kendi vicdanını rahatlatacak bir boyuta getirmek ve devam edebilmektir.
İşte suistimal önleme ve inceleme profesyonelleri bu üçgenin köşelerini kırmaya çalışırlar. Şirket çalışanları ya da yöneticilerinin, yaşam şekilleri ve hareketlerindeki değişikliklere bakarak olası motivasyonları bulmaya, fırsat noktalarını belirleyerek azaltmaya, çalışanlara adil davranıp şeffaflıkla şirketin bulunduğu durumu paylaşarak da onlardaki rasyonalizasyonu azaltmaya gayret ederler.
II. SUİSTİMAL DÖRTGENİ
Suistimal önleme ve inceleme profesyonellerinin uzun yıllardır suistimali değerlendirirken kullandığı bu üçgene, on üç yıl önce yeni bir kavram eklendi ve elli dört yılın suistimal üçgeninin, suistimal dörtgenine dönüşmesi gerektiği iddia edildi.
4) Kapasite
Üçgeni dörtgene dönüştüren dördüncü köşe, kapasite oldu. Çünkü adli muhasebeciler Wolfe ve Hermanson2, bir insanın motivasyonu olsa, şirketteki fırsatlardan haberdar olsa ve rasyonalizasyonu da gerçekleştirebilse, suistimal gerçekleştirmek için bazı özelliklere sahip olması gerektiğini öne sürdüler.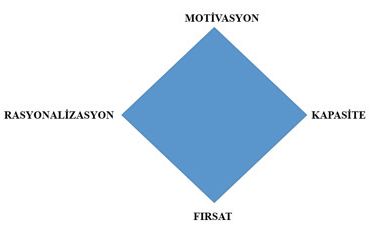 Şekil 2- Suistimal Dörtgeni
Bu özelliklerin arasında zaman yönetimi, baskıyla başa çıkma, stres yönetimi, güçlü ego, yetki, sistemin detaylarına hâkim olma, baskı ve otorite kurabilme sayılabilir. Yeni modele göre suistimal gerçekleştiren kişinin tüm bu özelliklerden birkaçına sahip olması da, olmazsa olmaz bir özellik gibi duruyor.
SONUÇ
Elbette kapasite, suistimalin önlenmesi konusunda önemli bir ek bilgi olarak karşımıza çıkabilir ve bu konuda çalışan profesyonellere ek bir araç sağlayabilir. Ancak bu yine de, en önemli geometrik şeklin, suistimal üçgeni ya da dörtgeninden ziyade, bir sonraki yazıda bahsedeceğimiz Suistimal Risk Yönetimi üçgeni olduğu gerçeğini değiştirmeyecek gibi görünüyor. Ve bu diğer üçgenin açıları, kenar uzunlukları; yani şirketin ihtiyaçları, yapabilecekleri, kaynakları ve hedefleri şirketten şirkete değiştiğinden, etkin bir Suistimal Risk Yönetimi, standart bir programın her şirkete uyarlanmasından ziyade, terzi işi bir çalışma gerektiriyor.
Footnote
1. Donald R. Cressey, Other People's Money (Montclair: Patterson Smith, 1973)
2. David T. Wolfe, Dana R. Hermanson, The Fraud Diamond: Considering the Four Elements of Fraud (Kennesaw State University, Faculty Publications, 12/2004)
The content of this article is intended to provide a general guide to the subject matter. Specialist advice should be sought about your specific circumstances.