Turkey

: Revised Environmental Marine Pollution Fines For 2018

Pursuant to Article 20 of the Turkish Environmental Code no. 1983 (the "Code"), fines are imposed on vessels for causing pollution in Turkish waters through discharge of petroleum products, dirty ballast, garbage and sewage into the sea. The quantum of the fines are determined by a tariff that is revised annually. The tariff below contains the updated rates for the year 2018 and have entered into force on 1 January 2018.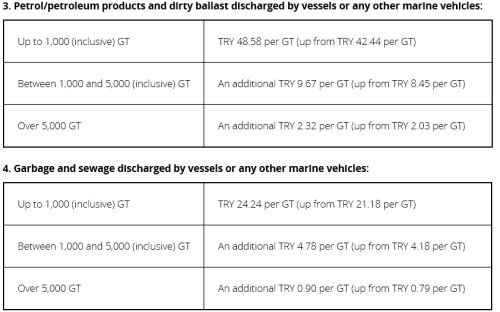 It should be noted that vessels discharging hazardous sub
Register for Access and our Free Biweekly Alert for
This service is completely free. Access 250,000 archived articles from 100+ countries and get a personalised email twice a week covering developments (and yes, our lawyers like to think you've read our Disclaimer).
Some comments from our readers…
"The articles are extremely timely and highly applicable"
"I often find critical information not available elsewhere"
"As in-house counsel, Mondaq's service is of great value"
Mondaq Advice Centre (MACs)
Up-coming Events Search
Tools