India

: How To Conduct Patent Search In India?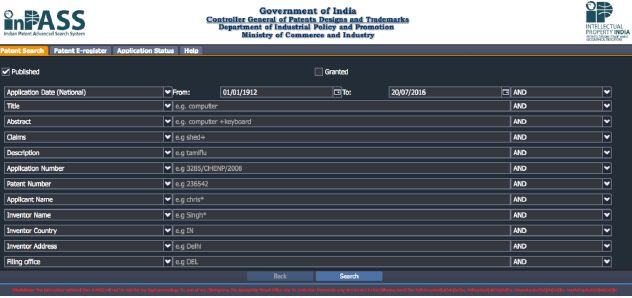 Indian Patent Search System
The Indian Patent Advanced Search System, InPASS, was introduced on 27.02.2015. Prior to InPASS, IPAIRS [Indian Patent Information Retrieval System] was used to conduct patent search in India. InPASS is an updated version of IPAIRS as it allows for a full-text search of all Indian patents and Patent Applications. Apart from this InPASS also allows a person to conduct a patent search using Wild Cards and Boolean Operators. Now, InPASS is the Indian patent office database used to conduct an advanced patent search in India.
Conducting a patent search is indispensable before filing a patent application. In our previous blog post, we have outlined the need for conducting a p
Register for Access and our Free Biweekly Alert for
This service is completely free. Access 250,000 archived articles from 100+ countries and get a personalised email twice a week covering developments (and yes, our lawyers like to think you've read our Disclaimer).
In association with
Mondaq Advice Centre (MACs)
Up-coming Events Search
Tools