After having an impact on the motor markets of Europe and America, the manufacturer and innovator of electric motors Tesla entered China with a high profile. It is reported that since the first batch of Model S were delivered in March at the "attractive price" of CNY734,000 yuan, Tesla has attracted more and more attention in China. Tesla motors, compared with traditional vehicles, have neither an engine nor a transmission device—Tesla adopts the 18650 cobalt-acid-lithium battery provided by Panasonic and uses the battery comprising a parallel circuit of 8,000 cells to provide sufficient power.

What advanced technologies does Tesla have? What is its patent layout, especially the substantial layout of its core battery technologies?

In this paper, Beijing Kangxin Huayuan IP Consulting Co., Ltd. takes the patent applicant Tesla Motors as an example and studies the macro trend of Tesla Motors' overall layout as well as the battery-related technologies filed by Tesla Motors since 2012 from the micro perspective.

1. Overall trend of Tesla Motors' patent applications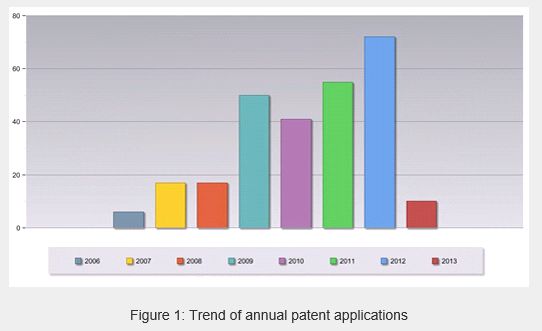 As a high-tech company, Tesla Motors not only introduces the Internet element into the vehicle industry to realize the innovation of business mode, but pays equal attention to technical innovation and the protection of intellectual property rights, and its global patent applications have covered 286 patent families up to now (the patent applications of the same field in different countries constitute one patent family).

Figure 1 displays the trend of Tesla Motors' annual patent applications. As the figure shows, the number of patent applications of Tesla Motors generally displays a rising trend from 2006 (note: the patent applications in 2013 have not been fully disclosed) and it is expected to grow continually.

2. Regional distribution of Tesla Motors' patent applications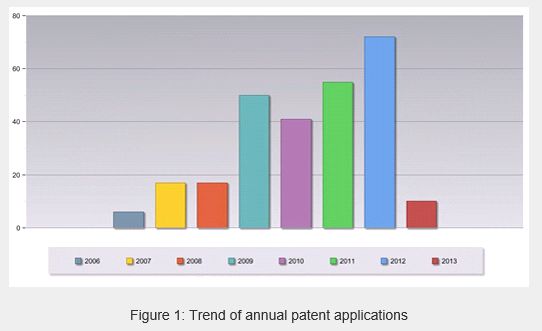 Tesla Motors' Model S is already marketed in the USA and Europe, and its patent applications have also been extended to many different countries and regions around the world, which indicates that there are many target markets. From Figure 2, it can be seen that most applications are filed in the USA, Europe, Japan, Canada and China.

It is noteworthy in Figure 2 that EP applications and WO applications rank the first and fourth respectively, indicating that the European Patent Applications (EP) and the International Patent Applications (WO) are two major modes of Tesla Motors' patent applications, i.e. it enters the member states of the European Union through the uniform European Patent Application and enters the countries throughout the world through the International Patent Application.
3. Technical distribution of Tesla Motors' patent applications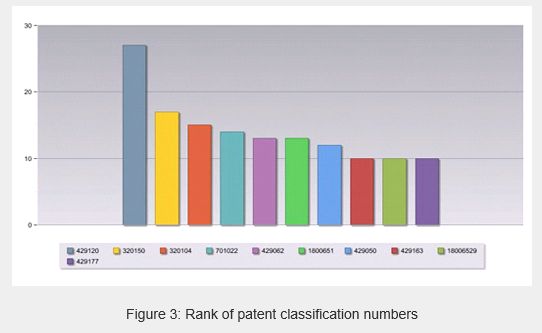 To view this article in full click here.
The content of this article is intended to provide a general guide to the subject matter. Specialist advice should be sought about your specific circumstances.