Top 10 risks and opportunities
The current business environment presents a constant stream of both challenges and opportunities. Against this backdrop of change, the market's expectation is for sustained, year on year growth.
In June 2011 Ernst & Young launched "Turn risks and opportunities into results" global report. In this report, we explored top 10 risks and opportunities for global organizations.
Top 10 business risks in China:
Emerging technologies
Managing talent
Expansion of government's role
Cost-cutting
Pricing pressure
Social acceptance risk/CSR
Regulation and compliance
Market risks
Slow recovery/double dip-recession
Access to credit
Top 10 business opportunities in China:
Investing in process, tools and training to achieve greater
Productivity
Improving execution strategy across business functions
New marketing channels
Excellence in investor relation
Innovating in products, services and operations
Investing in IT
Emerging market demand growth
Investing in clean tech
Public-private partnership
Merger & acquisitions
Who we are? What we do?
Ernst & Young is one of the largest accounting and business advisory firms in China. We have more than 10,000 people including 800 business advisory professionals across 20 offices in Greater China. In recent years, Ernst & Young has been making very significant investments in China reflecting our confidence in the China market for our clients and ourselves.
Because of its exceptional combination of size and growth, China has become not only a "Must In", but also a "Must Win" market for more and more multi-national companies (MNC). However, China is a vast market undergoing unprecedented change, posing challenges and complexities even for those with experience of operating in the market.
Our strengths
We apply a global methodology, tools and standards to client projects in Greater China. Our clients are constantly looking for the right balance between protecting the business and To compete and capture market potential, MNCs in China must continuously make sustainable improvements to their performance. To help you meet this challenge, we have assembled a team of experienced business advisory professionals who live in the market, know the market, and work in a proactive, collaborative and objective way.
Our professionals bring personal experience of working with major MNCs in China to make change happen. They can help you deliver measurable and sustainable improvement in the performance of your business by focusing on services in finance, supply chain and customer, risk management, supported by the key enabling competencies of program management, strategic direction, people and organization change, and IT advisory.
driving measurable value. The focus of our business advisory offerings helps us to span all aspects, across the key business functions and the competencies needed to operate successfully.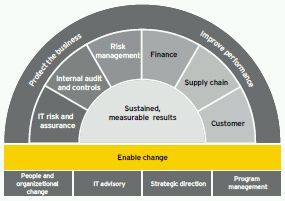 Dedicated Industry teams:
Financial services
Global Technology Centre (Telecommunication and High Tech)
Government
Automobile
Life sciences
Energy
(Utility and Oil & Gas)
Additional experience in:
Retail
Electronics
Consumer package goods
Chemicals
Oil & gas
Top 5 services for MNC's in China
Shared service center implementation – integration – optimization
Market entry and growth strategy development
Supply chain model improvement and process optimization
Corporate policy and regulatory compliance assessments
ERP system China rollout governance and risk management
Client experience
Case 1 - A global leader in the building and automotive industries
Project type: Shared Service Center (SSC) and Change Management
What we did:
Performed SSC design and migration strategy design
Feasibility analysis: business case development, SSC site selection and change enablement in Asia Pacific
SSC design: developed the target operation model
SSC implementation: managed site set up, people migration, change enablement and communication plan and budgeting
Client benefits:
Increased productivity, faster turnaround, improved compliance, and higher customer satisfaction.
Case 2 – A global transportation and logistics services company
Project type: China healthcare market entry and regulatory review
What we did:
Assessed the market opportunity and developed market entry hypothesis
Defined the regulatory implications of each market entry options
Designed business model for preferred market entry options including regulatory and licensing requirements
Advised on free trade zone implications and utilizations
Developed detailed execution plans
Client benefits:
Increased speed to capture market opportunity within well understood regulatory and risk framework.
Case 3 - A global chemical company
Project type: Operating model and supply chain review and implementation
What we did:
Conducted assessment of current operating model and identified opportunities to improve customer responsiveness and support an aggressive growth agenda
Prioritized improvement opportunities and develop detail design of high priority initiatives
Advised on high priority process improvements including order-to-cash, Finance and HR processes
Managed the program management office: conducted overall project level status reporting, risk and issue management, quality management, resource coordination and cross-work stream communication facilitation
Client benefits:
Exceeded growth targets, improved decision making speed and customer service.
Case 4 – A global computer networking and services company
Project type: Channel partner / distributor reviews – contract risk services
What we did:
Assisted the client's Asia Pacific and Japan brand protection by conducting reviews at authorized channel partners in all countries and markets across Asia Pacific
The reviews focused on uncovering grey market activities including diversion of products within and outside the approved territories resulting in potential dollar amount recoveries to the client
Client benefits:
Develop focused and sustainable contract compliance program that focuses on recoveries from grey market and counterfeit product activities. Success is measured by future dollars saved in preventing non-compliance at channel partners / vendors。.
Case 5 – A global consumer electronics company
Project type: Upgrade of ERP system
What we did:
Developed integration office to monitor and direct project execution
Project managed the blue print and implementation of data warehouse system and middleware integration
Applied risk management discipline to address significant complexity resulting from multiple divisions, geographies and vendors
Client benefits:
Project delivered on time and within budget.
The content of this article is intended to provide a general guide to the subject matter. Specialist advice should be sought about your specific circumstances.