Article by Doug Black, Q.C., Bill Gilliland, Alex MacWilliam, Miles Pittman, Anne Calverley, Rich Miller, John Hurley, Cyrus Reporter, Ron Stuber and Jerry Farrell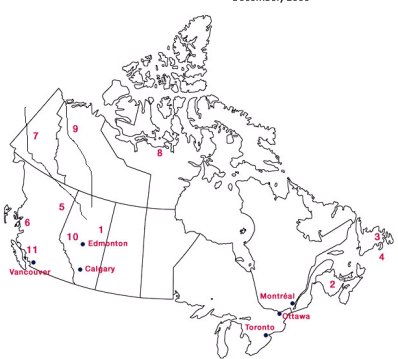 Oil Sands News
1. A new study by IHS Cambridge Energy Research Associates ranks Canada as the world's second largest holder of recoverable oil reserves, after Saudi Arabia, based on technological advances in the oil sands. The study states that Canada is an increasingly important part of global energy security and is now the number one foreign supplier of oil to the United States. The IHS study ranks Canada fourth out of the top 15 countries in the world, with the potential to increase oil production through the next decade. The study also noted the rate of technological innovation in the oil sands in recent years has been substantial and that improvements will continue.
1. Imperial Oil announced that its Board of Directors has approved the first phase of its Kearl oil sands project located North-East of Fort McMurray, Alberta, estimated to cost $8 billion. Construction can now begin on the plant which is expected to produce more than 300,000 bbls/day of bitumen starting in 2012. A planned second phase of the Kearl project is expected to get underway three years later with a third and a fourth phase set for even further in the future.
The Government of Alberta has stated its support of a biotechnological research team to examine the potential to reduce the use of water and natural gas in oil-sands extraction and to improve tailings pond management. The research team, organized through Genome Alberta, will examine reserves for microbes that exist naturally in oil sands and coal seams with a view to how such microbes are able to naturally breakdown hydrocarbons.
1. Devon Energy Corporation announced that it has started injecting steam into the final pair of wells at its Jackfish oil sands project in March. Production from all 24 well pairs reached 29,000 bpd of oil in March and the company expects to reach its capacity of 35,000 bpd of oil in the second or third quarter of 2009. Notably, no fresh water is used in steam production at Jackfish.
East Coast News
2. The planned Hebron project offshore Newfoundland and Labrador should at the start, recover about 556 million bbls of oil over the 30 year productive life of the project, according to its operator, Exxon Mobil Canada. If all goes as planned, Hebron will be producing oil prior to the end of 2017.
3. Corridor Resources is planning to suspend its drilling operations at the McCully field in New Brunswick, for the rest of 2009, so that they can maintain a strong cash-positive balance sheet. This interruption in drilling presents an opportunity to produce a detailed simulation model of the McCully field which will assist in optimizing future drilling areas and reservoir performance.
West Coast News
4. Calfrac Well Services is estimating that it will complete 500 wells in the Montney formation this year, an increase over the 150 wells Calfrac drilled in 2007. This is significant in terms of the growth in the area, located in Northeastern British Columbia, despite the economic downturn. Industry estimates of 4,000 fracs in both Montney and Horn River also indicate growth.
4. Trilogy Energy Trust plans to spend roughly $80 million this year, including funds for drilling four more horizontal wells into the Montney. Each well costs approximately $3.5 million to drill, complete and tie in.
4. Harvest Energy Trust stated economics at Hay River, located in Northeastern British Columbia, remain robust at present oil prices. The company is making use of waterfloods and enhanced waterflood technology, injecting water into the Bluesky formation for pressure support. Since beginning this practice in early 2008, production increased adding approximately 1,600 bpd of oil. This led to the company's developing about 40 additional wells in 2009, about half of which were water injectors.
4. NOVA Gas has proposed a pipeline out of Northeastern British Columbia to transport natural gas from the Montney formation. The proposed 36-inch Groundbirch pipeline would transport around 1.66 bcfd of natural gas into Alberta.
Canadian Arctic News
5. A plan to boost U.S. federal loans guarantees for an Alaska gas pipeline could raise yet another barrier to the construction of the Mackenzie Valley Pipeline. The Minister of industry, tourism and investment for the Northwest Territories says that he plans to raise the issue with Federal Environment Minister Jim Prentice.
Alternative Energy News
6. The University of Northern British Columbia (UNBC) has selected Nexterra Energy to supply and install a turnkey biomass gasification system to heat the campus as well as to anchor the new Northern Bioenergy Innovation Centre at their Prince George, B.C. campus. According to Nexterra, this system is part of a $14.8 million project at UNBC. The gasification system will convert wood residue into synthetic gas or syngas which is designed to displace up to 85% of the natural gas that is currently used to heat the campus. UNBC aims to reduce its fossil fuel consumption by 80,000 gigajoules per year.
On the Horizon
Federal Environment Minister stated the government's plans to implement forced cuts to industrial greenhouse gas emissions will be delayed until the United States implements similar reductions. Now that Canada will be co-ordinating with the United States, any forced cuts will be staggered over a four-year time period beginning in 2012. As such federally regulated cuts to greenhouse gases will not come into effect on January 1, 2010 as the government previously indicated. This decision was made with a view to preserving industrial competitiveness, protecting jobs and protecting investment in Canada. Additionally, the Minister anticipates the complex regulatory framework will take most of 2010 to develop, making a 2012 start date not that far in the future.
Doing Business in Canada: Practical Considerations for Investors
FMC has recently updated our Doing Business in Canada publication. The document provides a general overivew and practical considerations on the establishment, acquisition or conduct of a business in Canada.
Click here to open the publication.
The content of this article is intended to provide a general guide to the subject matter. Specialist advice should be sought about your specific circumstances.