Canada

: Pay Equity for Women's Sport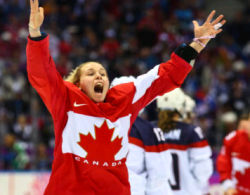 The gold medal women's hockey game between Canada and the US was the event I was most looking forward to during the PyeongChang Olympics — but I fell asleep. Despite my best efforts, with an 11pm local start time, overtime and a shootout, I had no chance of staying up. It's this one game every four years that holds special meaning (read, gets the best publicity in terms of women's hockey), and I missed the thrilling ending.
Over the past century, women's sport has come a long way: from originally not being allowed to compete in the Olympics at all, to currently competing in every event that men compete in.
And there have been other signs of progress. A 2017 survey by BBC Sports found that 35 out of 44 major sports actually pay equal prize money to men and women. That proportion is not bad, except that the survey only looked at prize money f
Register for Access and our Free Biweekly Alert for
This service is completely free. Access 250,000 archived articles from 100+ countries and get a personalised email twice a week covering developments (and yes, our lawyers like to think you've read our Disclaimer).
In association with

Mondaq Advice Centre (MACs)
Up-coming Events Search
Tools