The QPIP provides for the payment of financial benefits to all eligible workers – salaried or self-employed – who take maternity leave, paternity leave, parental leave, or adoption leave. Since January 1, 2006, the QPIP has replaced the maternity benefits, parental benefits, and adoption benefits previously available to new Québec parents under federal Employment Insurance. The QPIP is an income replacement plan, meaning that applicants must have received insurable income to qualify for benefits.
Eligibility
To qualify for benefits under the QPIP, parents must meet all of the following conditions:
be the parent of a child born or adopted on or after January 1, 2006;
reside in Québec at the start of the benefit period;
have stopped working or seen a reduction of at least 40% in their usual employment income (salary);
have at least $2,000 in insurable income (income taken into account for benefit calculation purposes) during the reference period (the period during which the income the parent earned is considered in determining the benefit amount; this period is usually 52 weeks), regardless of the number of hours worked; and
be required to pay premiums under the QPIP.
Benefits
Four (4) types of benefits are offered under the QPIP: maternity benefits, paternity benefits, parental benefits and adoption benefits.
Parents must choose between two (2) options: the basic plan or the special plan. In so doing, they decide the duration of their leave as well as their income replacement rate. The choice of plan is determined by the first parent to receive benefits and cannot be modified. As a result, this decision binds the other parent, even in the event of joint custody.
The following table indicates the maximum number of benefit weeks and the percentage of average weekly income for each type of benefits, depending on the plan chosen.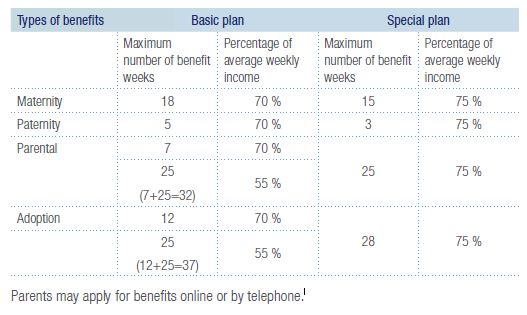 The content of this article is intended to provide a general guide to the subject matter. Specialist advice should be sought about your specific circumstances.