Effective October 1, 2016, Alberta's minimum wage will increase from $11.20 per hour to $12.20 per hour. This is the first step in the Provincial government's plan to raise the minimum wage in Alberta to $15.00 per hour by October 1, 2018. The second step of the plan will kick in on October 1, 2017 when the minimum wage will increase to $13.60 per hour.
Additionally, as of October 1, 2016 there will no longer be a lower minimum wage for employees serving liquor as part of their regular job. Instead, these workers must be paid the regular hourly minimum wage, which, as of that date, will be $12.20 per hour.
These increases affect all workers including foreign nationals employed in Alberta with or without a Labour Market Impact Assessment. Employers need to be aware of these changes, as improperly paying a foreign national could have serious consequences under the new Temporary Foreign Worker Program's compliance regime.1
The minimum hourly wage is not the only aspect of the Employment Standards legislation that is changing. Weekly and monthly minimum wages are increasing as well. Many individuals in Alberta are paid based on an hourly rate; however, certain occupations, typically involving irregular work schedules or commissioned earnings, are not well suited to an hourly wage. Employees in such situations do not have to record their hours worked and are entitled to weekly and monthly minimums regardless of the number of hours worked. For example, caregivers who live in their employer's residence are currently entitled to monthly minimum pay of $2,127. On October 1, 2016 this amount will be raised to $2,316, and then increased annually by $266 for the next two years. Caregivers who do not reside with their employer must record their hours and are entitled to at least the minimum wage.
More information on these and other impending changes can be found on the Government of Alberta's website. The lawyers in Field Law's Business Immigration Group are available to discuss any questions or concerns you may have about these changes and their potential impact on your business.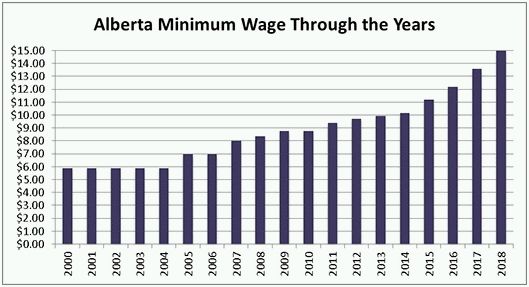 Source: Government of Canada, Hourly Minimum Wages in Canada for Adult Workers, http://srv116.services.gc.ca/dimt-wid/sm-mw/rpt2.aspx
Footnotes
1 More information regarding the Temporary Foreign Worker Program's compliance regime can be found online at: https://www.mailoutinteractive.com/Industry/LandingPage.aspx?id=2010091&p=1
The content of this article is intended to provide a general guide to the subject matter. Specialist advice should be sought about your specific circumstances.