Today, the marketplace is exhibiting with greater frequency what the 2008 financial crisis crystallized: volatility and risks are arising more often and from more varied sources. In particular, rapidly evolving technology and flourishing social media are spawning new risks that must be assessed with particular vigilance.
For boards of directors and senior executives, effective governance of Enterprise Risk Management (ERM) is now a fundamental priority. While many organizations have an ERM framework in place, the challenge is to sustain these frameworks in light of a shifting global technological landscape. The following examples and best practices demonstrate what leading organizations are doing to sustain the effectiveness of their risk frameworks and board / management oversight. These can serve as helpful models for leaders of organizations wishing to do the same.
Changing landscape: lower risk appetite, more governance responsibilities
First, it's interesting to note the evolution of corporate governance rules here in Canada as well as in the U.S. and overseas. In 2009, for example, the International Organization for Standardization introduced, with participation from 30 countries, ISO 31000 Risk Management Principles and Guidelines. This standard framework for risk management was intended for use around the globe by virtually any organization in any industry. The key requirements involve establishing an effective governance structure to oversee risk, approving and monitoring an ERM policy, providing explicit tolerances of key risks and establishing assurance processes to ensure an effective ERM program is in place. ISO 31000 continues to be the leading ERM framework internationally given its adaptability to organizations of varying scope and scale.
Of course, ISO 31000 is only a starting point; the design and implementation of risk management plans and frameworks must consider the specific needs of countries, industries and organizations. Therefore, industry regulators soon weighed in with their own ERM requirements. In 2010, for example, the UK set out new board responsibilities in the Corporate Governance Code. These require the board to determine tolerable significant risks in achieving strategic objectives and maintaining sound risk management systems. It also required establishing formal and transparent mechanisms for considering risk management and internal control.
The same year, the New York Stock Exchange amended code 303A.09 to require large financial institutions to constitute independent risk committees and for audit committees to discuss guidelines and policies for governing risk assessment and management. The Dodd-Frank Act mandated all large public bank holding companies and non-bank financial institutions supervised by the Federal Reserve to establish a board risk committee.
In the insurance sector, regulators around the globe have been working toward strengthening the processes for measuring risks inherent in the insurance business. The International Association of Insurance Supervisors (IAIS) is promoting Own Risk and Solvency Assessment (ORSA) as a key component of regulatory reform. These require insurers to conduct an internal risk self-assessment and evaluate capital to support them. Since 2011, U.S. insurers have been required to conduct ORSAs and report findings regularly.
Here in Canada, in 2013 the Office of the Superintendent of Financial Institutions issued guidelines to communicate its expectations for corporate governance of federally-regulated financial institutions. These include board responsibilities for overseeing enterprise risk management, a risk appetite framework, soundness of internal controls and requirements to establish a risk committee to which the Chief Risk Officer reports, and for reviewing performance against board-approved strategy.
Need to sustain effectiveness of ERM framework
With enterprise risk management now high on regulatory agendas, it has quickly become an agenda priority for boards of directors. Corporate governance reform and a diminishing appetite for risk have encouraged boards to focus on understanding and managing key risks. Now that many organizations have established ERM frameworks, they must focus on sustaining these to ensure continued effectiveness.
This is not a simple undertaking given the myriad of risks that organizations must now manage. One risk receiving considerable attention in recent years, for example, is cybersecurity. The Information Security Forum identifies the top security risks for 2014 as: the trend to bring-your-own-device to your workplace, data privacy in the cloud, reputational damage, privacy and regulation, the Internet of things (the environment that gathers information from multiple devices and applications) and cybercrime.
Social media risks demonstrate need for urgency of new mitigation strategies
These potential threats are intensified by the explosive growth of social media. As social networks become integral to our lives, they increase the likelihood of potential harm to corporate identity, reputation, privacy and policy compliance. In 2012, for example, Greenpeace learned that Nestlé, which manufactures Kit Kat chocolate bars, was using palm oil from Indonesian supplier Sinar Mas. Greenpeace claimed that Sinar Mas was acting unsustainably, pushing orangutans to the brink of extinction. Greenpeace launched a video on YouTube featuring an office worker biting off a finger of Kit Kat that turns out to be the bloody digit of an orangutan.
Nestlé tried to force the withdrawal of the video from YouTube. Greenpeace retaliated by encouraging people to change their Facebook profile photos to anti-Nestlé slogans. Nestlé tried to control the discussion on social media but the strategy backfired and Greenpeace supporters started posting outraged comments by the thousands to the Nestlé Facebook fan page. Then the issue moved to Twitter. Within a few weeks there were millions of negative comments about Nestlé. The company's reputation was damaged and its stock price took a hit. Eventually the company apologized and began addressing the concerns of commenters.
The lesson? Organizational leaders need to be proactive in considering new risk mitigation activities. While every enterprise will have a different risk appetite and may take a different approach, it's important to address social media risks and to take the appropriate steps. As a minimum, consider the following:
Establish a social networking policy
Assess inherent risks related to the use of social media
Allocate responsibilities for social media
Monitor social media
Implement a process to manage events and coordinate with relevant parties
Train employees on managing social media communications and digital marketing
The risks presented by social media may in fact be beneficial in one important way. A recent ERM survey of 446 executives found that only 20% believe their ERM is robust; and only 40% of boards discuss ERM during strategic planning. Stories like that of Nestlé show that social media risks require a more urgent incentive to act.
A strategic approach to sustaining an ERM framework
Toronto Hydro presents a helpful example of how organizations can take a strategic approach to sustaining an ERM framework and employ social media in a beneficial way.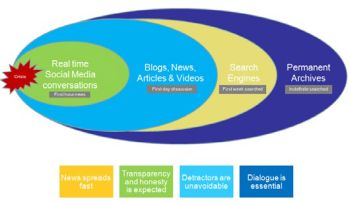 When the catastrophic ice storm hit southern Ontario in December 2013, hundreds of thousands of households lost power. Many in the Greater Toronto Area relied on their smartphones for information. Throughout the duration of the storm, Toronto Hydro's web and call centre activity received an unprecedented volume of calls and or requests for information. For example, on the peak day of the storm there were 4,444 Twitter inquiries (usually 10 on a typical day) and 343, 686 website visits (versus 5,000 on a typical day).
Fortunately, Toronto Hydro has an ERM framework that enabled the corporation to respond in a timely and appropriate way. This framework, which is based on ISO 31000, has many touch points across multiple functions throughout the corporation. Toronto Hydro uses these synergies to sustain business operations and manage expectations.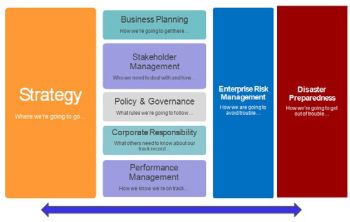 In order to sustain this framework, Toronto Hydro takes the following steps:
1. Build risk into strategy.
Risk is explicitly included in the corporation's strategic planning process through an annual enterprise risk assessment. As well, the ERM team is responsible for numerous ERM inflection points in strategic planning.
Work with the business units to create a risk repository by identifying and assessing risks across the enterprise.
Test strategic assumptions by conducting scenario analyses on draft strategies to identify potential outcomes, associated risks and alignment with corporate risk appetite.
Monitor risk to strategy implementation through the risk governance structure. This structure links corporate key performance indicators to divisional level key risk indicators and assesses the level of preparedness in the business.
2. Review risk appetite statements every two years.
Risk appetite, which is based on the corporation's strategic objectives, is set by executive management in consultation with the business units. The resulting statements are shared with business units to set up individual risk tolerances, policies, controls and limits.
3. Operationalize risk appetite statements into the daily business of the organization.
This involves embedding risk at the following four levels.
Strategy – using risk thresholds to monitor, report and assess performance expectations.
Projects – assessing whether an initiative will reduce or increase the corporation's risk exposure.
Operations – decision making and resource allocations for operational plans.
General application – rigorous evaluation of alternative scenarios and stress testing.
4. Embed risk in emergency management and business continuity processes.
Risk is viewed as the first line of defense, where Toronto Hydro takes all actions necessary to help prevent a risk from materializing into an event. If an event occurs and exceeds the risk appetite, it becomes the focus of emergency management and business continuity. The basic principles of ERM are considered in damage assessment and business impact analysis.
5. Incorporate risk into employee performance.
Specific risk functions, actions or performance measures are linked directly to employee performance. In addition, Toronto Hydro links risk to managerial and supervisory training. Level of risk awareness and exhibited behaviours are also embedded in employee performance assessments.
6. Embed risk in management reporting.
In order to inform decision-making, management reports at the business unit, executive and board levels include risks to performance, compliance and stakeholder expectations. Reporting on risk at multiple levels within the corporation encourages discussion and raises awareness of emerging issues. This also provides an avenue to escalate such issues.
To sustain these strategies, Toronto Hydro focuses on engagement, support and buy-in across all business units. This requires making ERM visible. It also requires continually communicating how the ERM framework adds value to the corporation by strengthening the company's performance and its capacity and capability to respond.
Top 10 best practices to effectively sustain enterprise risk management
The following best practices can help boards and management teams effectively sustain enterprise risk management.
ERM is owned top-down and practiced bottom-up.
The board and executive endorse the ERM program, approve risk appetite and tolerance and set the tone regarding ERM. These expectations are cascaded throughout the organization so they become embedded in the fibre of the business at all levels.
The CRO role resides in the strategy area.
ERM is closely aligned to organizational strategy since its intent is to achieve strategic effectiveness. The CRO closely interacts with the strategy team and the CEO. As well, the CEO, CRO and board work closely to ensure the strategy is risk-informed on an ongoing basis.
The ERM team owns the process, not the risks.
This team is accountable for communicating and ensuring consistent application of the ERM framework while management throughout the organization is responsible for managing risk.
Bonuses for risk managers are tied to risk management performance.
Risk manager compensation rewards desired behaviours and is therefore based on the outcome of risk management, not corporate financial results.
There is continual monitoring of emerging risks.
Scenario analysis should be performed on emerging risks in the external environment to ensure the potential impact to your organization is understood. The monitoring approach includes conducting scenario analyses in order to understand the potential impact of risks emerging from changes in the external environment.
Top risks are monitored by the board and executive.
The board is aware of and agrees with the most critical risks facing the organization. They also understand the organization's responses to these risks. As well, the ERM program includes a process that informs board and executive risk oversight of these risks.
Accountability for top risks is defined.
Management has assigned accountability for risk mitigation requirements associated with top risks and for ensuring adherence to requirements.
A process is in place for systematic reporting and escalation.
There is a defined process in place for periodic reporting on risk mitigation requirements, risk trending and risk policy compliance monitoring. This includes escalating risk policy exceptions through the management and board structure.
Risk assessment is embedded in all decision-making.
As a standard of practice, all strategic and project decisions consider and align to established risk appetite and tolerances.
Includes a forward-looking risk assessment.
To enable proactive management, risk identification considers risks in the distant time horizon.
Effective sustainment of enterprise risk management is no longer an option today – especially considering the rapid growth of social networking. It is now a necessity. While the roles of boards and senior executives will continue to evolve, implementing these leading practices will enable organizational leaders to protect and create value for their organizations.
The content of this article is intended to provide a general guide to the subject matter. Specialist advice should be sought about your specific circumstances.