Canada

: Corporate Spin-offs

Corporate spin-offs (or "carve-outs") have regained popularity in recent years (see Exhibit 1) as many corporations look to divest of a subsidiary or business division that is viewed as being "off-strategy" in an effort to increase shareholder value. Spin-offs also provide the parent company with the financing needed to strengthen its balance sheet or to invest in other segments of its operations. In some cases, such as high-growth and turnaround situations, the spin-off is considered necessary because the parent corporation does not have sufficient capital to fund the operations of the business segment in question.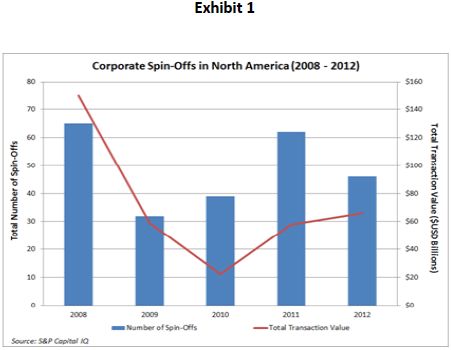 Whatever the reason for the spin-off, financial executives should consider the different types of buyers that might be interested in acquiring the business division as well as deal structuring opportunities and challenges in completing the transaction.
Who's Buying?<
Register for Access and our Free Biweekly Alert for
This service is completely free. Access 250,000 archived articles from 100+ countries and get a personalised email twice a week covering developments (and yes, our lawyers like to think you've read our Disclaimer).
In association with

Mondaq Advice Centre (MACs)
Related Video
Up-coming Events Search
Tools