The challenges facing CFOs today are multifold. On the one hand they need to manage the performance of their organizations, and on the other hand they need to leverage quality management information to support business decisions. As if this were not enough, their roles are further complicated by external circumstances such as the recent economic downturn.
Day-to-day concerns may continue to dominate and create immediate performance pressures, but the downturn has left a long-term impact – not just financially but also in terms of risk-taking ability and compliance. Margins are being squeezed and CFOs need to pay more attention to not only the top line, but also to operational factors that affect the bottom line. The appetite for risk has reduced, curtailing the lows but also limiting the highs. Governments, under pressure to maintain economic stability, have responded with tighter and increased regulations such as IFRS 9 and Basel III, adding another dimension to CFOs' concerns. This situation is tricky. CFOs need to pay closer attention to these increased pressures on a day-to-day basis, but they have to simultaneously focus even more on organizational goals and performance.
It's important more than ever for organizations to create goals and measure their performance against these goals. The increasing pressure on organizations makes it imperative to be able to measure themselves constantly against their goals, and a large part of the onus falls on the CFO. Most importantly, CFOs have to be confident in the measurements that lead to decision making. At the heart of this process lies gathering the right information to develop effective metrics and measurements. Decisions based on the right information are the ones most likely to help CFOs manage their organizations' performance. Gathering this information is quite a science, as is making effective use of it to achieve organizational goals. This holistic approach of making informationbased decisions and implementing the decisions across the organization is known as enterprise performance management (EPM). The remainder of this article will focus on EPM as a powerful tool for CFOs to effect organizational change and transformation.
EPM has been observed to be of significant use to CFOs with varying agendas – those looking at mitigating risk, meeting regulations, expanding the business effectively, cutting costs in ways that bolster the bottom line rather than affect the top line, transforming their business processes, being ahead of the curve or even those who just want to help their organization put its best foot forward.
Many CFOs are burdened by legacy information systems that hinder improved performance management and slow down the cycle time of information. What this leads to is a state where performance is being limited by outdated systems with limited data-gathering abilities. Clearing this bottleneck is critical to success, and this is where EPM can help transform the organization, so that performance management is enabled by information systems rather than limited by them.
EPM can be rolled out by consolidating or outsourcing management information to enhanced service centres, thereby enabling CFOs to obtain meaningful and timely performance metrics or key performance indicators (KPIs). Standardized and clearer management information obtained in a timely manner enables the comparison of results against organizational objectives, helping to stay on track.
It is important to understand that EPM spans the entire organization, and is not specific to a department, unit or function. It is also a continuous process and cannot be restricted to any one part of the organization's planning cycle; it begins with strategy, filters into the plans, affects the way in which measurements and forecasting are done, and finally, it helps recognize and reward good performance and identify areas of improvement. A strategy is not meant for any one part of the business, and EPM ensures that all the parts of the business are working together towards the same goals. The figure to the left outlines the EPM process in detail.
"A critically important objective of implementing EPM is to determine the lowest cost and highest effectiveness model. This, in turn, drives confidence that the organization is moving in the same direction and pace as your vision" says Kishan Dial, National Finance Effectiveness Leader, PwC. EPM also helps CFOs determine where the business should focus to meet objectives and maximize performance, so that each function and individual is adding value to the organization. Conversely, it helps identify which parts of the business are not helping to meet the organization's goals and which parts are in fact detrimental to growth and need to be transformed.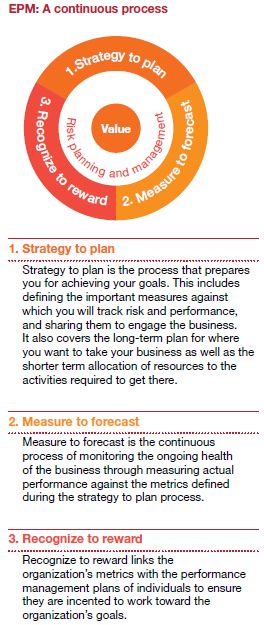 If done right, EPM helps to convert business strategy into tangible metrics and action points. It provides CFOs with a clear and transparent picture of performance across the enterprise, and also helps set targets and objectives for teams and individuals against which they can be measured. This simplifies reporting and accountability, thus providing robustness to the organization and streamlining the CFO's work.
For an organization to perform at its best, every individual needs to add value. That is why CFOs need to focus on the people within the organization as well as the numbers, using a management style that is as much about influencing attitudes as it is about facts and figures. And this requires top-down leadership. Involving the whole organization in achieving business goals can produce real momentum, which is why it is critical to a successful EPM program.
There are many useful by-products of rolling out an EPM solution across the organization, as each individual unit or function also gets streamlined along the way. With control and compliance built into the organization's fabric through EPM implementation, CFOs can get early visibility to the procurement strategy and its profit and loss impact, thus facilitating more collaboration with suppliers to achieve a common goal. Similarly, logistics/supply chain can also be positively affected, since the information and numbers obtained allow for enhanced forecasting, processes, skills and tools. In order to improve the final outcome, efficiency has to be built into the entire supply chain.
Another major impact of applying EPM effectively can be on marketing and sales effort and spend. The data obtained while rolling out EPM lends clarity to many critical aspects of the organization, including determining the effectiveness of sales techniques, the true cost of doing business with a certain group of customers and the initiatives which deliver value for money. The right information makes it easy for CFOs to determine what is driving customer satisfaction and experience, and where the organization is not meeting customer expectations. In this manner, the benefits of EPM can be seen in most, if not all, aspects of the business.
"EPM should not be treated as a standardized tool kit which can be implemented across different organizations. It differs in its characteristics based on the organization, the industry it operates in and its own special circumstances and goals" says Dial. For example, while the banking sector may be preoccupied with changing government regulations, the entertainment and media sector may be grappling with the change of consumption patterns in consumers.
The content of this article is intended to provide a general guide to the subject matter. Specialist advice should be sought about your specific circumstances.