Article by Reynold Tetzlaff
LEADER'S MESSAGE
Almost from the time Imperial Oil brought in its Leduc No. 1 discovery in 1947, Canada's oil and gas business has been inextricably linked to energy demand in the United States. Oil and gas pipeline grids have been developed over the intervening 60-plus years to deliver three million barrels a day of crude oil and products and nearly 15 billion cubic feet a day of natural gas, and the vast majority of that heads south of the border.
In recent years, however, global investments in Canada have led to a development of our oil and gas resources on a scale not thought possible just a few short years ago. The result is that our capacity to produce oil and gas is coming perilously close to surpassing our ability to transport that product to markets in the United States.
At the same time, the federal government is beginning to shape a policy of market diversification: no longer will the United States be regarded as Canada's only market. Instead, it will be one of many potential markets for Canadian crude oil, refined products, and most recently, liquefied natural gas.
Industry has responded to these changing market signals. Enbridge Inc. is moving forward to obtain approval for its Northern Gateway project to deliver crude bitumen and synthetic crude oil to Kitimat on the west coast, where it will be loaded on tankers for delivery to markets in Asia, most specifically China. Similarly, Kinder Morgan is mulling a project that would double the capacity of its existing Trans Mountain pipeline between Edmonton and Vancouver, again to ship more bitumen and synthetic crude to Pacific Rim markets.
On the natural gas side, one project to export up to 10 million metric tonnes of liquefied natural gas (LNG) to Pacific Rim markets like Japan has won regulatory approval; and several more have been proposed.
Against this backdrop of opportunity, however, lies a litany of policy challenges, ranging from domestic environmental concerns related to pipeline and tanker shipments of crude oil from the largely pristine West Coast to international worries emanating from Washington that the United States might be in danger of losing one of its most reliable, secure and stable sources of energy.
As part of this year's Canadian Energy Report, we asked globally respected industry policy analysts and experts to provide their views on Canada's energy potential on the world stage.
As the leading Canadian energy industry professional services firm, PwC Canada's Energy practice has more than 1,000 partners and members delivering industry specific solutions to more than 1,600 energy companies of all sizes. This document is published by PwC as part of our Energy Visions program, a series of publications and events that provide context around issues affecting the oil and gas sector.
For more information on our Energy Visions program or our comprehensive suite of professional services, visit www.pwc.com/ca/energyvisions.
Reynold Tetzlaff
Canadian National Energy Leader
INTRODUCTION
Canada's proved oil and gas reserves—more than 25 billion barrels of crude oil and liquids, another 150 billion barrels of economically recoverable bitumen and more than 40 trillion cubic feet of natural gas (and perhaps as much as 1,400 trillion cubic feet of in place tight gas)—are amongst the largest and most strategically important in the world.
The country's success at attracting global capital, particularly from Asia, combined with game changing technological advances, has led to the development of these resources on a scale not even imaginable just five years ago and at a pace that is threatening to surpass infrastructure developments needed to move output to market.
In 2011, total Canadian crude production stood at 2.9 million barrels per day. By 2020, that number is forecast to reach 4.2 million barrels per day, according to a June 2011 forecast by the Canadian Association of Petroleum Producers.
Over the next five years, other forecasts suggest oil sands output will rise to three million barrels per day as 14 projects currently under construction are commissioned, adding 850,000 barrels a day to productive capacity. Another 14 projects comprising 780,000 barrels per day have been approved but have not yet begun construction, for total output additions of 1.633 million barrels per day between 2012 and 2017.
On the gas side, the National Energy Board, in a November 2011 production forecast, expects natural gas production to dip over the next couple of years to 13.1 billion cubic feet per day in 2015 from 13.5 billion cubic feet per day last year. Production is also expected to increase steadily over the next two decades, to 18 billion cubic feet per day in 2035, as supplies from deeper and more productive conventional, tight and shale gas reservoirs are brought on stream.
But if these production forecasts are to be realized, industry must overcome a daunting list of challenges, mostly around what to do with expanding output. Refinery capacity throughout North America remains stagnant, and new pipeline capacity is required to move growing bitumen production to key refining markets in the United States, particularly those along the Gulf Coast.
At the same time, the factors that have contributed to Canada's growing productive capacity for crude oil and natural gas—horizontal wells with multi-stage fracture stimulation completions—are also at play in the United States, and Canadian producers will need to compete for market share with significant new shale gas and tight oil supplies in the United States.
In fact, some reports now circulating suggest that the U.S. will become significantly less dependent on foreign sources of oil in the next few years. Imports are projected to fall to just 4.5 million barrels a day by 2015, while crude oil and natural gas liquids production is projected by others to climb to 14.1 million barrels a day by 2020, an astonishing 74% increase from 2011 production of 8.1 million barrels per day. Various estimates suggest that as much as 1.7 million barrels a day of new light tight oil production could be coming from mid-continent plays in the United States by 2016. Crude oil from the Bakken play in North Dakota (880,000 barrels a day), Eagle Ford in Texas (390,000 barrels a day), Niobrara in Colorado/Wyoming (120,000 barrels a day) and Utica (around 100,000 barrels a day) could all be available by 2017 to the same Gulf Coast refinery markets being targeted by Canadian bitumen producers.
Against this backdrop, Canadian producers—already in a battle with environmental non-government organizations (ENGOs) over pipeline projects that would help secure existing U.S. markets and open up new overseas markets—are looking to the federal and provincial governments for policy leadership on the markets front, and are pushing for creation of a national energy strategy that would clearly outline Canada's future energy marketing goals and strategies to achieve those objectives.
POLITICS
But again, the path ahead is fraught with challenges, factors which had considerable influence in President Barack Obama's decision late last year to deny TransCanada Corporation the presidential permit it needs to carry through with its Keystone XL project.
That refusal didn't sit well with Prime Minister Stephen Harper, who suggested in a September address to the United Nations General Assembly that approval of Keystone XL should be a "no brainer", in light of Washington's stated desire to ease its reliance on "conflict" oil and secure more stable crude supplies from "friendlier" suppliers like Canada and Brazil.
The Keystone rejection, while not seen as a catalyst for the development of a new Canadian national energy strategy, certainly focused Ottawa's attention on the need for such a policy, and on the dangers of continuing to put all its resource development options— read markets—in one basket.
"We cannot be in a situation where really our one and only energy partner can say no to our energy products," Harper told an audience of several hundred people at the Woodrow Wilson International Center. "The very fact that a no can be said underscores to our country that we must diversify our energy export markets."
While Obama's refusal to allow Keystone to proceed was seen as a major victory against the oil sands by environmentalists, the wider view remains that the decision was more political than environmental, and that TransCanada will eventually get its presidential permit, but not until after the U.S. elections this fall.
"If Nebraska approves a new route for Keystone XL (a new alignment, avoiding the controversial Sandhills area, was filed with the state in April) in 2012, the line is likely to be approved by the U.S. no matter who wins the 2012 U.S. presidential election," says David Goldwyn, of Washington-based Goldwyn Global Strategies LLC. "The determination of which line (Keystone XL, Enbridge Inc.'s Northern Gateway pipeline to Kitimat or an expanded Trans Mountain system being put forward by Kinder Morgan Energy Partners) gets built first will be decided by the shippers."
Earlier this month, TransCanada filed a new application with the U.S. State Department for a new pipeline segment from the Canada/U.S. border in Montana to Steele City, Nebraska. It will supplement the application with an alternative route in Nebraska as soon as that route is selected. Pending issuance of a Presidential Permit, TransCanada hopes to begin construction of Keystone XL in the first quarter next year, with completion slated for late 2014 or early 2015.
Keystone XL and other projects such as Seaway (a project advanced by Enbridge Inc. and Enterprise Products Partners L.P. to reverse an existing pipeline from the Gulf Coast to Cushing, Oklahoma) would soak up about half of the 1.6 million barrels per day of new Canadian bitumen production, but additional capacity to the Gulf, or to other markets, will eventually be needed.
PIPELINES
Expanded access to other markets is the focus of the two other major Canadian pipeline proposals: Enbridge's $5.5 billion Northern Gateway project, which would run from Edmonton to Kitimat and deliver 520,000 barrels a day of diluted bitumen, and Kinder Morgan's $5 billion proposal to more than double the capacity of its existing Trans Mountain system between Edmonton and Vancouver, providing another 550,000 barrels a day of takeaway capacity. In both, additional barrels of oil sands crude would be targeted primarily to growing refinery markets in Asia—read China—and the Pacific Rim.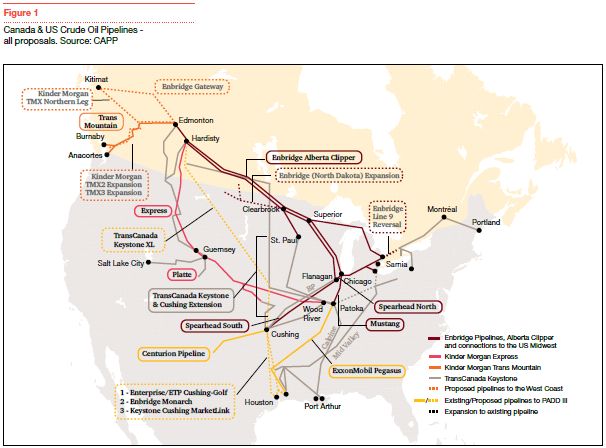 However, both projects—like Keystone XL before them—face heavy opposition from environmental and First Nations organizations. In January, Canada's National Energy Board and the Canadian Environmental Assessment Agency began a joint review of Northern Gateway. More than 4,000 people have registered to speak at the hearings, which some say will delay completion of the examination into 2014—a delay that prompted Prime Minister Stephen Harper and Natural Resources Minister Joe Oliver to voice concerns that special interest groups had taken over Canada's regulatory review process.
What is particularly challenging for the federal Government is the fact that some of the environmental groups protesting against Northern Gateway have received funding from powerful philanthropic organizations in the United States. This fact has even led to suggestions that Canada's regulatory process—in this case for a project that would lead to exports of oil to markets other than the United States—is being "gamed" by groups more interested in securing future energy supplies for the U.S. than in protecting wilderness areas in British Columbia.
To address such issues, Harper's administration, in its March federal budget, announced steps to further smooth the regulatory path for major resource projects, including pipelines, and to set time limits for reviewing such initiatives from an environmental and economic perspective, hoping to avoid the kind of "Mob the mic" mentality that has beset the Northern Gateway review.
There were also measures in the budget requiring more detailed reporting from non-profits on their political activities, including the level of funding they receive from foreign benefactors, and even a few million dollars for more audits to ensure charities don't spend more than the 10% of their funds on political advocacy.
The new regulatory regime is expected to particularly benefit Kinder Morgan. On April 10, 2012 the company concluded an open season for the additional Trans Mountain capacity and announced a few days later that it had received binding bids for 660,000 barrels per day of capacity on what would be a system capable of delivering 850,000 barrels a day to the Lower Mainland.
"We are extremely pleased with the strong commercial support that we received through the open season, which reinforces the appeal of our project and our approach," Kinder Morgan Canada president Ian Anderson said. "This strong commercial support shows the market's enthusiasm for expanding market access for Canadian crude by expanding an existing system". These advancements will allow Kinder Morgan to better define the project and engage local communities.
Hoping to avoid the regulatory process that Enbridge faces with its Northern Gateway project, Kinder Morgan says it will conduct an "inclusive, extensive and thorough engagement on all aspects of the project" with local communities along the route, which mostly follows the existing Trans Mountain right-of-way, as well as with B.C. First Nations and ENGOs. It anticipates filing a regulatory application with the National Energy Board in 2014 and, pending approval, hopes to start construction in 2016, with the expansion operating by 2017.
Both Northern Gateway and the Trans Mountain expansion are being driven, in part, by a desire on the part of the federal government to diversify Canadian energy markets, which have historically been centered in the lower 48 States. That has led to an abundance of pipeline capacity from Canada that reaches only as far as the crude oil trading hub at Cushing, Oklahoma and a supply glut there that has prevented all North American crude producers from benefiting optimally from strong world crude prices over the last few years.
PRICE
Given the glut, and the uncertainty over which pipeline projects will ultimately be built, differential volatility is expected to remain a factor for several years. Currently, the North American benchmark, West Texas Intermediate, trades at about a US$20 a barrel discount to Brent, the most widely-traded international crude stream, while the Canadian equivalent, Edmonton light sweet, trades at a similar $20 a barrel discount to WTI.
It is this differential, and the surge of crude coming out of the North Dakota and Montana Bakken plays, that has Canadian governments—not just at the federal level but also in Alberta—encouraging market diversity, with pipeline companies like Enbridge and Kinder Morgan doing what they can to facilitate such diversity, even within North America.
"The Bakken and Three Forks formations have catapulted North Dakota into the position of being one of the leading oil producing states in the U.S.," Stephen Wuori, president, liquids pipelines for Enbridge, said in a news release. The company has increased the export capacity of its North Dakota system by almost 350% since 2008.
Enbridge is also taking steps to expand its west to east capacity within Canada. Its plan to reverse its Line 9 between Sarnia and Montreal, would relieve to a certain extent, the price pressure on WTI and ease the glut of barrels into the Cushing hub, Robert Johnston, director of global energy and natural resources for Eurasia Group, a New York-based energy consultancy, said in a recent research note.
"This strategy would also be politically advantageous for Alberta as it would allow the Ontario refining market to partially wean off Brent-type barrels imported from the east coast," Johnston said in his note, adding that reversal would have a similar impact in the Quebec refining market.
But the more attractive option for producers in western Canada is to diversify export markets throughout the Pacific Rim in general, more specifically in Asia and most specifically in China, where refining capacity is expected to climb to 13 million barrels a day by 2015. Much of the new capacity will be tooled to accept heavier and more sour barrels, with sour capacity projected to rise to 5.3 million barrels per day by the end of 2015 from three million barrels per day in 2011.
Asian markets
Refining capacity in China is controlled by two state-owned companies: China National Petroleum Corporation (and its producer affiliate PetroChina Company Limited) and China Petroleum & Chemical Corporation Limited (known less formally as Sinopec). Each has diverse feedstock needs, with PetroChina tilted more to the lighter and sweeter barrel and Sinopec more deeply invested in heavier and more sour grades. It is this diversity that is driving China's growing investment presence in North America, and which is expected to shape future investment forays, especially in Canada, where Asian investment seems to be more welcome, at least for now.
In the last decade or so, the autonomy of the national oil companies in China has grown dramatically, says Erica Downs, fellow, foreign policy with the John L. Thornton China Center at the Brookings Institution in Washington, D.C., and this has led to a subtle shift in
the way the NOCs approach investment decisions such that corporate interests, in some cases, are advanced at the expense of national interests.
"What this leads to, sometimes, is fierce competition between the NOCs, and the acquisition of assets abroad is often linked to competition for market share at home," Downs says, adding that NOC executives will often play the domestic energy security card to win political support for their external investment initiatives.
In this light, Sinopec is expected to become more aggressive in its efforts to acquire equity positions in Canadian producers. Recent acquisitions include Daylight Energy (shale gas and conventional oil), a 9% interest in Syncrude Canada (acquired from ConocoPhillips Canada) and a 50% stake in Total's oil sands assets. Sinopec is also a partner with Enbridge in the Northern Gateway project, and has invested $100 million to see that project through the regulatory process.
PetroChina, meanwhile, has acquired significant interests in the oil sands, through a 60% stake in Athabasca Oil Sands Corp., and shale gas, with Shell Canada.
Overall, Chinese investments in Canada have grown rapidly in the last few years, from $900 million in 2005 to $14.4 billion in 2010, nearly half focused on mining and oil extraction. China Investment Corp., the republic's sovereign wealth fund, has an office in Toronto.
"Japan and South Korea are also actively involved in the Canadian shale gas and unconventional oil arenas," Eurasia Group's Johnston adds. "From the Canadian perspective, other significant foreign investments in shale gas are expected," he says. "Recent investments and announcements by Petronas and Progress Energy, Chubu Electric and a consortium of Japanese utilities, Shell, Kogas, and others show that global interest in B.C. shale gas and associated LNG export plays to the Asian market remains strong."
While there are some LNG export initiatives underway in the United States, Goldwyn suggests Canada may, in fact, have something of an advantage in reaching the lucrative Asian markets, and not just because B.C. terminals are closer to potential markets. "Many U.S. politicians have a difficult time believing that we (United States) have enough natural gas, and as a result, there is some public fear of LNG exports," he says.
China and other Asian importers have contracted most existing LNG export capacity through 2020, he adds, but the post-2020 market is virtually wide open. "The advantage will go to the first and fastest movers with the lowest cost of supply."
And that timing could be critical, Johnston adds, noting that there are multiple competitors for the lucrative northeast Asia market in the years after 2018, from Australia, East Africa, the eastern Mediterranean region and even China.
Canada's National Energy Strategy
To encourage continued foreign investment—and perhaps to keep some control—Ottawa is contemplating a national energy strategy, but there seems little consensus on what such a strategy should look like. Producers agree that a strategy would be beneficial, but worry that Ottawa would take too heavy a hand, revisiting in the minds of some producers the unpopular National Energy Program of the early 1980s.
Eurasia Group's Johnston says there are a number of key challenges facing adoption of a national energy strategy, whatever form it might take. Certainly, the fact Prime Minister Harper and Alberta Premier Alison Redford enjoy strong majorities could help, but both will have difficulty aligning Alberta's interests with those of Ontario and Quebec, particularly given political and economic uncertainty in those two provinces.
"Beyond that, the interests of Alberta and British Columbia have to be aligned with respect to oil sands exports, private sector and other stakeholders have to be integrated into the process and there needs to be a coherent and effective strategy on environmental reviews and coordination with First Nations groups," he says.
To read this report in full, please click here.
The content of this article is intended to provide a general guide to the subject matter. Specialist advice should be sought about your specific circumstances.