Article by Doug Black Q.C., Anne Calverley Q.C., Douglas E. Crowther, Bill Gilliland, Alex MacWilliam, Rich Miller, Claude Morency, Cyrus Reporter, Ron Stuber and Helen T. Newland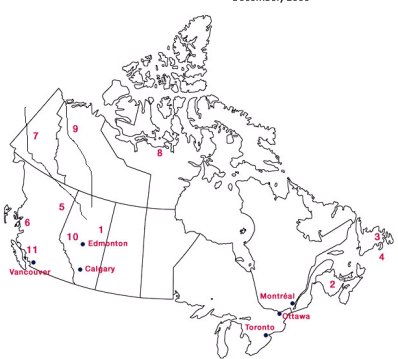 Oil Sands News
1. The Alberta Energy Resources Conservation Board ("ERCB") recently conditionally approved a tailings management plan for the Kearl Oil Sands Mining Project, which is set to commence operations in 2012. The Kearl Project is valued at $8 billion and is a joint effort between Imperial and Exxon Mobil. The Project is expected to produce 345,000 bpd of bitumen beginning in the third quarter of 2012.
1. MEG Energy expects to boost production to 60,000 bpd of bitumen at its Christina Lake Project. In June, the company produced 26,412 bpd of bitumen at Christina Lake. MEG ultimately believes that 210,000 bpd can be produced at Christina Lake by 2020, and that this production can be sustained for over 30 years.
Enbridge recently announced that it has contracted with Suncor to build a 95 km, 30‐inch diameter crude oil pipeline to be called the Wood Buffalo Pipeline, which will connect the Enbridge Athabasca terminal with the Cheecham terminals. The application for this pipeline has been filed with the ERCB and is expected to be in service by mid‐2013. Enbridge officials stated that they are also building new facilities to meet the needs of the Kearl Oil Sands Project, and that they have also signed StatOil as a shipper on this system.
1. Suncor recently reported its Firebag 3 Project is on time, on budget, and predicted to have a low steam to oil ratio. Firebag 3, at full production, is expected to produce 62,000 bpd of bitumen. The company will soon announce its schedule for several other projects it plans to complete in the area.
1. Canadian Natural Resources recently indicated that performance of its steam systems at the Primrose East Project are better than expected, and that production for the Project on average will exceed 20,000 bpd of bitumen in 2010. The company had previously projected production between 16,000 and 20,000 bpd of bitumen. At peak production, Primrose East is designed to add 40,000 bpd of bitumen to the company's already existing project at Primrose/Wolf Lake. Primrose thermal production averaged over 30,000 bpd higher than the second quarter of 2009.
TransCanada Corporation has indicated that it is planning a large pipeline to bring natural gas to the in situ oil sands area in northeast Alberta. The pipeline may be up to 24 inches in diameter and would tap into existing lines. The pipeline would travel into an area where several steam assisted bitumen projects are currently located, and where other projects will soon be built. The company is still in the process of completing a route evaluation.
East Coast News
2. Chevron Corp. announced that it has drilled Canada's deepest offshore well in the Orphan Basin off the coast of Newfoundland. The Lona 0‐ 55 well was drilled in water depth of 2.6 km. Chevron has a 50% interest in the well, along with partners Royal Dutch Shell with a 20% interest, and Exxon Mobil and Imperial Oil each with a 15% interest.
A Canadian Senate committee which conducted hearings on offshore drilling announced it sees no need to ban offshore drilling in Canada while Canadian regulators re‐evaluate the current regulatory regime, stating that the facts simply do not justify a ban on current operations. However, the committee also stated it would encourage offshore operators to spend more money on research and development of technologies for avoiding and responding to deepwater failures.
West Coast News
3. Penn West has announced a joint venture with Japanese partner Mitsubishi Corporation in developing a shale gas formation in northeastern British Columbia. Penn West will contribute 50% of its interests in the Cordova Embayment area, as well as conventional natural gas assets in the Wildboy region. Mitsubishi will provide $250 million in cash and invest $600 million in exploration development expenditures. Penn West will operate the assets.
TransCanada Pipeline is currently building the Groundbirch pipeline which will bring natural gas produced in the Montney shale gas formation in northeast British Columbia across the provincial border to the Alberta pipeline network.
Canadian Arctic News
The Canadian government has recently released its Arctic foreign policy statement. One of the initiatives the government committed to was establishing a new High Arctic research station, and upgrading over 30 existing research facility sites across the Arctic. A multi‐stakeholder initiative, the Beaufort Regional Environmental Assessment (BREA), will sponsor regional environmental and socio‐economic research to gather new information on the Beaufort Sea. One government member commented, "This initiative demonstrates Canada's proactive approach to sustainable economic development and will assist in generating science required for regulatory decision making in Beaufort Sea oil and gas exploration and development."
TransCanada Corporation reported that it is encouraged by the multiple bids it received for pipeline capacity for its proposed Alaska Pipeline Project. The initial open season for the proposed pipeline ended on July 30, 2010. This joint venture between TransCanada and Exxon Mobil offered shippers two options, consisting of a 2,737 km pipeline to the United States markets or a 287 km pipeline to Valdez, Alaska where the North Slope gas would be converted into liquefied natural gas.
Alternative Energy News
4. Acciona Energy North America has begun construction on its $115 million Lameque Wind Power Project located near Lameque, New Brunswick. The 45 MW Project is the company's fourth wind farm in Canada.
On the Horizon
1. Enbridge recently announced that it will expand its Athabasca Pipeline to accommodate shipping requirements of Cenovus at the Christina Lake Project. Additionally, the company has also agreed to construct a new originating terminal at Husky and BP's Sunrise Oil Sands Project. These facilities are projected to come on line during the second half of 2013.
ABBREVIATIONS
In this newsletter, all dollar amounts are Canadian dollars unless otherwise stated. We have also used the following abbreviations: bpd ‐ barrels per day; mmcfpd ‐ million cubic feet per day; bcfpd ‐ billion cubic feet per day; tcf ‐ trillion cubic feet; bbl ‐ barrel; mbbl ‐ thousand barrels; mmbbl ‐ million barrels; bbbl ‐ billion barrels; boe ‐ barrels of oil equivalent; MW – megawatts; kV – kilovolt; km – kilometre.
The content of this article is intended to provide a general guide to the subject matter. Specialist advice should be sought about your specific circumstances.