It was Charles Holland Duell, Commissioner for the US Patents Office from 1898 to 1901 who was credited incorrectly with this famous quote 'Everything that can be invented has been invented'. What he actually said in 1902 was, in part 'In my opinion, all previous advances in the various lines of invention will appear totally insignificant when compared with those which the present century will witness'. This statement could probably be repeated again in this century to reflect the changes we are witnessing today.
Businesses today readily accept the idea they must continue to evolve and shape their models to stay current, to hold market share and to attract new customers. Failure to do so renders them a dinosaur in today's world and could mark the gradual demise of their business. There can be no greater example of this than Kodak, once the global market leader in photography and photographic equipment who which failed to see the shifting consumer trends, paying the ultimate price that ended in bankruptcy.
The internet has been another area of innovation allowing businesses to leverage the consumer experience across numerous platforms making print media near redundant. This heightened awareness and familiarity has resulted in people of all ages adopting new technology at an accelerating rate. More intuitive technology such as tablets has near eliminated fear of new technology and replaced it with excitement.
Technological change is happening at an accelerated pace. It took 26 years for 25% of the US population to adopt television, 13 for the mobile phone, but only five years for the iPad to reach the same penetration. Figure 5 shows the number of internet servers in selected countries. China has around 600 per million. Australia is closer to 1700.
Innovation and the ability to reinvent and evolve have become essential to survival. High profile successes such as Apple and Google had no more advantage than any of their rivals. But they invented new products that reached out across the globe with massive appeal. New intuitive technology such as the emergence of smart phones and tablets is leading to new software developments. This has substantially increased the number of contributors; these days anyone who has access to a computer can develop software.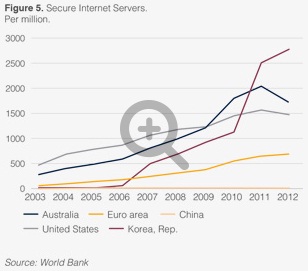 The latest directional change is the evolution of cloud computing. Opportunities that are yet to hit scale in this area include data centres, security providers, transition managers and software providers. This is an area to watch.
It is not just consumer electronics that is experiencing this progress. Healthcare, biotech, transportation, energy, agriculture and many other industries are finding new and better ways to produce at higher qualities and efficiencies. This age of innovation is not only good for consumers but is producing businesses that are more efficient and more profitable generating tangible shareholder value.
Investors may wonder how in this world of information at the speed of light, the next great product or service can be predicted? In reality this is almost impossible. However the good news is that a crystal ball is not a requirement to invest successfully and neither is taking a punt on a small or unproven company with high hopes.
Mature and experienced companies such as blood biotherapy company CSL (Figure 6) pour significant resources into research and development. With the growth of the global middle class, their market is snowballing and innovation is their only competitive advantage. While their share price has rocketed up in recent years reflecting the confidence investors have in their operations, their expanding target market (and given there is always some new strain of disease), their future seems bright.
If the internet is the vehicle innovation is riding on, then social media is the fuel. Local businesses have used this medium to turn into global players with limited capital outlay. The power of information sharing allows companies to reach new markets and consumers, providing product education at a level previously impossible.
Financial services is a major technology beneficiary by allowing banks to provide online facilities and apps, reducing the number of customer service staff. However, technology developments by the major Australian banks have largely been predictable, opening up the opportunity for solutions that "wow" consumers, ultimately taking market share. This is also a big area of risk for the banks as non-financial companies start to offer payment facilities which could easily evolve to banking or other financial services companies.
Superannuation is likely the area this will emerge in given the massive move to Do It Yourself (DIY) Super funds post the Global Financial Crisis. All major banks are intent on this space and significant capital expenditure is being employed by them to develop capabilities.
With near 1 million members of a Self Managed Super Fund in Australia the profit potential from a viable service offer is immense.
While the colourful and new age style of Google's headquarters may help foster eager employees to generate new and insightful ideas, the real workhorses of innovation come from businesses that invest time and resources into reinventing themselves and their products or services, realising the benefits technology can provide their organisations. Companies that can create this culture successfully are worthy of investors attention.
Related links
The content of this article is intended to provide a general guide to the subject matter. Specialist advice should be sought about your specific circumstances.