Business Advisory is a specialist division within Moore Stephens that focuses on enhancing business value, assisting management with strategic direction and achieving operational best practice.
The division works with businesses to identify growth pathways, maximise profit and efficiency and determine the resource mix required to support strategic objectives.
Our team works closely with clients and provide leadership and expertise on an as needs basis, either complementing the skills of the management group in a certain area or being able to provide a completely new perspective. Furthermore the team is adequately skilled to provide specialist resources for short term projects as required.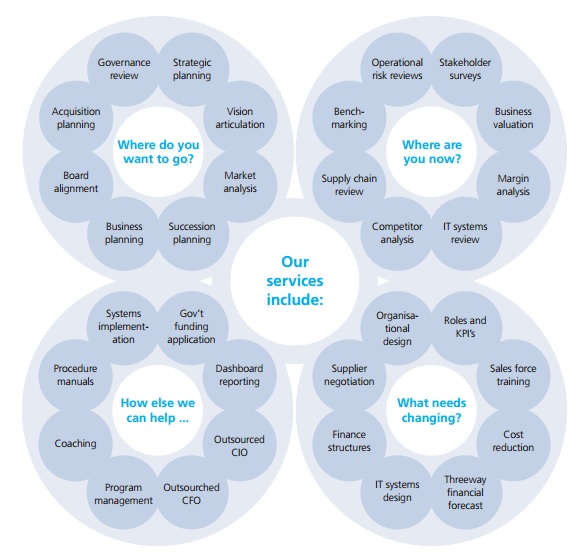 Why Select Us?
Our team has significant operational experience and can provide your organisation with much more than traditional accounting services – we are looking to work with organisations who are seeking proactive rather than reactive advisory services.
Board Alignment and Governance Reviews – Make sure everyone is on the same page
Are goals and visions for the business documented and shared by Directors and Shareholders?
Does the Board have the right composition and skill base to manage the business in a dynamic environment?
Is the reporting framework adequate and timely?
Are business risks identified and documented with appropriate mitigation plans in place?
These may be simple questions, but we have had significant experience in dealing with companies who need external input to get the foundation right, as the strategic vision from the top flows right through the organisation.
Profit Improvement projects – can expenses be reduced by 20%?
Organisational Reviews
Is the organisational structure of the organisation aligned to deliver or exceed budgets?
Do key staff have the appropriate "skills or wills" for the role in question?
Is the overhead structure in line with operational requirements – are there efficiencies to be gained or policies to be implemented?
Are KPI's easily measurable and in line with organisational objectives?
Rather than creating roles to suit employees that are part of the fabric, we can work with senior management to challenge the status quo and ensure roles and responsibilities align with business needs.
Supply Chain Reviews
Are you getting the best value for money from your supply chain?
Can you benefit from outsourcing, substituting or creating formal supply or service agreements?
Should you be financing inputs a new way?
We are ready to get operationally involved and understand the key drivers of your purchase decisions – cost vs quality vs service. From here we focus on achieving a cost reduction target while ensuring the important input criteria are preserved.
IT Infrastructure and Communications Reviews
Have you had an independent review to ensure you are getting the right performance for the right price?
Are you running the most appropriate system for your industry and if so, is it optimised?
Are business processes understood by staff so the business is running efficiently?
We are able to perform an independent analysis to present findings on above issues and make specific recommendations that often result in significant cost savings to the organisation while upgrading to the latest technology.
This publication is issued by Moore Stephens Australia Pty Limited ACN 062 181 846 (Moore Stephens Australia) exclusively for the general information of clients and staff of Moore Stephens Australia and the clients and staff of all affiliated independent accounting firms (and their related service entities) licensed to operate under the name Moore Stephens within Australia (Australian Member). The material contained in this publication is in the nature of general comment and information only and is not advice. The material should not be relied upon. Moore Stephens Australia, any Australian Member, any related entity of those persons, or any of their officers employees or representatives, will not be liable for any loss or damage arising out of or in connection with the material contained in this publication. Copyright © 2011 Moore Stephens Australia Pty Limited. All rights reserved.