Nigeria

: The Latest Business Competitiveness Ranking: How Close Is Nigeria To The Promised Land?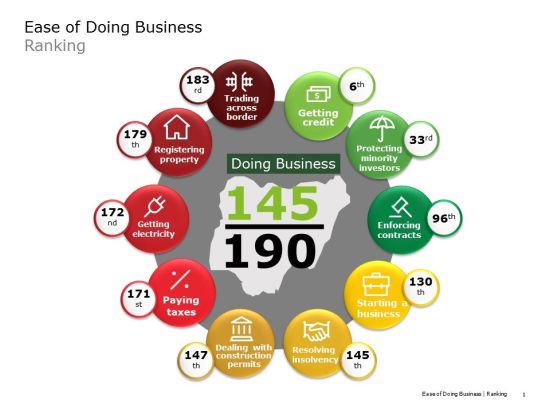 It is heartwarming to read the latest doing business report of the World Bank and Nigeria's giant leap to 145th among 190 economies on the ease of doing business. Nigeria gained 24 places on the latest ranking, an improvement on the prior year's ranking of 169, and exceeded the short term target of 20-place movement. According to the Report, Nigeria, alongside El Salvador, India, Malawi, Brunei Darussalam, Kosovo, Uzbekistan, Thailand, Zambia and Djibouti are the top 10 most improved countries on
Register for Access and our Free Biweekly Alert for
This service is completely free. Access 250,000 archived articles from 100+ countries and get a personalised email twice a week covering developments (and yes, our lawyers like to think you've read our Disclaimer).
In association with
Mondaq Advice Centre (MACs)
Up-coming Events Search
Tools