A menudo la gente se pregunta ¿Cuáles son las limitaciones en nuestra legislación cuando de herencias se trata?
Tendemos a comparar nuestra realidad con la de países donde la normativa es mucho mas permisiva en lo referente a disposición patrimonial y creemos que al redactar nuestro testamento podemos disponer del patrimonio como mejor creamos conveniente, a favor del familiar, causa o incluso mascota de nuestra preferencia.
En el Ecuador la legislación es claramente limitante al momento de disponer de nuestro patrimonio. Se debe entender además que la sucesión en los bienes de una persona se abre al momento de su fallecimiento.
Nuestro Código Civil establece reglas particulares tanto para la sucesión intestada (cuando no existe un testamento) como para la sucesión testada (cuando existe testamento).
Cuando se trata del primer caso, son llamados a la sucesión los hijos del difunto, ascendientes, padres, hermanos, el cónyuge sobreviviente y el Estado. Los hijos excluyen a los demás herederos, esto luego de reservar la porción conyugal, es decir que la que corresponde al cónyuge sobreviviente.
En este caso, el patrimonio de la persona fallecida se divide en partes iguales entre sus herederos. Si un heredero ha fallecido, su porción corresponde por representación a su vez a sus herederos.
En el caso de la sucesión testada, el otorgante puede disponer de su patrimonio de manera parcial o total, manteniendo la facultad de revocar en cualquier momento las disposiciones contenidas en el testamento.
Es necesario aclarar que el testamento es un acto individual, es decir que en un testamento cabe la disposición del patrimonio de una persona, no del patrimonio de una pareja o varios familiares en conjunto.
El testamento abierto debe otorgarse ante un Notario en compañía de 3 o 5 testigos.
Al momento de otorgar un testamento el otorgante debe observar lo que nuestra Ley conoce como asignaciones forzosas, que son porciones que el otorgante debe respetar al momento de disponer de su patrimonio. Las asignaciones forzosas son:
Porción conyugal (50% del patrimonio que conjuntamente el causante mantenga con cónyuge)
Legítimas rigurosas (Luego de reservada la porción conyugal, el 50% del patrimonio debe ser distribuido en partes iguales entre los herederos del causante, hijos, o padres en caso de no haber descendientes)
Cuarta de mejoras (Es el 25% que puede ser utilizado para mejorar la situación de uno, varios o todos los herederos citados en el punto anterior)
Cuarta de libre disposición (Es el 25% sobre el que el testador puede disponer a voluntad)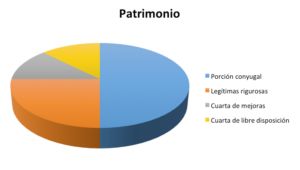 En caso de que las disposiciones testamentarias excedan estos porcentajes, los legitimarios tienen derecho a solicitar la restitución de lo que por derecho les corresponde.
De aquí la importancia de realizar una planificación consciente y bien programada al momento de otorgar un testamento contando con una asesoría adecuada, a fin de asegurarse que la voluntad del testador sea respetada y no termine siendo una mera declaración que será revocada al momento de ejecutar el testamento.
Fuente: Código Civil Ecuatoriano
The content of this article is intended to provide a general guide to the subject matter. Specialist advice should be sought about your specific circumstances.