The opportunity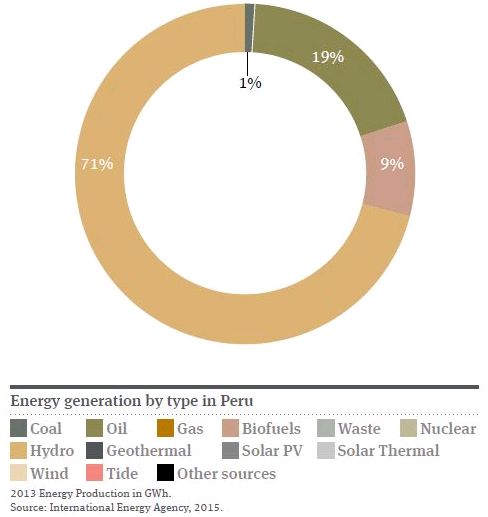 As a consequence of high GDP growth and an increase in industrial consumption of power, Uruguay's energy demand is constantly on the rise. The country does not possess native fossil fuel resources and while it has a number of hydropower plants, these do no operate during dry periods, forcing the country to purchase electricity from Argentina at up to US$400/MWh.
In 2008, the Política Energética Uruguay 2030 was approved by the National Congress. It established a target of 15 per cent of electricity demand to be derived from renewable sources (wind, biomass and micro-hydro projects) by 2015. In 2013 this target was overhauled to an ambitious 90 per cent of total capacity being generated through renewables by the end of 2015. In June 2015, however, comments from Gonzalo Casaravilla, chairman of the state-owned electric utility UTE, indicated that this goalpost had been moved to the end of 2016.
Uruguay has vast wind resources and has been cited as the fastest-growing wind market in the world in 2014, according to the World Wind Energy Association. The country possesses 600MW of installed capacity and an additional 600MW under construction. Forecasts in the EY Renewable Energy Country Attractiveness Index indicate that Uruguay will be the global leader for wind energy as a proportion of the total energy mix, expected to reach 30 per cent by 2016, up from 13 per cent currently. UTE further announced a goal earlier this year to generate 38 per cent of its power from wind by the end of 2017.
Uruguay has brought in numerous overseas companies, such as Nordex and Gamesa, to develop wind through its auction process. Through the auctions, about 21 projects were awarded in 2013 with guaranteed 20-year PPAs with state-owned electricity distribution companies. The approximate US$2 billion to be spent on wind farm installation is touted to be one of the largest investments in the country thus far. In March 2014 the financing for the 140MW Pampa wind farm was finalised, which is due to be operational in 2016 and will be the largest wind farm in Uruguay. Recently, in September 2015, Enel Green Power completed and commissioned the 50MW Melowind project, its first wind farm in Uruguay.
Biomass resources are currently the largest renewable source generating electricity, accounting for 13 per cent in 2014. This source has further potential due to the width of Uruguay's agricultural, livestock and forestry industry. In this light, an environmental subsidy is being considered by Uruguay for the construction of an urban waste bio¬mass plant. A limited feed-in tariff for biomass, introduced in 2010, is currently being revised due to mixed results.
Furthermore, the country has sufficient solar radiation to develop solar PV and STE projects. UTE, who developed the 'Plan Solar' framework for these technologies alongside the Uruguayan Government, has reported that the country's PV generation increased from 362 MWh in 2013 to 653MWh a year later.
Potential
Climatescope 2014 ranked Uruguay sixth on the Clean Energy Investment and Climate Financing parameter, up from eleventh in 2014. Whereas from 2006 to 2012, US$394 million of funds were invested in renewable energy projects, this grew by 43 per cent in 2012. It is likely that investments will grow further in the coming years as more contracts awarded in recent auctions achieve financing. So far, mainly international institutions, including OPIC, IDB, IFC and MIF have provided funding for renewables projects. The tide seems to be turning, however: in 2014 IDB approved US$65.9 million for the 64.8MW 'La Jacinta' solar farm, Uruguay's first utility scale project, and in May 2015 announced significant financial support in the form of $72m loans to the Colonia Arias and Valentines wind farms, both 70MW projects.
Support regimes
The regulatory framework governing renewable energy is extensive in comparison with other Latin American countries. In 2007, an investment promotion policy was approved, allowing companies to recover up to 100 per cent of the invested amount through a tax exemption conditional on factors like employment generation, decentralization, increased exports, increased domestic value added, use of clean technologies, increased R&D and innovation and impact of the project on the economy. The new methodology for evaluating investment came into force in February 2012 under the Decree 002/012. Further, Decree 354/0091, which favours certain activities related to the renewable energy industry, grants tax incentives, such as exemption from VAT, import taxes and fees.
Additionally, Law 18,585 on Solar Thermal Energy Promotion Law promotes the development of solar thermal energy through tax incentives and an obligation on hotels, sport clubs and hospitals to obtain 50 per cent of the energy required to heat the water from solar thermal energy. Finally, Decree Nº 173/010 authorizes subscribers connected to the low voltage distribution network to install renewable energy generation systems using sources such as wind, solar, biomass or micro hydro.
Obstacles/challenges
Several challenges exist, including the expansion of an appropriate transmission infrastructure network. The development of adequate financial structures for renewables projects is a precondition for continued success in the sector. Despite the incentives offered by the government and Uruguay's recovery from the 2002 financial crisis which was caused by neighbouring Argentina's financial crisis, finding appropriate sources of funding remains an issue. Local banks do not have the capacity to fund the costs of large infrastructure projects, therefore the need for international financiers is paramount. Since Uruguay is a relatively small and untested market, many international financiers have bypassed it for larger and more established neighbours such as Brazil. Uruguay's relatively stable political system, strong support from state owned utilities such as UTE and strong track record of servicing foreign debt should help overcome these issues. However, Uruguay still fairs well in comparison with its peers since it is one of the countries with the highest levels of electrification in South America.
The future
Minister for Industry, Energy and Mines, Carolina Cosse, stated in May 2015 that installed capacity in 2016 would reach 1,538 MW from hydropower, 1,400 MW from solar and 1,500 MW from wind. As at July 2015, there are over 20 operational wind projects with total installed capacity of 600MW. A further 600 - 700MW is awaited and under construction. The Cámara Solar trade body aims for Uruguay to have one million square metres of solar panelling in place by 2020.
In 2006, Uruguay instituted an auction mechanism to guarantee stable demand and prices with contracts of up to 20 years, and the ability to trade surplus power in the spot market. Under this mechanism, UTE have auctioned several wind and solar projects. The country expects to secure investments of US$1.74bn for renewable energy between 2015 and 2019 under PPAs, according to a plan announced by the government in July.
The content of this article is intended to provide a general guide to the subject matter. Specialist advice should be sought about your specific circumstances.