La Intendencia de Montevideo anunció que el superávit obtenido en el ejercicio 2017, de $ 772 millones, será destinado en parte a una bonificación impositiva en el ejercicio 2018 afectándola al tributo "tasa domiciliaria". Esta bonificación ascendería en total a $ 30 millones, que se aplicarían con mayor carga a favor de los inmuebles de menor valor.
El anuncio supone una voluntad política de favorecer a los contribuyentes con el resultado de mayores ingresos que obtuvo la Intendencia, lo cual, paradójicamente, es al mismo tiempo un claro desconocimiento de las normas constitucionales.
La Constitución dispone, desde el año 1934, un destino específico a los superávits departamentales. Ha eliminado la discrecionalidad del administrador de turno, de forma de imponerle un respeto a criterios básicos de buena administración. Disponer de mayores ingresos, como ha ocurrido en este caso, no quiere decir que se generen fondos de libre disponibilidad. Por el contrario, si un jerarca pasa a tener esa caja propia para disponerla a su voluntad, se estaría produciendo una violación a las reglas presupuestales que tienen que seguir todas las Administraciones. Poco interesa el origen o causa de ese ingreso extraordinario: mayor recaudación, nuevas fuentes de tributos o precios municipales, subsidios, ingresos por amnistías, incremento de fiscalizaciones, etc.
Debemos recordar que los recursos, gastos e inversiones de cualquier ente administrativo son aquellos aprobados expresamente en los presupuestos, en sus incisos, programas y planes. Las reglas presupuestales para todo el Estado, fijadas en la Constitución (Sección XIV – De la Hacienda Pública), deben seguirse y respetarse por los Gobiernos Departamentales (art. 222). De ahí que no haya margen alguno para la libre disponibilidad de cualquier dinero vinculado a los presupuestos y su ejecución.
El artículo 302 de la Constitución establece:
"Todo superávit deberá ser íntegramente aplicado a amortizaciones extraordinarias de las obligaciones departamentales. Si dichas obligaciones no existiesen, se aplicará a la ejecución de obras públicas o inversiones remuneradoras, debiendo ser adoptada la resolución por la Junta Departamental, a propuesta del Intendente y previo informe del Tribunal de Cuentas".
Como resulta de la norma constitucional, los Intendentes no tiene el derecho a resolver el destino de los superávits de sus Administraciones, sino que deben ceñirse a los criterios establecidos precedentemente. Resaltamos que la redacción es bien clara, porque no deja margen a fraccionar el destino del superávit: dice "deberá ser integralmente aplicado...".
En concreto, primero deberán cancelarse las obligaciones contraídas por la Intendencia, a título de "amortizaciones extraordinarias", con lo que claramente se busca a bajar tanto los déficits estructurales como los financiamientos pendientes, o incluso los pasivos corrientes. Luego, en caso de no existir obligaciones pendientes o quedar un sobrante, se aplicará a realizar obras públicas o inversiones específicas. En este caso, el Intendente debe recabar una resolución de la Junta Departamental, previo dictamen del Tribunal de Cuentas.
Existe además una norma legal, de inferior jerarquía, que aclara lo siguiente (TOCAF, art. 13):
"Declárase que no se consideran superávit, a los efectos dispuestos por el artículo 302 de la Constitución de la República, los créditos presupuestales destinados a financiar inversiones que hayan sido comprometidas y se ejecuten con posterioridad al cierre del ejercicio, siempre que se incluyan en la Rendición de Cuentas y en el Balance de la Ejecución Presupuestal establecidos por el artículo 214 de la Constitución de la República, correspondiente a dicho ejercicio".
Según la información disponible, catorce Intendencias habrían sido superavitarias en el ejercicio 2016 (http://www.otu.opp.gub.uy/?q=listados/listados_datos_formato&id=2210&cant=9999&deptos=&regiones=&municipios=&loc=&fecha=2016-01-01), sobre la base de la relación entre gastos e ingresos de los Gobiernos Departamentales. El cuadro resumido es el siguiente: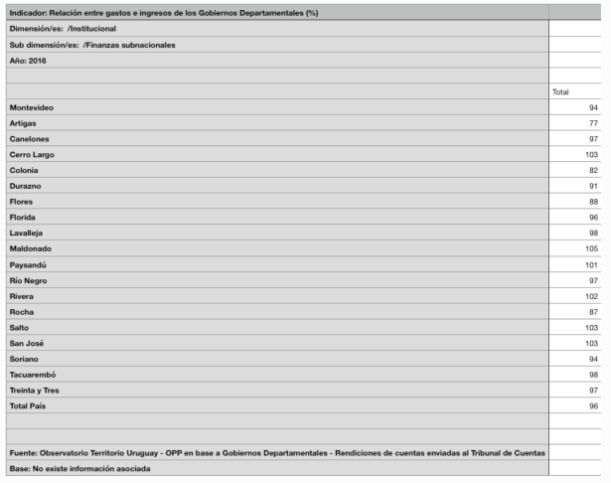 The content of this article is intended to provide a general guide to the subject matter. Specialist advice should be sought about your specific circumstances.