In a 94-page opinion, Nevada Federal District Court Judge Larry Hicks handed Oracle a huge win against arch rival Rimini Street.  There are lots of interesting points in the Order that will continue to provide fodder for future blog posts, and I am not intending to cover everything here today.  This post will focus on Oracle's "win" involving its cease & desist letter to Rimini barring Rimini from accessing the Oracle support website in order to download patches and updates on behalf of Oracle customers.  But first we will describe what has been decided in the motion generally, before we focus in on the legality of Oracle's cease & desist letter.
Both Oracle and Rimini had brought cross-motions for partial summary judgment and the Judge sided with Oracle most of the time giving Oracle key wins on certain claims against Rimini and eliminating certain key Rimini defenses.  Oracle filed 5 motions for partial summary judgment and Rimini filed two motions.  Both of Rimini's motions were denied.  Oracle won its first summary judgment on its cease & desist letter to Rimini outright, and the 4 other motions were both granted and denied in part.  This litigation has been extremely hard fought.  As the Judge pointed out in his Order, "[this is a massive lawsuit which follows a prior massive lawsuit. Over sixty attorneys have been admitted to represent the two sides in this case alone, approximately thirty for each side, and for the pending seven motions, the briefings exceed 2,800 pages and the supporting exhibits, declarations, and appendices exceed 43,000 pages."  It is easy to understand why the motions have been submitted and pending for some time given the scope of what the Judge needed to consider to rule on the motions.
​The Judge frames the central issue in the case as follows: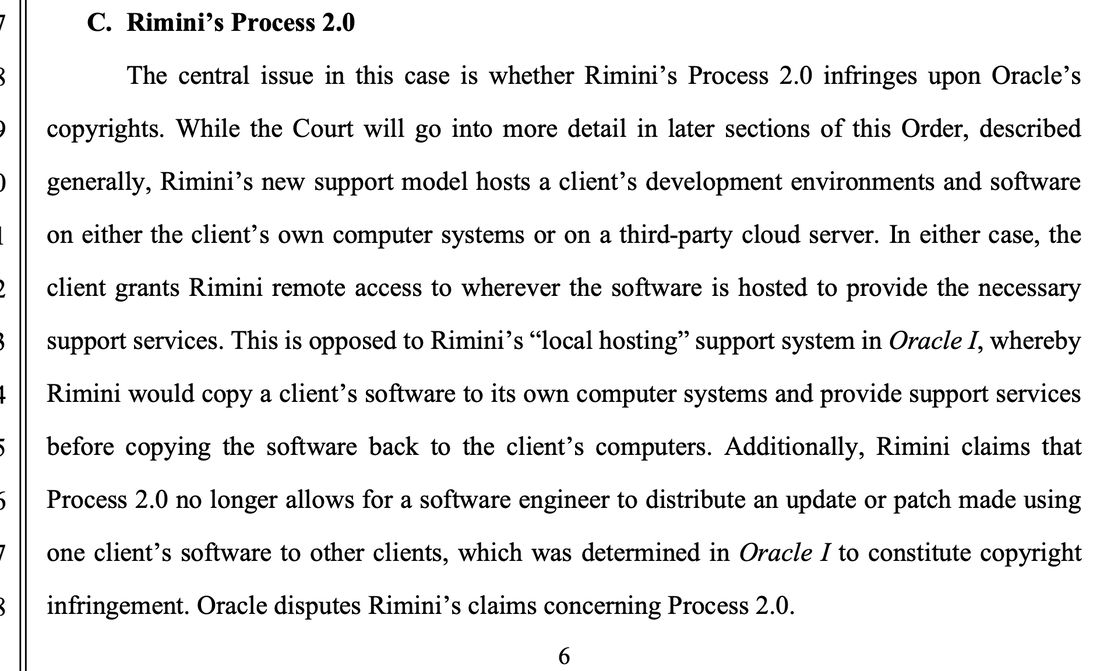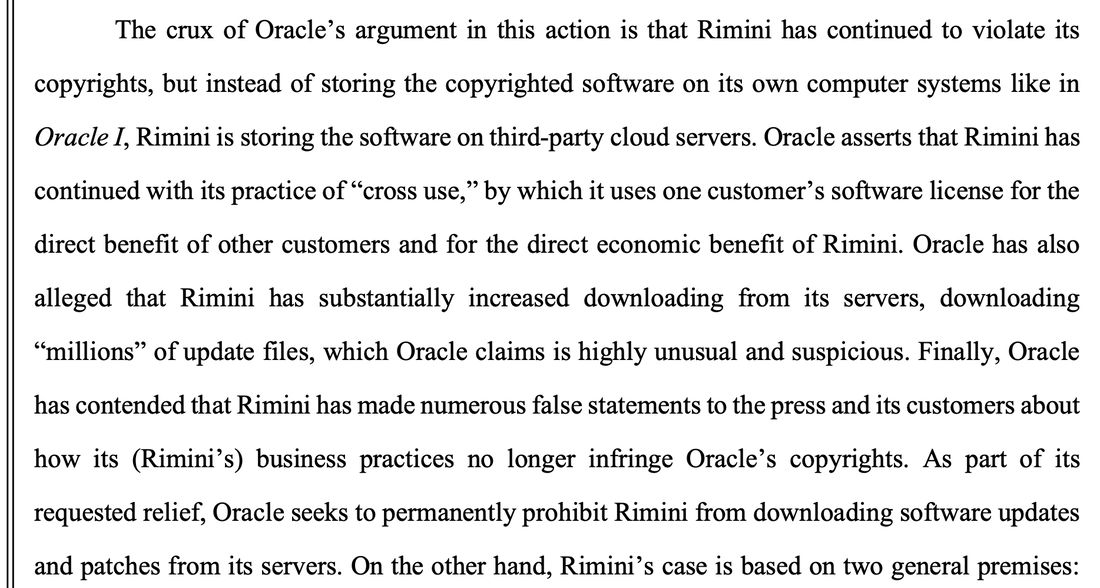 Another key issue in the case concerns a cease & desist letter that Oracle sent to Rimini demanding that Rimini stop downloading updates and patches on behalf of fully licensed Rimini customers.  Here is what the Judge had to say on this point: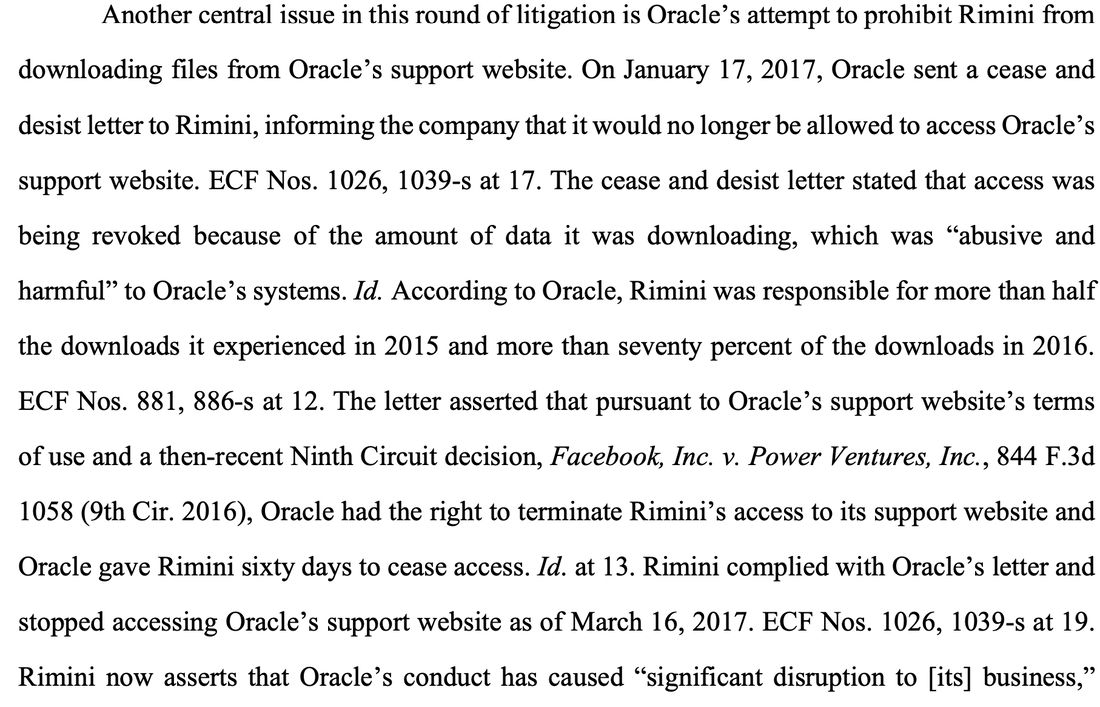 Oracle won a resounding victory on the issue of whether it could rely on its Terms of Use to revoke Rimini's access to its website for the purpose of providing support to Oracle's fully licensed customers.  Rimini had asked the court for a declaration that if it resumed accessing Oracle's support website, it would not be in violation of federal and California anti-hacking statutes.  The court found that Oracle has the right under its Terms of Use to revoke Rimini's access to the website, just as it has the right to revoke access to the support website for fully licensed customers of Oracle.  This is quite chilling, and as an Oracle audit defense lawyer it worries me about how Oracle might decide to use this opinion against its customers under audit.
​The court provided a description of the Terms of Use that Oracle customers must accept when accessing its support website.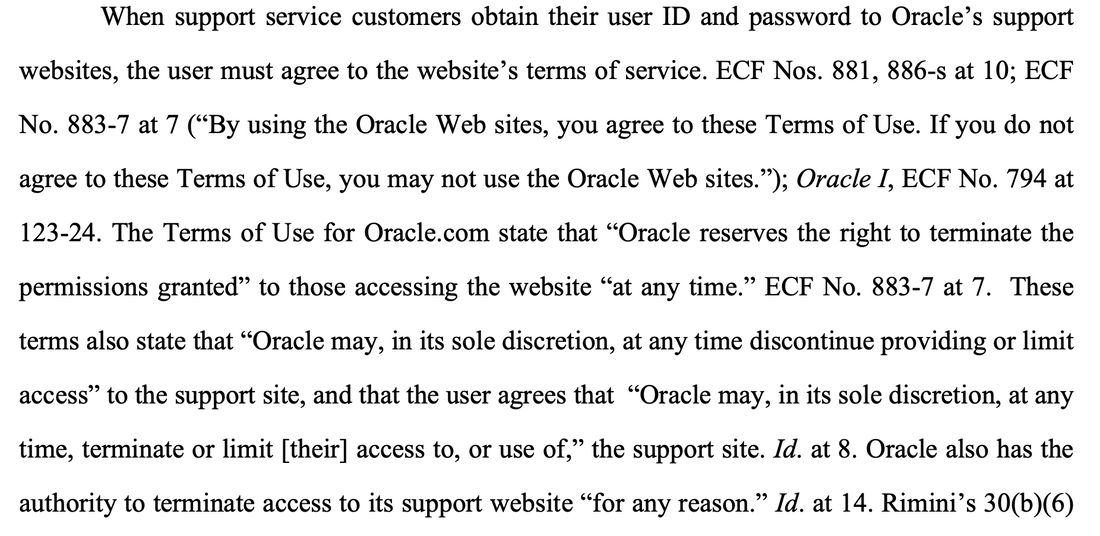 The court relied on this language and the Facebook case to rule that permission by the Oracle licensee alone was not sufficient to guarantee Rimini's ability to access Oracle's support website.  Rimini must also have Oracle's permission for access.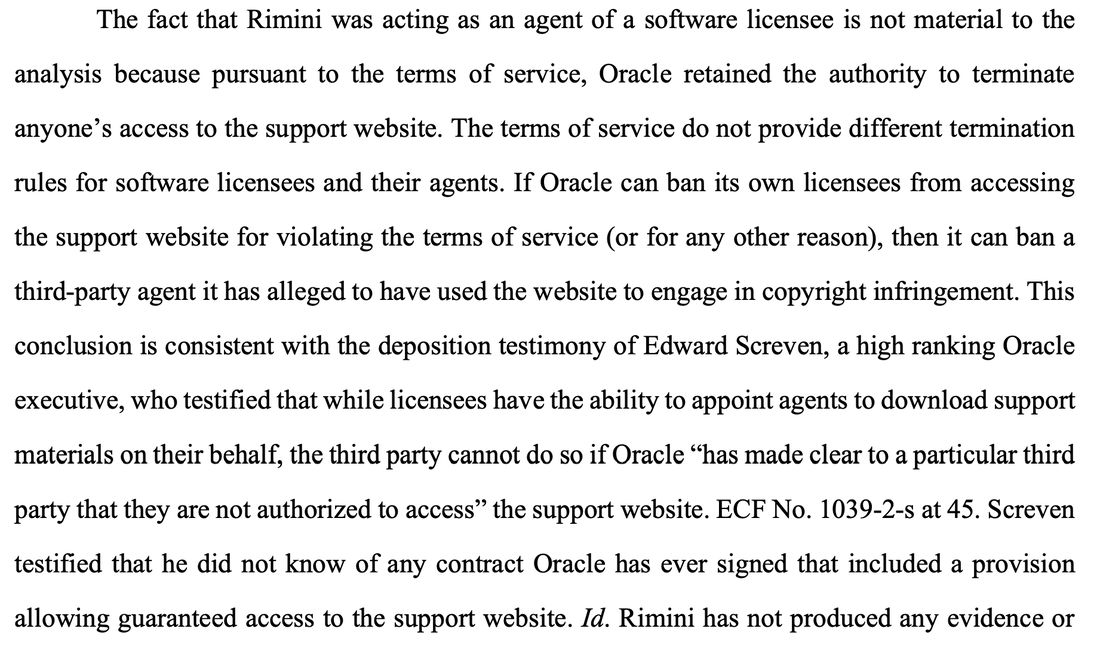 The court also granted Oracle summary judgment on Rimini's claim for intentional interference with contractual relations, but only as it relates to Oracle's cease & desist letter denying access to the Oracle support website.  Oracle did not move for summary judgment on Rimini's request for declaratory relief that Oracle interfered with contractual relations by (1) making misrepresentations to Oracle customers that Rimini was acting illegally providing the support in order to try to strong arm the customer into returning to Oracle; and (2) using selective audits to harass Oracle customers who moved their support requirements to Rimini.  Those claims for declaratory relief are still alive and have not been adjudicated.
Essentially the Court found that Oracle had an absolute right to deny Rimini access to the support site and thus could not be liable for intentionally interfering with Rimini's contractual relations with its customers.

The court also granted summary judgment on Rimini's Section 17200 claims as they relate to the cease & desist letter under both the unfair and unlawful prongs.  Thus that claim is now gone.
The content of this article is intended to provide a general guide to the subject matter. Specialist advice should be sought about your specific circumstances.